Rose Bouquet with Ham and Cheese
Ingredients
3.2 cups all purpose flour
½ cup milk + 1 Tbsp
0.42 oz yeast
1 tsp sugar
3.38 tbsp olive oil
1 egg
2 tsp salt
For the filling:
ham
cheese (any kind you like)
Start by mixing the yeast in the milk with a tsp of sugar. Now put your flour in a bowl and add the milk/yeast mixture that you've prepared and mix everything a little. I used a mixer but you can use your hands for the whole recipe if you don't have one.
We have to prepare another mixture now:
put your egg in a bowl, add the olive oil and 2 tsp of salt. Mix everything with a fork and add it to the rest of the ingredients.
Continue to mix everything together until you obtain a homogeneous dough.
Let your dough rest for a couple of hours, leaving it in a covered bowl to make sure that it will rise.
After your dough has risen, spread it on a table using a rolling pin, until it becomes a big rectangle, about ¼ inch thick.
Lay your slices of ham and cheese on the rectangle and begin to roll it starting from one of the longest sides. Try not to make the roll too tight.
Prepare a round cake pan, spreading some oil or putting parchment paper in it.
Now you have to cut your roll into sections, about 1¼ inches. (These sections will be the roses of your bouquet :) Place them in the pan trying to keep them a little distant from each other because they are going to grow some more.
Let them rest for another 45 minutes, or until doubled in size.
Brush some milk over the top, and bake at 350º F for about 35 minutes.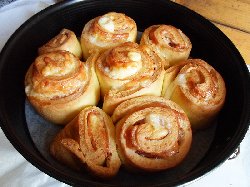 It's ready!!!
Doesn't it look tasty??