By Meemaw
A post was recently made in the PCLinuxOS Magazine section of the forum asking about a program to make greeting cards. A greeting card website was shared where you can choose from their pre-made cards and print them out. However, sometimes I want something I can't find on their site, or the available cards are not to my liking. ScribusStuff.org has a few templates to help, and I downloaded a couple of templates to open in Scribus. You can also make your own in LibreOffice Draw or Scribus. Let's make a quarter-fold greeting card in each.
LibreOffice Draw
The first thing I did in LibreOffice Draw was to open a single page in portrait orientation. I then set my margins at 0.25" (Format > Page...). Since this page will be folded in half twice, I created a couple of guide lines down and across the center of the page each way. I made them a light gray so they are barely visible, but visible enough for me to see them as fold lines for the finished product. They can be left in or removed before the card is printed.
Let's add the front of the card. You can add any graphic on the bottom right of the page. I'm sure I don't have to caution you about only using artwork that you have the right to use (your own stuff, Creative Commons, etc.). The picture I will insert is one I took at Butchart Gardens in Victoria (Canada). Make sure you save your LO Draw file with an appropriate name. I think mine is Birthday1.odg.
Next comes the text frame. If it is the inside of your card, it needs to be placed in the upper left corner of your page. Reminder: In order for the card to display correctly in portrait orientation after it's folded, the graphics & text on the top half of the page need to be upside down. Create your text frame and enter the text you wish. Under the Modify menu, choose "Rotate." The corners of your frame will turn red and, when you hover your mouse over one, will change to a rounded arrow. Grab a corner and rotate it until it is as you want.
Put in any other text or graphics that you want, and save your file. After you print and fold, it will look similar to the card below;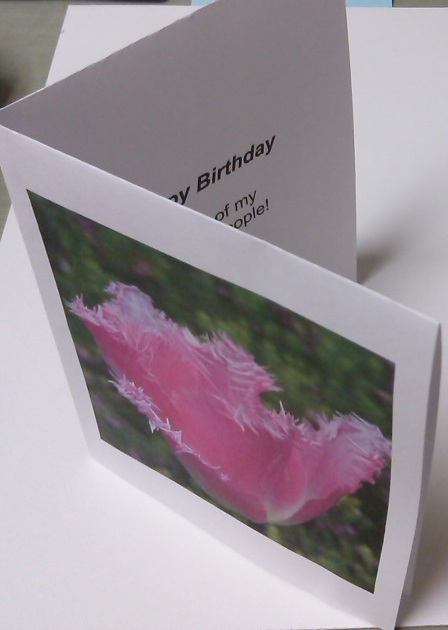 You can also save this as a template by clicking File > Save As Template.... The Templates Manager will open and you should click Save. A small window will open asking you to name your template.
Scribus
The process for this same card starts out similar in Scribus. Set up your page and margins the same, but now add image and text frames in the appropriate spots, bottom right for the card front, top left for the inside right, and so on. Remember, the inside right text needs to be upside down on the page to look right when it's folded. Therefore, your text frame needs to be rotated 180 degrees in the settings. See the example with text below.

At this point, you can save your document with just frames as a template.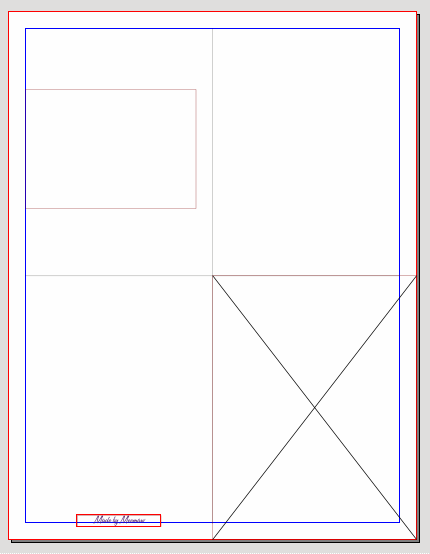 In Scribus, you right-click the image frame and choose Get Image... to add your graphic. You should adjust the image frame to suit your graphic and the text frame for your captions. You can add more graphics and text as you desire.
Any time you need a greeting card, you can open your template, add your graphics and caption, and your card can be printed, folded and mailed.
In case you need to refresh your knowledge of Scribus, the magazine's Scribus guide can be found here.
Now we have three methods for making greeting cards in Linux. I hope you find one that works well for you. I have included the templates I saved here.