by Paul Arnote (parnote)
Psssst! I bet you didn't know about the vast quantity of templates that exist for Google Docs/Google Drive. Don't feel alone. I didn't either, despite having used Google Docs regularly for the past five years. Here at The PCLinuxOS Magazine, we use Google Docs to share the magazine's articles among the staff, and to facilitate collaborative editing of those articles. It wasn't until the past month or so that I discovered the vast quantity of templates that exist for Google Docs. To say that I was blown away would be an understatement.
Don't expect the available templates -- many uploaded by other Google Docs users -- to be arranged or sorted into any kind of logical order. It appears that some users just upload them to the first category that they stumble across, without regard to how well it fits into the selected category. Thankfully, you can also view templates by what type of file they are (document, spreadsheet, presentation, etc.). Still, the quantity of available templates is overwhelming.
Here's a brief breakdown of the categories of Google Docs templates:
All categories
Albums & Flipbooks
Business
Calculators
Calendars & Schedules
Cards & Certificates
Holiday
Labels & Business Cards
Letters & Faxes
Miscellaneous
Personal Finance
Presentation Designs
Resumes & Cover Letters
Statistics
Students & Teachers
The best word that can be used to describe the sorting of available templates into categories is "unmoderated." That is, there is no one responsible to insure that the uploaded templates are placed into the appropriate category. They tend to lie where they land -- or in the category into which the uploader places them. This can make it difficult to find templates that might be useful to other users, including ones that might be useful to you.
Still, there are some pretty useful templates available for your use, if you can locate them. Looking to make a new resume and cover letter for a renewed job search? Chances are high that you'll find something that suits your needs. Looking to track your household expenses and develop a household budget? Plenty of those types of templates exist. Need to create an invoice for a new or existing business? No problem. Those templates exist, too. Want to make your own custom greeting cards? It's easy, using one of the templates. Need to create mailing labels to mail out your newly created greeting cards? Find the template that matches the labels you have (or buy).
Gaining Access To The Templates
Whether you are connected to Google Docs or Google Drive, the procedure is exactly the same.
From the "Create" button, select "Connect more apps" at the bottom of the menu.
In the dialog box that appears, find and select the "Drive Template Gallery." If you don't see it listed, enter "template" (without the quotes) into the search field, as I've done in the image above. The app add-on should be listed at or near the top of the list. Select the "Connect" button to the right of the add-on.
Select the "Accept" button in the permissions dialog box.
Now, select "From Template" in the Google Docs/Drive "Create" menu.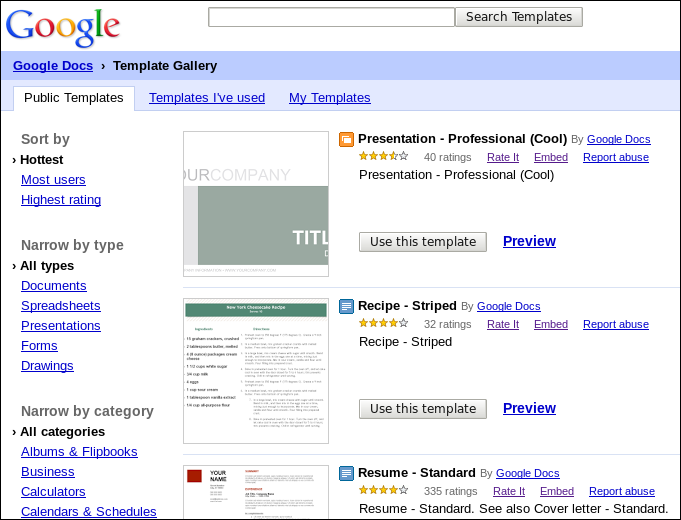 Search for -- and hopefully, find -- the template you want to use. From that point on, it should be simply a matter of applying the template to your needs.
If you can't find exactly what you are looking for among the thousands of available templates, there's certainly nothing stopping you from finding one that comes close and tailoring it to your personal needs and/or tastes.