by Paul Arnote (parnote)
Traditionally, Linux users are viewed as a "geeky" lot. And I'm OK with that, personally. To me, all that means is that I'm looking for something better than what the uneducated masses settle on. That's why I use PCLinuxOS, instead of Windows or OS X.
This year, most of my selections for the Annual Holiday Gift Guide will be from one place: ThinkGeek.com. All the most ingenious, original, unique gifts befitting a "geek" can be found there. My remaining choices will come from the official PCLinuxOS Store.
So, what follows are my 10 choices for holiday gift giving.
Class IIIa Green Laser Pointer, $39.99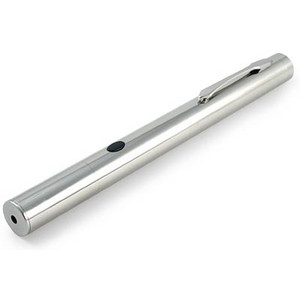 It's green, not red. As such, it's about 50x brighter than a "traditional" red laser. As such, it can be seen at much greater distances than a red laser. Plus, since everyone else has a red laser, that makes a green laser just that much "cooler." Another nice feature of this item is that unlike most red lasers out there that use small (expensive) button batteries, this laser runs off of two AAA batteries, which are available just about everywhere and anywhere.
Rock Paper Scissors Lizard Spock Desktop Mug, $7.99
Do you have a Big Bang Theory fan on your gift list? (I was thinking of Meemaw when I added this). Well, here's a perfect gift for them. The diagram on the mug helps solve disputes about what move trumps what move in Rock, Paper, Scissors. And, until the Big Bang Theory came along, most people never heard of Lizard or Spock. In fact, I'm betting that the "inventors" of Rock, Paper, Scissors hadn't, either. A search of the internet reveals an individual by the name of Sam Kass claiming to have invented the expanded version, on his website.
It goes like this ... Rock crushes lizard, Scissors decapitate lizard, Lizard eats paper, Lizard poisons Spock, Paper disproves Spock, Spock vaporizes rock, Spock bends scissors. The 16 ounce (473 ml) mug is NOT dishwasher or microwave safe, to preserve the printing on the mug.
Star Wars In Your Pocket, $9.99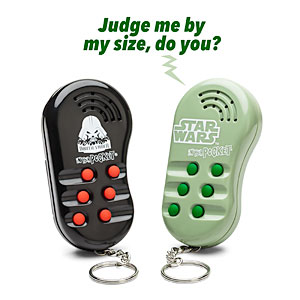 Who doesn't have a Star Wars fan on their holiday gift list to buy for? I think you'd be hard pressed to find someone who doesn't. You would also be hard pressed to find a cooler, geekier gift than one of these two key chains ... or both of them!
The black one features six memorable lines from Darth Vader, while the green one features a half dozen memorable lines from Yoda. Now your Star Wars aficionado can carry a little bit of Star Wars in their pocket, whipping it out for use at the most appropriate (or inappropriate) times.
Plus ... with the first of the new movies due out at the end of next year ... I'm just sayin' ...
Star Trek TNG Uniform Tee, $19.99
Lay in a new course, Commander Data! The Trekker on your holiday gift buying list will swoon over this t-shirt, which is styled after the uniforms worn on Star Trek: The Next Generation. Captain Jean luc Picard would be proud. This t-shirt is emblazoned with screen printed pips indicating rank, as well as screen printed sparkly communication badges. Careful wearing the red shirt! You know what happens to the red shirted crew members -- they are expendable.
Pen-Ultimate 5-in-1 Geek Pen & Stylus, $9.99
Want to talk about the ultimate geek pen? A pen that does EVERYTHING? Here it is. It's a pen that writes. It's a white flashlight. It's an ultraviolet flashlight. It's a red laser pointer. It's a capacitive stylus. What more could you possibly want from a pen?
The pen is refillable. When you're done writing on paper, unscrew the lower half of the unit, flip it around, and screw it back in. Now you have a stylus the will work on most tablets and smartphones.
Doctor Who TARDIS Door Cling, $59.99
Having been aired continuously, either as new shows or in syndication, for the past 51 years, the fan base for Doctor Who is ENORMOUS. Chances are high that you have a Doctor Who fan on your holiday gift list.
Any self-respecting Doctor Who fan would be ecstatically happy to get this TARDIS door cling. With it, they can transform any 36" x 80" (91.5 cm x 203 cm) door (closet door, bedroom door, entry door, office door, etc.) into their own TARDIS portal. The PVC door cling can be cut down to fit any odd size door, if necessary. It can also be taken down and reapplied over and over again.
Infinite Dungeon Corridor, $24.99
If you remember the "infinity mirrors" from the 1980s, you'll certainly appreciate this ThinkGeek exclusive reproduction. ThinkGeek has transformed the old classic into an endless, infinite dungeon corridor, complete with flickering torches for that authentic look and feel. It is designed to sit on your desk, or to hang on your wall. This makes a perfect gift for anyone who likes dungeons, corridors, infinity, castles, D&D, and more. The Infinite Dungeon Corridor runs on three AA batteries.
PCLinuxOS Men's Value T-Shirt, $13.99
Show your PCLinuxOS pride, and help spread the word about PCLinuxOS at the same time. Made of midweight 100% cotton fabric, this t-shirt is perfect casual wear for a warm summer day. Better yet, get one for every person on your holiday gift shopping list and REALLY help spread the word about PCLinuxOS. A portion of the proceeds from the sale of this item goes to help support PCLinuxOS.
PCLinuxOS Boxer Shorts, $14.99
Keep PCLinuxOS next to your heart with these 100% lightweight cotton boxers. Great to use for underwear or sleepwear. A portion of the proceeds from the sale of this item goes to help support PCLinuxOS.
PCLinuxOS Mouse Pad, $12.99
Give your favorite PCLinuxOS user -- or yourself -- the gift of a mouse pad emblazoned with the logo of the best Linux distro around. A portion of the proceeds from the sale of this item goes to help support PCLinuxOS.
Summary
Regardless of your religious beliefs or holiday traditions, these are some gift suggestions to help fulfill your holiday gift buying needs.
Happy Holidays, from all of us at The PCLinuxOS Magazine. May you have peace and harmony in your life.