by daiashi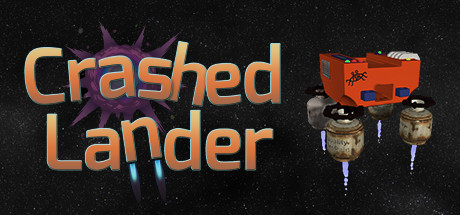 About The Game
"Outwit gravity, race the clock, explore new worlds."
"Crashed Lander is a gravity-based arcade game inspired by classics like Lunar Lander and Space Taxi. You've built a janky craft out of propane tanks and spare parts. Pilot it from pad to pad trying to beat your best time -- then flirt with that fine line between speed and control.
If you're brave enough to try Hard Mode you'll be flopping around like a QWOPy, low gravity turtle. With a little practice you'll be zippin' around doin' barrel rolls. You'll see sites from the cutting edge of fractal mathematics -- bizarre, organic shapes, arcane archaeological digs, and all manner of WTFderful alien vistas. Each level is a detailed hand-crafted landscape that encourages the player to explore - and goof around! You can also pilot your lander in virtual reality with your Oculus Rift."
* 24 levels to conquer and explore in Pad Hopper mode

* 20 levels in Ring Runner mode - fly through custom courses

* Pad Hopper, Fuel Miser and Ring Runner high scores

* Full Oculus Rift support

* Full (xbox 360) controller support

* Hidden collectibles on every level

* Earn stars and track your progress through all 44 levels

* An hour of spacey, glitch-hop music - mp3's included!
Not a full action packed good guy versus bad guy game, but amusing nevertheless. Hopefully, we will be adding more levels in the future. Maybe an underwater version with environments based on actual data. It's nice to see folks with these talents getting recognized for what they like to do. This is a great time filler. Have not tried it on a flat screen tv as of yet, only on my 20". Should look as equally good though. Well, back to the game. Hope you enjoy it. http://www.brainblinks.com/#/crashed-lander/
System requirements:

Fully updated PCLinuxOS and Steam
Hardware:

Minimum:
OS: PCLinuxOS

Processor: Intel Core i5 or equivalent

Memory: 2 GB RAM

Graphics: NVidia 560ti or equivalent

Hard Drive: 900 MB available space
About The Company
Don Whitaker is a 46 year-old digital tinkerer living in the Willamette Valley of Oregon, USA. He has been making things with computers for over 33 years using every creative tool he can get his hands on. For the last three years he has been using Unity to combine various digital design skills into fun, experimental projects. Don felt like he was ready to launch a full-time game dev career and Crashed Lander is Don's first full-on game.
You can see some of Dons' other game experiments over on BrainBlinks website. Widdly Tinks is a one-finger arcade game, Gravitas is a fun physics toy, and Breeders is a simulation of artificial life.
Some Gameplay Screenshots
Getting It To Run
Install Steam (if you don't have it installed already), then start it. You will need to create a new account, if you do not already have one. Once you have Steam up and running, go to the store tab. Click on the Linux tab if you wish and search for it. Click on and download the demo. If you have updated your system, including graphics drivers, you should be good to go.
http://store.steampowered.com/app/340450/?snr=1_7_tabpaginated__222