by daiashi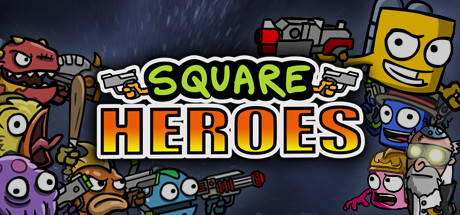 About The Game
Designed for multiplayer from the ground up. All maps support six players including bots as desired. Up to four human players can play locally without split screen. What's more, multiple local players can join online matches together, enabling online couch vs couch gaming.
Game modes include co-op, free-for-all, and team based options. Hunt for gnomes, survive alien onslaughts and fight to the death in any of the six stylish 2.5D arenas.
Choose your weapons at the start of each round and unlock them by collecting loot. Rounds begin with Melee combat and progress through: ranged, heavy, explosive and special item categories. Strategically choose your load-out to defeat your foes!
Level-up your Hero and unlock over 30 new weapons including: Grenade Launcher, Sticky Bomb and Chicken. Earn over 30 heroic achievements to unlock stat buffing hats!
System requirements:
Fully updated PCLinuxOS and Steam
Hardware:
Minimum:

OS: PCLinuxOS
Processor: Any with 2 or more Cores
Memory: 1 GB RAM
Graphics: OpenGL 3.0 with at least 256MB
Network: Broadband Internet connection
Hard Drive: 256 MB available space
Recommended:

OS: PCLinuxOS
Processor: Any with 2 or more Cores
Memory: 2 GB RAM
Graphics: OpenGL 3.0 or later with at least 512MB
Network: Broadband Internet connection
Hard Drive: 1 GB available space
About The Company, GnoMic Studios
Build It And They Will Play. Founded in 2009 by Scott Millar and Aranda Morrison, Gnomic Studios went on to release Square Off on Xbox, Windows Phone, Ouya, iOS and Android. They are currently building the online multiplayer sequel, Square Heroes.
Impressions
I actually found this game fun. At first, I was a little skeptical due to the unclear layout between single player and multiplayer. It reminds me of a gun-wielding version of Kirby with a jet pack.
As simple as it may seem, it can definitely fill a gap during a rainy or snowy day.
Some Gameplay Screenshots
Getting It To Run
Install Steam (if you don't have it installed already), then start it. You will need to create a new account, if you do not already have one. Once you have Steam up and running, go to the store tab. Click on the Linux tab if you wish, and search for Square Heroes. Click on and download the demo. If you have updated your system, including graphics drivers, you should be good to go.
http://store.steampowered.com/app/334560