As Told To Smileeb
This month we have Rudge
How old are you?
Ugh, let's see, do you have a calculator? Looks like, 54 now.

Married, single or what?
Very happily married to JRex.

Children, grandchildren?
No children oddly enough. My first two marriages had hopes of producing kids but they both ended within 7 years having produced only arguments. When JRex and I got married, the decision not to have kids was already established by us both. I have no regrets.

Retired or working and for how long and at what.
This is complicated. I once had a promising career in IT starting in 1980 and progressing nicely along, producing a nice resume with names like Wachovia, Johnson Controls, Bell South, MCI, AT&T and IBM. But, I was laid off in 2006 and well we know what happened after that. The timing sucked. After a few short years of looking for a job in the only field I had ever known, I was suddenly "unemployable." I guess I have finally accepted my position as one of "Housewife." Hey, it's supposed to be the hardest job there is right? I do it pretty well.

What is the area you live in like. Weather, Quietness, Scenery.
I'm originally from just south of Atlanta Ga. but I'm currently comfortably settled in a quiet town called Huntersville, NC. It's an awesome place. It's about 10 minutes from cows or the mall, depending on which direction you head out. It's also about 10 minutes from two major North Carolina lakes, again, depending on what direction you go. It's very nice to be so close to two major worlds right where they collide. Access to both has suited us nicely because I'm a "country boy" and JRex is a "city girl."

Are you handy with your hands and have any hobbies.
Like this "isn't" the only thing I ever talk about. LOL!

What is your education level?
There were "levels?" I didn't notice that part. However, I DID graduate high school in 1980 and was the first, in the entire history of my father's family to do so.

Do you like to travel, go camping?
I like to fish. My dad taught me to fish when I was knee high to a toad. It stuck with me. I still suck at it, but I still like it.

What caused you to try Linux and join this forum.
I first tried Linux because way back when DOS was the norm in the workplace, I was already using UNIX, and I was way more familiar with it than DOS (although many DOS commands were surprisingly similar). Once Win95 hit the scene, DOS took a back seat, and to be honest, I missed my command lines and the feel of UNIX while I was at work.

When I first got word of a *nix like desktop environment that would run on a PC, I was all over it! The forum was something I found after many years of distro hopping. I've been Green, I've been Red, heck, I've even been Brown but when I stumbled on that PCLinuxOS Blue and the people and personalities behind it, I quite literally felt like I was "Home".

This is me and JRex at the Blue Ridge Parkway back in November of last year. It's about a three hour drive from us.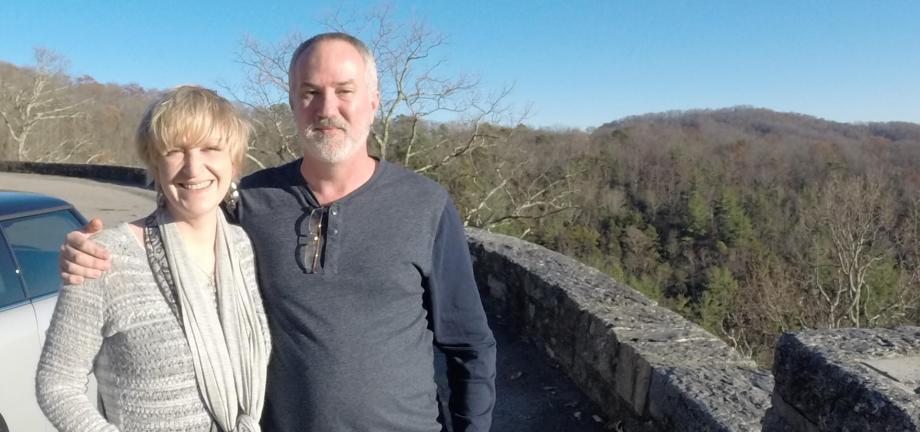 PCLinuxOS Family Member Spotlight is an exclusive, monthly column by smileeb, featuring PCLinuxOS forum members. This column will allow "the rest of us" to get to know our forum family members better, and will give those featured an opportunity to share their PCLinuxOS story with the rest of the world.

If you would like to be featured in PCLinuxOS Family Member Spotlight, please send a private message to smileeb in the PCLinuxOS forum expressing your interest.