by Paul Arnote (parnote)
It's that time of year. The holidays are upon us, once again. With that in mind, it's also time for The PCLinuxOS Magazine's annual gift guide. Between me, Meemaw and YouCanToo, we're going to present 30 gift ideas that might help you buy gifts for that "hard-to-buy-for techie" on your holiday shopping list. You can also help PCLinuxOS by purchasing gifts from the official PCLinuxOS store on CafePress, and I've featured some of those items below. PCLinuxOS receives a portion of the profits from the sale of each item in the official PCLinuxOS store. Also, all prices are expressed in U.S. dollars.
KINGWIN KW-HUB-9U3 9 Port SuperSpeed USB 3.0 Hub ( 7 x USB3.0 Port + 2Port IQ smart Charging) Newegg ... $31.99
It doesn't seem to matter how many USB ports you have on your computer, you can always use more. This USB hub features seven (7) high speed USB 3.0 ports, along with two IQ Smart charging ports. Sure, there are hubs that are less expensive, but this one is externally powered -- so you'll need to plug it into the wall, as well. Once connected to an open USB 3.0 port on your computer, you'll have not only seven additional USB 3.0 ports to power all of you peripherals, you'll also have two intelligent charging ports to charge your smartphone, tablet and other devices.
PCLinuxOS Value T-Shirt Official PCLinuxOS Store ... $13.99
Look great in this value priced t-shirt, emblazoned with the PCLinuxOS logo. Made of midweight 100% cotton, this shirt is perfect for warm summer days or just lounging around the house. Let the world know about the best operating system ever by wearing it around town. This shirt is only available in white, and in adult men's sizes small to 4XL.
Silicon Power S60 3K P/E Cycle Toggle MLC 2.5" 120GB 7mm SATA III 6Gb/s Internal Solid State Drive (SSD) Newegg ... $41.99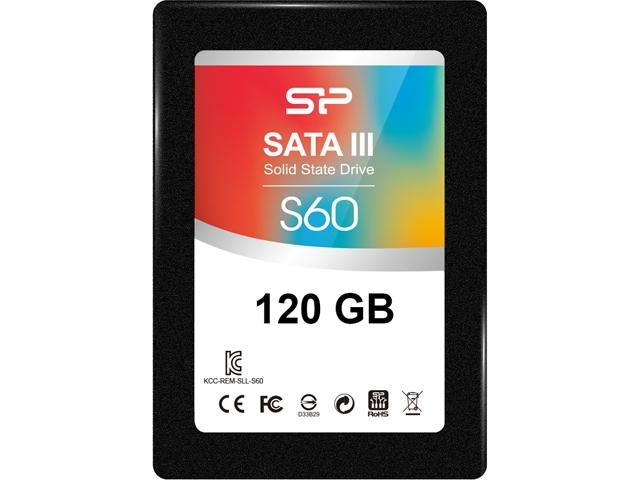 Want to breathe new life into an older computer? Replace the existing SATA III magnetic hard drive with a SATA III SSD (solid state drive). Not only will your computer boot in record time, but you won't believe how responsive and fast your older computer becomes. Like a lot of SSDs, this fits into a 2.5" form factor, and it can be used in a notebook, netbook, or desktop computer (the latter will most likely require a mounting adapter, though). If digging around inside your computer isn't your cup of tea, you can also use this in an external drive enclosure and create a blazing fast external storage solution that can be moved between all of your computers. Just in case 120 GB isn't big enough for your liking, there is also a 240 GB version available on the same page for $67.99.
PCLinuxOS Clock PCLinuxOS Official Store ... $13.99
Keep track of how much time you've been on the computer with your own wall clock adorned with the PCLinuxOS logo. The 10 inch analog wall clock features precision quartz movements to guarantee accurate time, and is housed in a black plastic case with a clear plastic lens. It runs off of one AA battery, which is included.
Folding Adjustable Vented Laptop/iPad/Book Desk Stand, Portable Bed Tray - Black Newegg ... $26.99
One of the worst things you could do to your laptop (notebook) computer is to use it on your lap or other soft surfaces. Frequently, you block the ventilation holes, causing your laptop to run hot. In fact, it can run so hot that it causes burns to the skin. Plus, we all know (or should know) that heat is a mortal enemy of computers, and can shorten the lives of various computer components, especially CPUs, RAM and video chips.
So, if you like to lie in bed and cruise the internet, or sit in a chair with the computer in your lap, this item is for you. Not only does it provide a fairly stable platform for your computer, it keeps the computer off of soft, fluffy surfaces (like your bed), and off of your lap. In doing so, it improves air circulation around the computer, thus helping to keep your computer running cooler, and thereby helping extend the life of your computer and its components.
PCLinuxOS Coffee Mug PCLinuxOS Official Store ... $14.99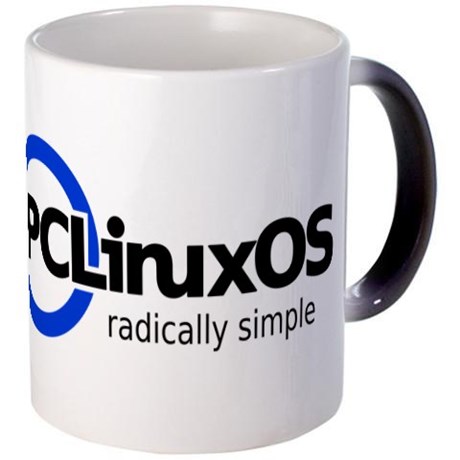 Have your morning cup of joe in a PCLinuxOS coffee mug! This mug comes in three sizes: small, medium and large. The small mug, at 11 ounces capacity, also changes color. When filled with a hot beverage, it changes colors from black to white, revealing the logo. The medium mug holds 15 ounces, costs $15.99, and does not change colors. The large mug holds 20 ounces -- over three times the size of a traditional coffee cup (a traditional serving size of coffee is six ounces). The 20 ounce mug costs $19.99, but does not change colors.
Star Wars #1 ThinkGeek Exclusive Variant ThinkGeek ... $7.99
With the release of Star Wars: The Force Awakens movie scheduled later this month on December 18th, Star Wars merchandise will be finding a new audience as millions discover the saga for the first time -- and as many millions more rediscover and revisit their longtime favorite serial about good vs evil. Star Wars "lore" is broken down into two categories: legend and canon. The former is unofficial, while the latter is the "official" history. Since the first release of the first movie (Episode IV: A New Hope) in 1977, there has been a steady stream of Star Wars lore released to fans hungry for more. As you can imagine, both categories of lore have filled up with tomes of information.
Now, there will be an official Star Wars comic book line coming out. And I do mean OFFICIAL. The comic books will be canonical. Here's your chance to get a special edition copy of the first issue, with a cover especially designed for ThinkGeek. The issues come bagged and boarded (you comic book collectors will know what that means), but ThinkGeek will not guarantee that you receive a mint condition graded copy. The storyline in these comic books pick up where the first movie (Episode IV) left off.
PCLinuxOS Baseball Cap PCLinuxOS Official Store ... $18.99
Available in white (pictured above) or tan, this 100% brushed cotton baseball cap has the PCLinuxOS logo printed on the front. The hat size is adjustable with a hook and loop strap in the back, allowing for proper sizing for virtually any head size. It also features a sweatband on the inside.
BB-8 Desktop Lamp ThinkGeek ... $39.99
In the new Star Wars movie, The Force Awakens, he doubles as a projector, a fire extinguisher, a navigator, and a power coupler. We know all the things that R2-D2 does, but we don't yet know all the things BB-8 has up its... well, up its metaphorical sleeves. Maybe it also doubles as a lamp in a sticky situation. We just don't know.
But it definitely can double as a lamp for you. This BB-8 Desktop Lamp stands 8 1/2" tall and casts light on your subject of choice, whether that's astronavigation or algebra. It has LED light inside the head, which shines downward through a diffuser. A gentle tap on BB-8's head switches between three different lighting modes: natural white, amber, and warm white. And off. Also a good mode when you need to go to sleep.
MTM Arrow Plus Case, Black Sportsman's Guide ... $31.99 ($28.79)
I keep it no secret that I like to hunt and fish, and enjoy all sorts of outdoor activities. In the last year, I took up learning archery. What I didn't anticipate was how quickly you accumulate arrows and all the accessories that go along with them. Broadheads and field tips, nocks, fletching material, threaded inserts ... the list goes on and on. So, it would be nice to have a single case where I could store all those arrows and assorted accessories. This case will store 36 -- three dozen -- arrows up to 35 inches (88.9 cm) in length (even though I cut my arrows to a length of 28 inches (71.1 cm) to accommodate my draw length).
We here at The PCLinuxOS Magazine would like to wish you and your families a wonderful, safe and happy holiday season.