by Alessandro Ebersol (Agent Smith)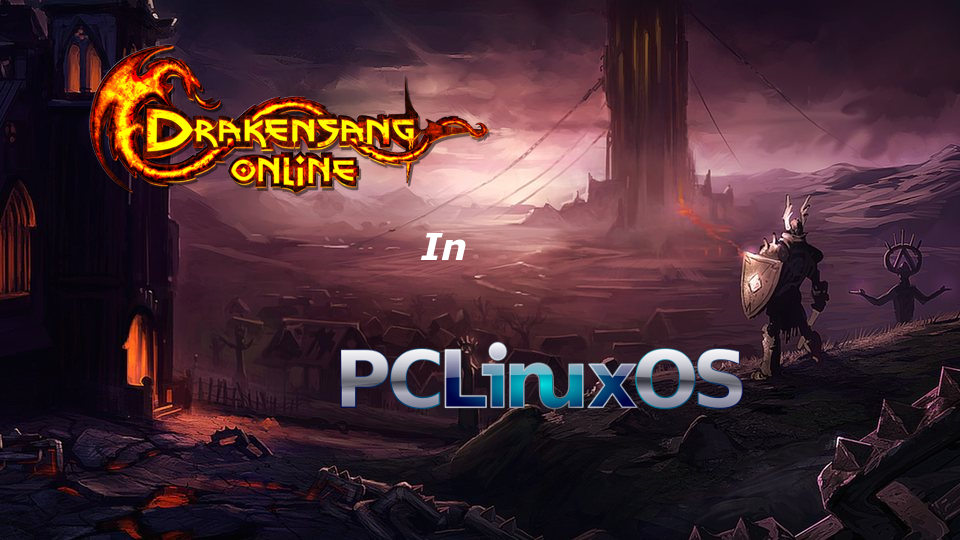 Continuing in the subject of free-to-play MMORPGs in PCLinuxOS, today I'll discuss the game Drakensang Online.
Drakensang Online is an action RPG game in 3D, free to play, that features extraordinary 3D graphics and effects and heralds the next generation of free-to-play online browser games.
With the ability to customize your character, skills and magical powers as never seen before in a browser game, join your comrades to wage a brutal war against evil.
The game world is visually impressive, with picturesque medieval towns, green forests, muddy swamps and dark caves. It was developed by Bigpoint, from Germany, using its in-house engine "Nebula3," impressing players with a level of graphics and 3D effects never before seen in browser games.
Drakensang Online has impressed its fans with a variety of different skills for the characters, exciting and challenging quests, an impressive arsenal of weapons and magic, and over 100 hours of playable content.
The game invites players to take on arms as freedom fighters: Dragonknights, fearless Warriors; Spellweavers, wise and magical; Rangers, archers and hunters and Mechanics, dwarves who use technology as a weapon (in a Steampunk style) to wage a brutal war against the dragons and wild terrible monsters of the Underworld.
Players must join forces and fight as one team in order to survive the treacherous dungeons of Drakensang Online.
Players can meet up in public gathering places, such as cities or military camps, and get to know each other, take on challenges together and create plans to march into battle united. In addition to cooperative gameplay, players can also test their courage against each other in PVP arenas located in the capital of Kingshill, and find out who is the most powerful hero in Drankensang Online.
The game accepts PVE and PVP, and there are specific PVP's servers, where the emphasis is on competitive combat.
Now, how to play this great game in PCLinuxOS?
There is a Play-On-Linux script to install and play Drakensang Online in Linux. However, there is an easy and effective method of playing DRO in PCLinuxOS, without all the extra work of Play-On-Linux.
Before I start with the how-to, however, I will analyze how the DRO client works.
Drakensang Online, a java browser game (said no one ever).
Analyzing how the DRO client works, I came to the following conclusions.
It is a game that runs inside a browser by a Java wrapper, whose function is to call the thinclient.exe program. This a program in C# that is the client running the game.
And I was all happy because I was going to play a Java RPG in my Firefox. How sad when I found out how the game client works. By having a client in C#, win32 does not run on Linux (despite the Java wrapper).
The need for Java means it does not run on Google Chrome browsers as well. But it can be played both in the browser and in PCLinuxOS.
Now follow the cake recipe.
You're gonna need:
1 - Wine (in repos)

2 - Winetricks (in repos)

3 - Firefox browser for Windows. (https://download.mozilla.org/)

4 - Java virtual machine for Windows(JRE), version 7 (jre-7u80-windows-i586.exe) – Available here.

Now, follow these steps:
,br> 1) In Winetricks, install DirectX 9, as explained here.

2) Now, install the Java virtual machine for Windows, via Wine. Note that it must be that specific version, since it's a version that works 100% with Wine on Linux.
3) Install Firefox for Windows.
And it is ready.
In Wine's Firefox , go to http://agathon.drakensang.com/, register an account, then log into your account. Then, when you get to the player panel, click Play Now, followed by ready. You will be transported to the kingdom of Dracania, to fight the forces of evil, and in PCLinuxOS.
I played this game a lot, and, for best results, it is necessary, in the settings, to lower the quality of the game in fullscreen, play simple shadows and enable good quality for graphics. After some time, the game is laborious to level up the character, especially after level 40, and sometimes the game manifests one "pay-to-win" aspect - very mercenary-like. But it's fun, with great graphics, and it's good to play with friends and make new friends.
Enjoy yourself playing this awesome RPG in PCLinuxOS!