by daiashi
About The Game
Knights of the Old Republic II is a role-playing video game played from a third-person view that features real-time combat. Combat and interactions with the environment and non-player characters in Knights of the Old Republic II is based on the d20 System as in Star Wars: Knights of the Old Republic. The game begins with the character creation menu that has some race and gender selections available. After your character has been chosen, you will be asked to his or her character's abilities. There are 30 new Force powers. The game has several mini games. The interface has been streamlined from the original game and party management was made easier; for example, the player can now switch between two selected weapon sets in the menu. As in the first game, the player can choose to align with either the light side or the dark side. As you progress through the game, you will encounter many characters to converse with. Your answer will determine your jedi or sith path.
The combat of Knights of the Old Republic II is identical to its predecessor. Several new lightsaber crystals were added to the game. Each of them is useful for a different situation. The player can use a variety of melee and ranged weapons, including swords and firearms. Fighting unarmed is also an option. A new addition to the game are "prestige classes". These are add-ons to the Jedi classes that were established in Knights of the Old Republic. They let the player character practice in lightsaber combat or Force powers, depending on player choice. Do not let the above phrase "Knights of the Old Republic II is a role playing video game." discourage you.You have complete control over your actions.When your character senses danger, the game will pause and give you a course of action. You can, of course, hit the spacebar to resume and run around or from many opponents if tha'ts your thing.
The player can travel with up to two fellow game characters at a time, which gain experience points at the same rate as the player character. Equipment and perks for party characters can be selected for different statistical effects or abilities. Players can loot corpses and various environmental objects. The protagonist also has the ability to "influence" their game members by doing things that impress them, the player increases their influence with them. Depending on the level of influence, party members may support the player character unconditionally or turn on the protagonist. The player can also exploit high influence by drawing party members to either the light side or the dark side.
Previously I wrote on games that had a demo version available. However, this is a purchase only game. At $9.99, it is well worth it if you are a Star Wars fan. I might add as well that the game is 10 years old and still is not going unnoticed. It received a healty update as of 2015.
Hope you enjoy and "May the Force be with you."
System requirements:
Fully updated PCLinuxOS and Steam
Hardware:
OS: PcLinuxOS


Processor: Intel Core i3 (2 Cores), AMD A10


CPU Speed: 2.2 GHz


Memory: 4GB RAM


Hard Disk Space: 10 GB


Video Card (ATI): Radeon HD 5450


Video Card (NVidia): GeForce 440


Video Card (Intel): HD 4400


Video Memory (VRam): 256MB


Controller Support: Steam Controller, Microsoft® Xbox® 360 Controller for Windows® (Wired), Microsoft® Xbox® 360 Games for Windows® Wireless Controller with Adapter, SONY® PS3 DUALSHOCK®3 wireless controller (Wired), SONY® PS4 DUALSHOCK®4 wireless controller (Wired), Logitech Gamepad F310, Logitech Wireless Gamepad F710.


About The Company
Obsidian Entertainment is an American video game developer whose headquarters is located in Irvine, California. It was founded in 2003 by ex-Black Isle employees Feargus Urquhart, Chris Avellone, Chris Parker, Darren Monahan, and Chris Jones after the closure of Black Isle Studios.
Although they have created original intellectual property, many of their games are sequels based on licensed properties. Early projects include Star Wars: Knights of the Old Republic II: The Sith Lords and Neverwinter Nights 2, both sequels to games developed by BioWare. The team then developed their first original game, Alpha Protocol, in 2010. It was met with generally mixed reviews. Other notable works from Obsidian include Fallout: New Vegas, Dungeon Siege III, and South Park: The Stick of Truth, all also licensed properties.
Some Gameplay Screenshots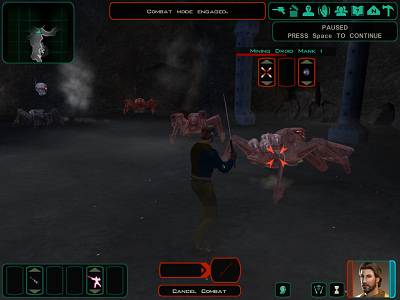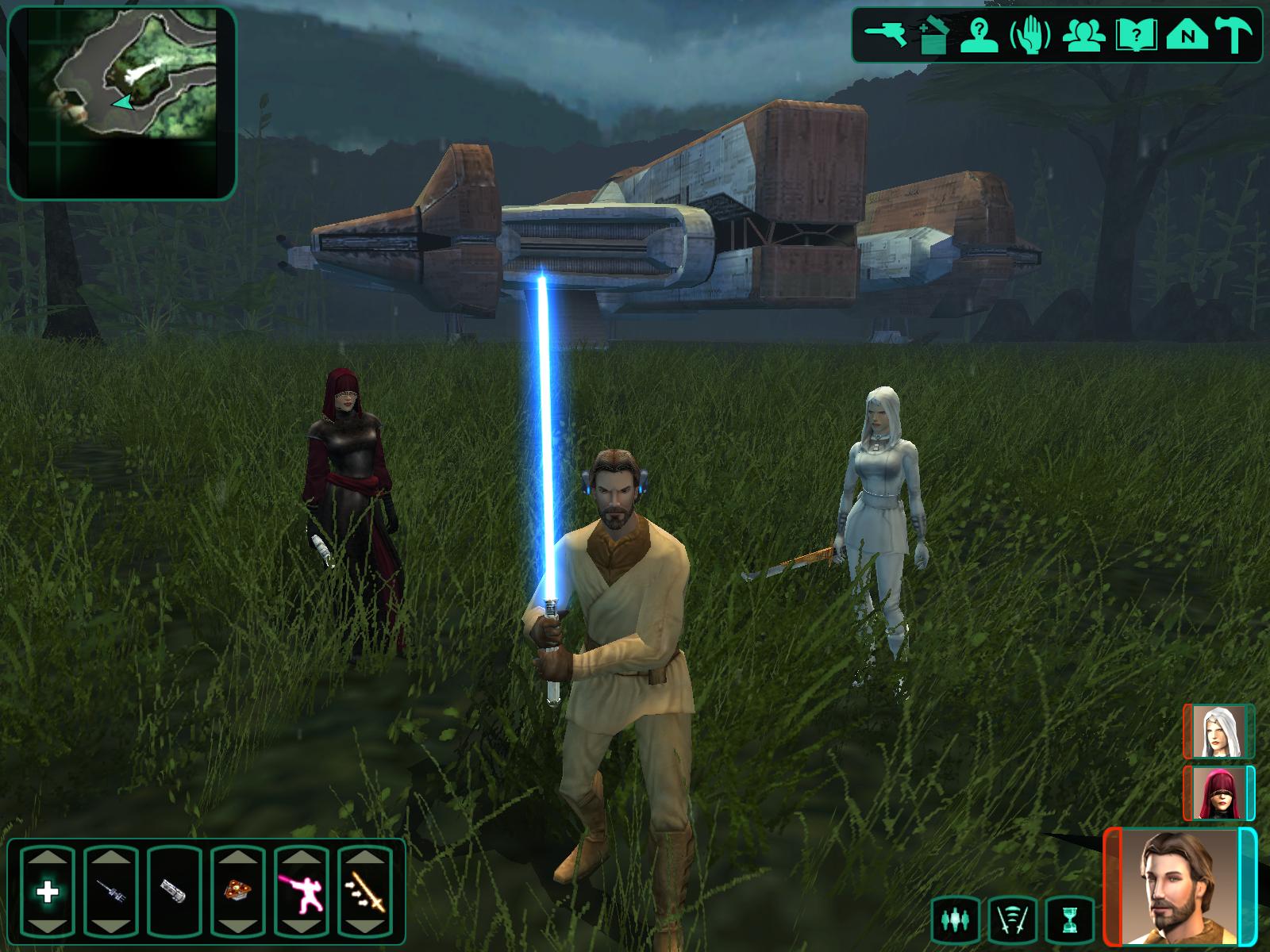 Getting It To Run
Install Steam (if you don't have it installed already), then start it. You will need to create a new account, if you do not already have one. Once you have Steam up and running, go to the store tab. Click on the Linux tab if you wish and search for Kotor2. There is no demo for this game. To purchase, it will cost you only $9.99. If you have updated your system, including graphics drivers, you should be good to go.