by daiashi
About The Game
Experience legendary American trucks and deliver various cargoes across sunny California and sandy Nevada. American Truck Simulator takes you on a journey through the breathtaking landscapes and widely recognized landmarks around the states.
Game mechanics are based on the highly successful model from Euro Truck Simulator 2 and have been expanded with new features, creating the most captivating game experience from SCS Software.
American Truck Simulator puts you in the seat of a driver for hire entering the local freight market, making you work your way up to become an owner-operator, and go on to create one of the largest transportation companies in the United States.
Features
Processor: Dual core CPU 2.4 GHz
Graphics: GeForce GTS 450-class (Intel HD 4000)
Storage: 3 GB available space
Processor: Quad core CPU 3.0 GHz
Graphics: GeForce GTX 760-class (2 GB)
Storage: 3 GB available space
About The Company
SCS Software is a privately owned game and 3D software development company located in Prague, Czech Republic.
Since its founding in 1997, the company has concentrated on creating licensable 3D engine technology. Their game engines powered over a dozen commercially successful games, including best selling games Deer Hunter II and Deer Hunter III, or the critically acclaimed Duke Nukem: Manhattan Project.
Starting in 1999, they began offering full-scale game development services as a third party developer/contractor. With eight finished games under their belt, they now have a very experienced team capable of building games in a variety of genres. Using their own game engine technology as a base, they can guarantee very competitive prices, state of the art visuals, solid game design and passion and dedication to make your game stand out.
Some Gameplay Screenshots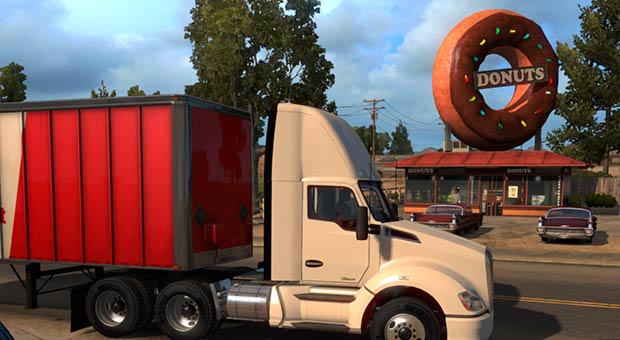 Getting It To Run
Install Steam (if you don't have it installed already), then start it. You will need to create a new account, if you do not already have one. Once you have Steam up and running, go to the store tab. Click on the Linux tab if you wish and search for. Click on and download the demo. If you have updated your system, including graphics drivers, you should be good to go.