by daiashi
About The Game
Ever wanted to fork your friends? Well you can't, that's disgusting. Instead, please enjoy a heartwarming game of Funklift, the only local multiplayer party game that features forklifts in a futuristic disco setting! Play alone or challenge your friends to a wild race for the highest score! Choose between free-for-all, teams or full cooperative mode.
History:
Funklift started out as a student project in a university course during the spring of 2015.
Features:
Drive a forklift!
Up to four players.
A variety of funky levels
But seriously, what other games have jumping forklifts?
The missiles, rocket boosters and landmines are also pretty cool.
I looked it up, they're called 'forklift operators'.
System requirements:
Fully updated PCLinuxOS and Steam
Hardware:
OS: PCLinuxOS
Processor: 2 GHz Dual Core
Memory: 3 GB RAM
Graphics: 1 GB VRAM
Storage: 1 GB available space
Additional Notes: Gamepad required for multiplayer, and highly recommended for singleplayer
About The Company
Mostly Harmless Games is a small game development studio hidden in the mist shrouded mountains of western Sweden. Mostly, Harmless Games started out as a group of students randomly paired for a game project course at the University of Skðvde in April 2015. The goal was to create a prototype for a local multiplayer party game with forklifts in under ten weeks. They named their team of developers after Douglas Adams masterpiece, "Mostly Harmless." Their little family of artists, programmers, designers, writers, musicians and audio engineers set about to create what would become a far more ambitious project.
Forming a company
After the course was completed and the prototype finished, the majority of the team decided to take the project with the working title "Gaffeltruck" to a summer course, the joint initiative between the University and Microsoft Game Camp, where the entire summer developing a completely revamped iteration of the game. The game was eventually named "Funklift". After Microsoft Game Camp, most of the team split up and their family shrunk. Five of them remained. They decided to join a ten-week education in business development and entrepreneurship, finalized by a pitch before Gothia Science Park, who would later offer them a spot in their incubator. To this day, they enjoy their lives from the safety of their office cave.
Some Gameplay Screenshots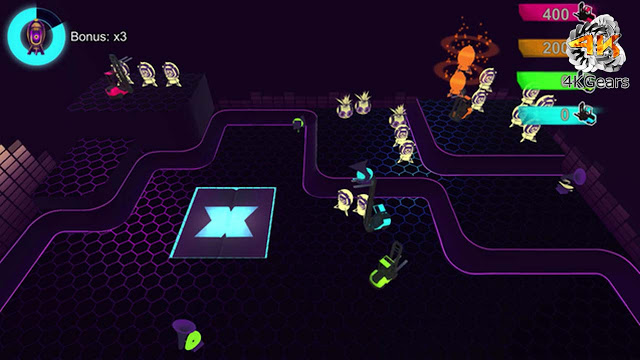 Getting It To Run
Install Steam (if you don't have it installed already), then start it. You will need to create a new account, if you do not already have one. Once you have Steam up and running, go to the store tab. Click on the Linux tab and search for Funklift. Click on and download the demo. If you have updated your system, including graphics drivers, you should be good to go.