by Cg Boy
Some people have huge collections of recipes. Rather than keeping many cookbooks, why not use a recipe manager? That way, you can have all your recipes in one place. Unfortunately, there are only a few recipe managers in the repository, so this isn't a long article. But I'll review what there is. I have put these in the order in which I reviewed them.
KRecipes
First up is KRecipes, a highly configurable recipe manager with many features. It can import recipes from many formats, including MasterCook, Meal-Master, RecipeML, Rezkonv, and TXT files. You can also import SQLite, MySQL and PostgreSQL databases. Along with importing, KRecipes can also export to many formats. Those include TXT, HTML, Meal-Master, RecipeML, MasterCook, and Rezkonv files. Also, of course, KRecipes also has its own formats, KRE and KREML.
When you first open KRecipes, you can opt to install a pack of recipes, and a nutritional database. KRecipes has a fairly good tool for creating recipes. You can even choose a photo to go along with your recipe, and you can give recipes a rating. If you want, you may even print the recipe. KRecipes sorts the recipes by category, and allows you to search through them, which could be useful if you have a lot of recipes. KRecipes can also generate a printable shopping list based on what ingredients are required for the recipes.
KRecipes comes with a diet helper tool, which can generate a diet plan for you, after setting some options, of course. Another tool that KRecipes comes with is the ingredient matcher. It allows you to find recipes you can make with the ingredients you already have. And if you need a measurement converter, KRecipes already has one. KRecipes also comes with a useful backup and restore feature.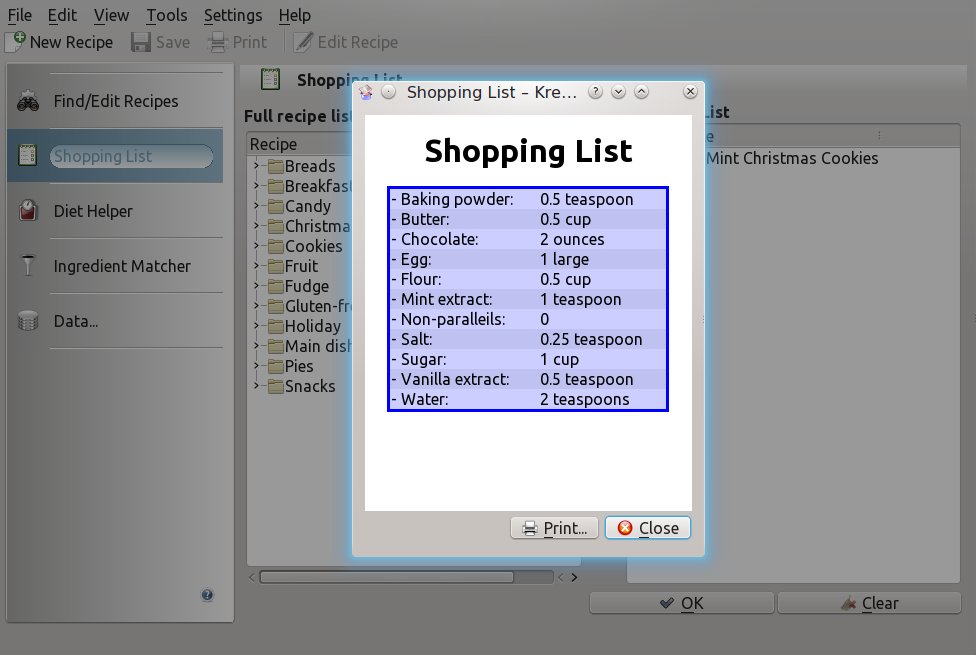 All in all, KRecipes is an excellent recipe manager, and like I said, its also very configurable. I would really recommend it.
Gourmet
There is also Gourmet, another feature rich recipe manager. When you first open Gourmet, you'll notice that it has a simpler interface. As for recipe formats, Gourmet can import MasterCook, Meal-Master, Zip and Tarball, TXT, HTML, KRecipes, and MCP files. You can also give it an URL and it will get a recipe from a webpage. Also, it can export to HTML, Meal-Master, PDF, TXT, and MCB. Gourmet also has its own format.
The recipe creation tool is pretty similar to KRecipes', but it actually has some options that KRecipes doesn't have. You can even add a webpage link to your recipes. Gourmet can then print the recipes. When viewing the recipes, you can the edit the yield and it will automatically adjust the ingredient amounts. Some other features of Gourmet include a handy cooking timer, and a unit converter. Gourmet can sort the recipes by category, rating, cooking time, and more. It can search the recipes as well.
Gourmet also has a shopping list generator. Like KRecipes, it is generated based on what is required for a recipe. The list can then be printed. You can also view the nutritional information of recipes. Gourmet does have support for plugins, but I don't know what plugins are available.
Gourmet is good program, but not as configurable as KRecipes. I don't think it's quite as good.
Summary
Well, both KRecipes and Gourmet have many features. Both can generate shopping lists, and both can do one simple thing, organize your recipes. Although I like Gourmet, I think KRecipes is the winner. It just has more features, and is more configurable. So this month I'd recommend KRecipes.