by daiashi

About The Game
Nation Red is an ultra fast, infinite play arena-based shooter providing an exceptional close-quarter battlefield experience. Fight thousands of zombie mutants and their bosses in frantic, bloody gameplay while earning close to 100 perks. Fight in Barricade, Survival or Free Play mode. Play Online in co-op, in single player or in local co-op!
August 17, 1977: Scattered groups of zombies infiltrate remote Midwestern towns. Incapable of using tools or weapons, the invaders are resisted until they retreat back into the desert. Special elimination posses are set up to hunt down any of the surviving undead. Six weeks after the squads started their search-and-destroy mission, the last known zombie was shot and killed.
Present-day: Over thirty years had passed when a truck driver traveling down a desolate Arizona road plows into a wall of undead. Before the driver's phone signal went dead, he reported some were carrying guns. They're back, and now they are hunting us. This is a great game. The graphics are similar to Borderlands, but include top down views and zombies.
Steam Exclusive Features:
Local and Online Co Op -- Take on the horde and earn perks together.
Barricade Mode -- Defend your base against zombie attack.
Over 100 Steam Achievements and a dozen Leaderboards.
30 Additional Steam User-designed Perks.
Xbox 360 Controller support for single or multiplayer.
Steam Hammer -- Rips the skin off your opponent.
New Steam User designed weapons -- Minigun, AA-12, MP5, Beretta 93R, Super Shorty and more.
Features:
Ultra Fast Action -- Fight armies of hundreds of zombies and their bosses in an exceptional close-quarter battlefield experience.


Deadly Weapons -- Use machetes, axes, jack hammers, dual Uzis, flame throwers, grenades, poison and a dozen more including a Steam Hammer, exclusive to Steam purchasers.


Customize Yourself -- 100 player modifiers combine with two dozen power-ups for limitless gameplay.


Four Game Modes -- Free Play, Survival, Barricade and 18 increasingly brutal missions await.


Zombies with Guns -- They wield axes, cut-off saws, AK-47s and more.
System requirements:
Fully updated PCLinuxOS and Steam
Hardware:
Minimum:




OS: PCLinuxOS




Processor: 2.4 GHZ or Equivalent




Memory: 2 GB RAM

Graphics: Nvidia, ATI, or Intel GPU with hardware-accelerated drivers
Recommended:




OS: PCLinuxOS




Processor: 2.4 GHZ or Equivalent




Memory: 4 GB RAM




Graphics: Nvidia, ATI, or Intel GPU with hardware-accelerated drivers
About The Company
DiezelPower Studios is the internal developer of KaosControl, with development studios in Nice, San Francisco, and Yokohama. Not much else could be found about the developers.
Some Gameplay Screenshots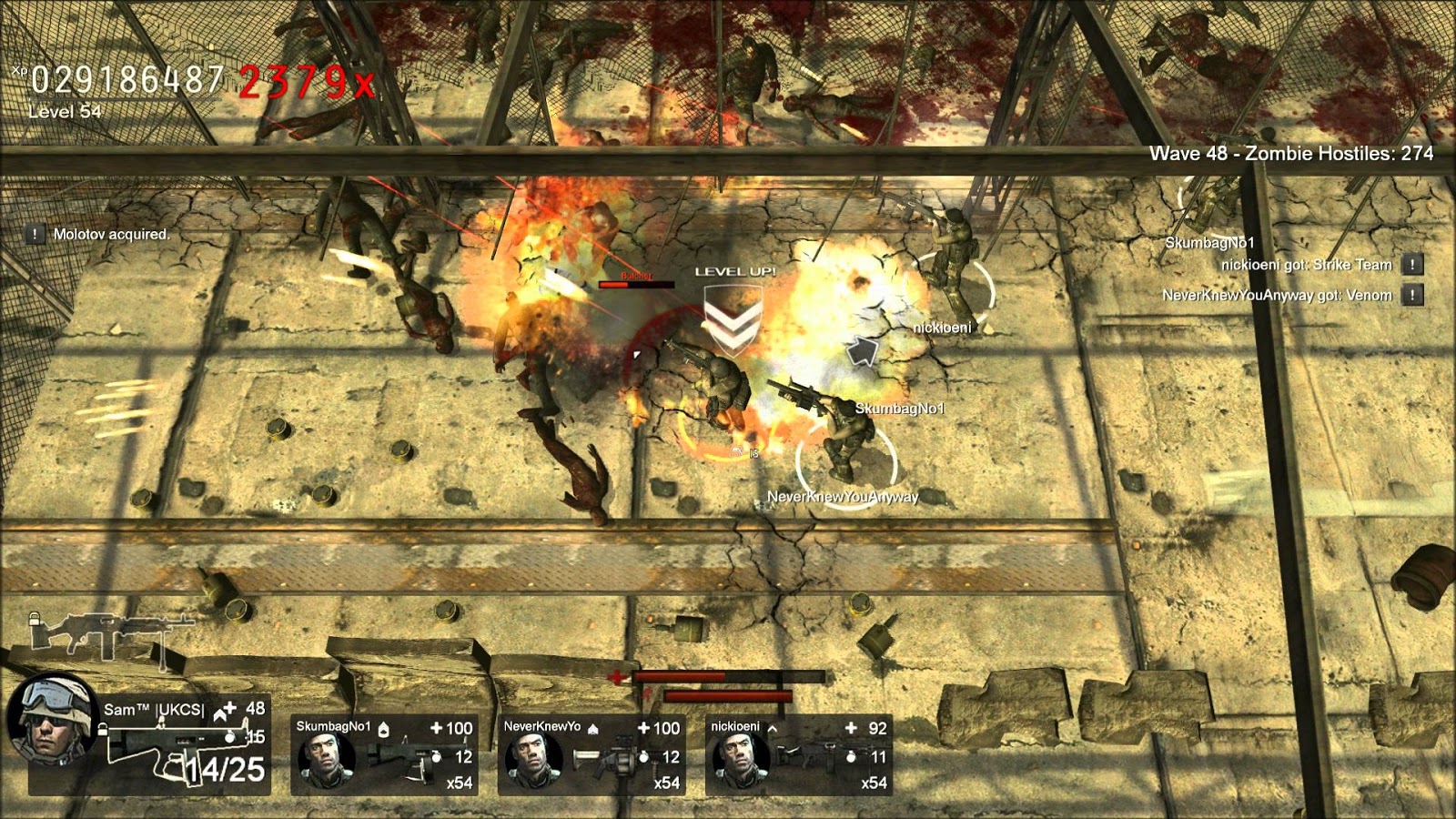 Getting It To Run
Install Steam (if you don't have it installed already), then start it. You will need to create a new account, if you do not already have one. Once you have Steam up and running, go to the store tab. Click on the Linux tab if you wish and search for Nation Red. This one has no demo. If you have updated your system, including graphics drivers, you should be good to go.
Nation Red