by Stephen Morrish (PendragonUK)
Introduction
Day of Infamy is a World War 2 first person shooter game. Fast paced, hard core shooter where death comes quick. Play style is up to you, but most shots kill with a single hit. You may wish to keep your head down. Players that work together and communicate will achieve more than gung-ho lonewolf. The game is more realistic than an arcade shooter, but no so much as to make it hard to get into.
Features:
Gritty. objective-based experience
Squad-based role system
Strategic leadership and artillery strikes
Local and radio communications
Workshop support
Who Makes it
New World Interactive is an independent developer and publisher. Many core team members started as hobbyists creating the games they wanted to play. Their first game Insurgency started as a mod and was brought to Steam as an independant title. Day of Infamy also started as a mod. Revisioning the modern combat of Insurgency to the WWII theatre and time.
About the Game
Day of Infamy takes you to the battlegrounds of Southern and Western Europe during World War II. There are ten maps, ranging from war-torn cities to farm villages, fortified beachheads and snow-covered forests. Whether you are fighting for the U.S. Army, Commonwealth Forces or the German Wehrmacht, there is a vast arsenal of over 70 historical weapons and attachments. Nine player classes and ten objective-based game modes. Cooperative gameplay features three distinct game modes against challenging AI enemy troops. The game comes with mod support and Workshop integration, providing players with a vast array of community created content. There are already over 500 mods which have been released for the game.
Pros
While the game is easy to get into and hard to master, Day of Infamy is a deeply rewarding team game. Get it right, and you are on top of the world. Get it wrong, and you'll be face down in the mud!
Cons
Some will complain that death comes too quick. That you are killed before you know where the shot has come from. (Basically, that the game is too hard.)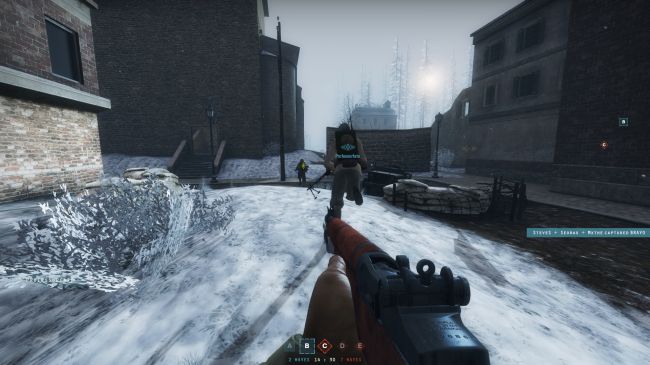 Conclusion:
The game play is just what some players of shooter games have been calling for. A serious shooter that does not hold your hand. No graphical hud letting you how many bullets in your weapon. No over powered bullet sponge super soldier common to many military games. You can run 'n gun but your aim must be on point and your head on a swivel. Team play is rewarded, the more cautious player will live long enough to win for the team.
System requirements

Minimum
Processor: Dual core from Intel® or AMD at 2.8 GHz
Memory: 4 GB RAM
Graphics: NVIDIA GeForce 8600/9600GT, ATI/AMD Radeon HD2600/3600 (Graphic Drivers: nVidia
310, AMD 12.11), OpenGL 2.1
Network: Broadband Internet connection
Storage: 12 GB available space
Sound Card: OpenAL Compatible Sound Card
Recommended
Processor: 4+ cores
Memory: 8 GB RAM
Graphics: 1536MB VRAM or more
Network: Broadband Internet connection
Storage: 15 GB available space
Additional Notes: Solid state hard drive
Where to get it
You can get this game on Steam. Currently, it will cost you $19.99 USD, £14.99 GBP, or €19.99 EU. The game is often discounted in sales, so if you time it right, you could have a real deal.