by Paul Arnote (parnote)
If you're a U.S. based user, April represents one of the worst times of the year: income tax season. The annual filing deadline is April 15 (or you pay penalties and interest). Because you're a Linux user, you have mostly been forgotten when it comes to tax software. Too bad we can't just as conveniently "forget" about filing or paying income tax, huh?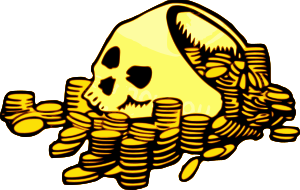 Income tax software has been available for Windows and Macs for years. For Linux users, it has been nearly a score (a score is 20 years) since any tax software has been available for *nix users.
For many of the past 10+ years or so -- since I've been on Linux -- the income tax software void had been one reason I always kept a copy of WinXP running in VirtualBox. Then, last year, my favorite income tax software no longer worked on WinXP. Instead, it required a minimum of Win7 to run. I knew it was only a matter of time before software support for WinXP would run out.
Like most Linux users, I had to turn to web-based solutions to file my income taxes. Sure, I could have just filled out the paper forms and mailed them in, but that represents facing a real failure, to me anyways. After having filed my income taxes electronically for so, so many years, only a destruction of all necessary technology could get me to resort to paper forms and snail mail.
The answer to one question still eludes me, after 10+ years of using Linux: why didn't someone/anyone/just one of those software packages ever write their software in a cross-platform language, such as Python or Java? Why put out platform-specific, operating system specific software packages when one software package could be developed and used on any platform or operating system? That has been my perennial "suggestion" when I filled out the survey after filing my taxes with my preferred tax software/service provider.
The next best solution is to use the web based income tax software. Let's take a look at some of the major players in this arena, which are available to all users, regardless of their platform or operating system. Yes, they are available to even Linux users.
Before we get into the different online income tax filing services, be aware that virtually every single vendor promises to get you the "maximum refund" or to cut your tax liability to the absolute minimum. It is exactly what you think it is: it's all marketing. Who in their right mind is going to go with the vendor that doesn't try to maximize your refund or minimize your tax liability? Most people filing their income taxes don't require a lot of complicated forms and tax advising, which are included in the more expensive plans. Overall, most of the services are going to most likely net you comparable results, so you're either paying for their "name" and reputation, or for peace of mind.
The list of services below is not meant to be (and probably isn't) a complete list of the services available. Rather, the intent here is to examine some of the more common vendors so that you can make an informed choice. However, I have tried to cover most of the "major" vendors in this market.
Intuit TurboTax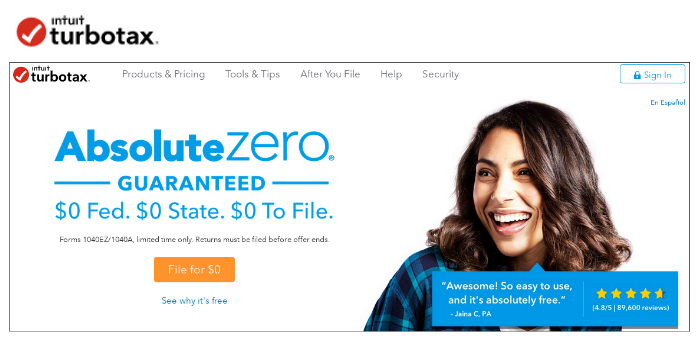 TurboTax is one of the more "popular" income tax filing programs. It has a long history, available for years on Windows as a standalone program that folks rushed out to buy and install every tax season. I was never a fan. It was always one of the more expensive tax programs, and I never had the extra cash to be able to pay the premium price.
Don't let the blaring "free" (as in $0) headlines on their website fool you. This is a bare bones offering that is only available to those who file either forms 1040EZ or 1040A. If you have deductions (home mortgage interest, medical expenses, etc.), you're going to have to pay. How much will you have to pay? The "Deluxe" version will cost you $59.99, the "Premier" version will cost you $79.99, the "Self-Employed" version will cost you $119.99, and the "TurboTax Live" version -- complete with live advice from an accountant and a final review before you file -- will set you back $179.99. Every one of these paid plans charges extra to file your state income tax forms.
At these rates, TurboTax is one of the more expensive services in this list -- just as they always have been. Visiting their web page linked to above, selecting that I have a job and dependents (children), the website recommends the free option. But, the minute I select that I own my own home, it immediately recommends the $60 option. This is despite the fact that for the past several years, we (my wife and I) have only taken the "standardized deduction" because we didn't have enough deductions -- even with the interest paid on our home mortgage -- to qualify for itemized deductions (or the itemized deductions were less than the standardized deduction).
TurboTax was developed by Michael A. Chipman of Chipsoft in the mid-1980s. Intuit acquired Chipsoft, based in San Diego, in 1993. Chipsoft, now known as Intuit Consumer Tax Group, is still based in San Diego. TurboTax has had ample amounts of controversy surrounding their annual releases over the years.
TurboTax is magazine staff member phorneker's choice for tax software. For the past few years, he has used TurboTax successfully, and got his refund within a week after filing. Another reason why he trusts Intuit is that he found out that Intuit is a Red Hat customer. Hence, tax records and other information are stored on servers running Red Hat Enterprise Linux, and to date, there has never been a data breach involving a Red Hat product.
This may have a "special" appeal for PCLinuxOS users, since PCLinuxOS is a distant derivative of Red Hat/Fedora. Mandrake/Mandriva was a derivative of Red Hat/Fedora, and PCLinuxOS was a derivative of Mandrake/Mandriva -- before becoming its own bona fide Linux distribution.
H&R Block
I actually used to use the installed software version of this service (back in the days when I was a Windows user). It is called Kiplinger's Tax Cut, and is still available for purchase -- if you run Windows. H&R Block is one of the real heavyweights in the U.S. income tax business. They've been around for a very, very long time. In fact, their corporate headquarters are in Kansas City, and has been since its inception by brothers Henry W. Bloch and Richard Bloch (hence, the H&R Block name) in 1955.
Amazingly, when I visited their website (link above), it actually recommended the "free" version of their service, even when I selected that I had dependents and was a homeowner. Immediately, I have to give H&R Block kudos for not trying to gouge my wallet just to make a profit. Not that the Bloch family needs it; they are one of the wealthiest families in the Kansas City area (where I live), if not the wealthiest.
As you might imagine, they do have fee-based plans. The prices were discounted at the time that I wrote this article, so the discounted price will appear first, with the "regular" price appearing in parentheses immediately after the discounted price. I do not know how long the discounted prices will be around, so I offer them both here. Their "Deluxe Online Tax Filing" plan costs $22.74 ($34.99). Their "Premium Online Tax Filing" plan costs $35.74 ($54.99), and their "Self-Employed Online Tax Filing" plan costs $48.74 ($74.99). With any of the paid plans, filing of state income tax forms costs an additional $36.99 per state, but are "free" with the free plan (if you qualify). Just as with Intuit's TurboTax, H&R Block has also had its share of controversies over the years.
Tax Act (Editor's Choice)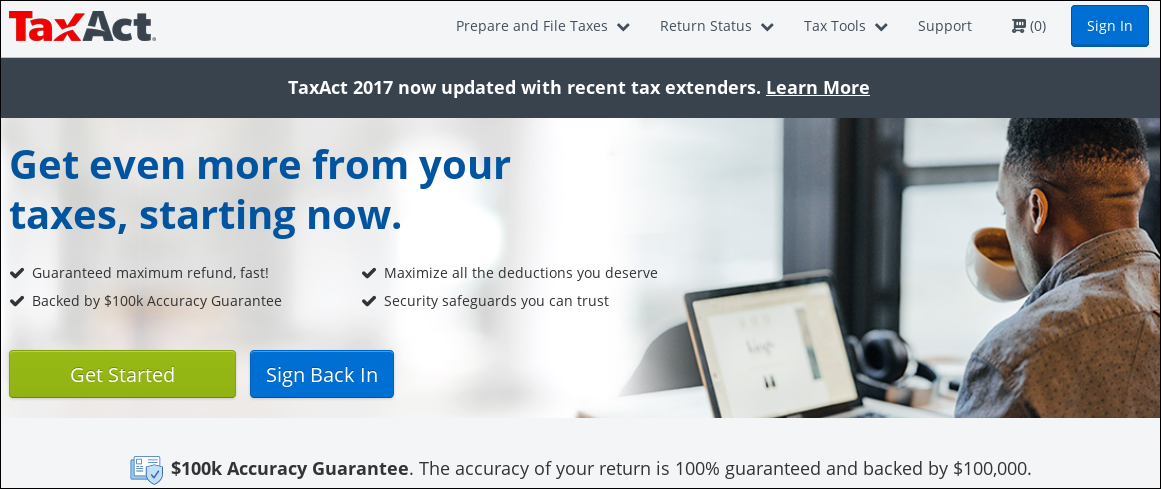 This has been my "go to" tax preparation and filing software for more than a dozen years. Tax Act has never steered me wrong, so I have a lot of confidence in their service. Even last year, when I discovered that the software would no longer work on WinXP (which I only run in VirtualBox, and usually only during tax season), I used their online service. Despite my anxiety about using the online service, I found it just as easy to use and complete as the installed version of their software, which eased the transition considerably. Business News Daily ranked Tax Act as the best free online tax software.
Tax Act was founded in 1998 by Lance Dunn, Cammie Greif, Jerry McConnell and Alan Sperfslage, and is based in Cedar Rapids, Iowa. A dozen years after its founding, in 2010, H&R Block offered $287.5 million cash to buy Tax Act. However, the U.S. Justice Department stepped in and stopped the acquisition of Tax Act by H&R Block, citing antitrust concerns, which were upheld by a federal judge in court. Both companies then mutually terminated the contract.
Yes, sure enough, Tax Act has an assortment of paid-level options (four, to be specific), in addition to the free filing option. Just as with the H&R Block plans, at the time that I am writing this article, there are discounted prices on the website. Thus, the current price is listed, with the non-discounted price in parenthesis immediately after the discounted price. The "Basic" level will cost $10.46 ($14.95), while the "Plus" level will cost $20.96 ($29.95). The "Self-Employed" level will cost you $41.96 ($59.95) and the "Premium" level will cost you $48.96 ($69.95).
Putting the website recommendations to the test (link above), selecting that I "have a job" recommended the free option. Selecting that I have dependents raised the suggestion to the "Basic" level. Since I'm a homeowner, the "Plus" level was recommended. Selecting "Audit Protection" increased the level all the way to the "Premium" level. Filing your state income taxes is free with the free level services, $11.90 with the "Basic" level services, and $25.90 with the remaining top three levels of services. Prices for the state income taxes are per state (so if you have to file in two different states, double the quoted prices).
We (my wife and I) filed our income taxes using the online version of TaxAct in the second half of March. While ours was relatively uncomplicated -- income taxes for federal and the state of Missouri, both with standard deductions -- it cost us $46.86. We were expecting a refund anyways, so the price we paid was less than 5% of what we got back. Definitely not too shabby, I think.
TaxSlayer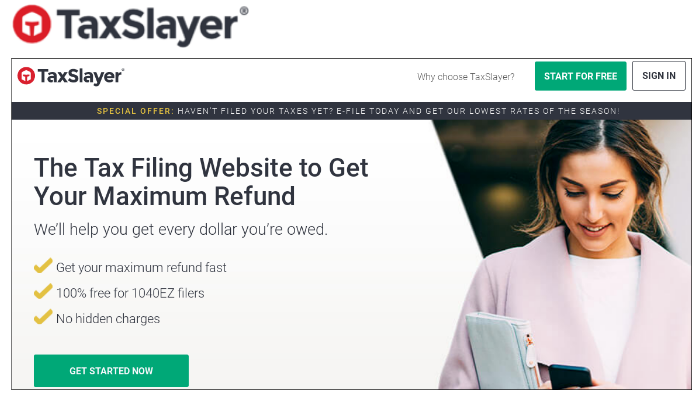 TaxSlayer is the second oldest tax software company listed here, after H&R Block. In the early 1960s, Aubrey Rhodes, Sr. started Rhodes-Murphy & Co., a full service tax preparation company that still is in business in Georgia and South Carolina. In 1989, they formed a subsidiary, called Rhodes Computer Services, with the primary goal of creating tax software for others to use. Four years later, in 1993, they started selling "TaxSlayer Pro" to accountants and tax preparers around the U.S. In 1998, they starting working on their website, TaxSlayer.com. In 2017, they reported over 10 million tax e-files, making them a major player in the online income tax services.
They do offer a free option -- if you file the 1040EZ form, along with a free "simple" state income tax return. They also have three levels of paid service. The "Classic" level will cost $17, while the "Premium" level will cost $35. The "Self-Employed" level will cost you $40. If you have to file what they call a "complex" state income tax return along with your paid service level, it will cost you $22 for each state return. "Simple" state returns are free.
Liberty Tax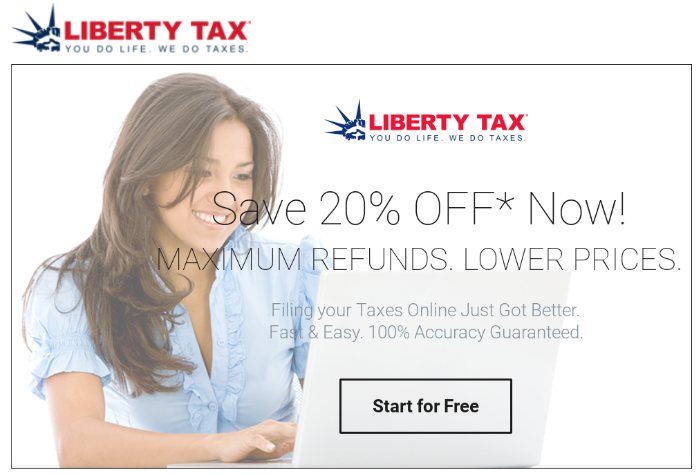 Liberty Tax is probably best known for its guerilla marketing where they have some poor sucker dressed either as the Statue of Liberty or Uncle Sam dancing at the edge of the street, twirling a sign. I see them all over town, dancing around in front of Liberty Tax's brick and mortar locations/franchisees.
The company was started by John Hewitt, one of the founders of the Jackson Hewitt Tax Service after Jackson Hewitt was sold in 1997 for $483 million. With those proceeds, he bought a Canadian tax franchisor, and opened five offices in the U.S. the following year. From that start, the Liberty Tax brick and mortar locations were started by franchise. It is currently a publicly traded company on the NASDAQ stock exchange as Liberty Tax, Inc. (TAX).
Unlike the other services listed here, there doesn't appear to be a "free" option. Sure, their website says "Start for Free," but it appears you don't get to "finish" for free. They offer four levels of paid service. Due to a special promo that appeared to be going on at the time I was writing this article, the discounted price appears, with the "regular" price in parenthesis after the discounted prices. The "EZ" level, touted as best for simple returns, will cost you $11.96 ($14.95). The "Basic" level, for families, will cost you $23.16 ($28.95), and the "Deluxe" level, for investors, will cost you $35.16 ($43.95). The "Premium" level, for small business owners, will cost you $55.96 ($69.95).
Liberty Tax has also had its share of criticisms and legal actions.
FreeTaxUSA
FreeTaxUSA is one of the newest services on the block. As such, there's not a lot of information about them, other than what they provide on their website. They were started in 2001 by a CPA and a team of software developers, and is the online tax preparation website for TaxHawk, Inc. One of their emphasises is on being "budget friendly." They pride themselves on not having any hidden fees or costs involved at any stage of the process.
They offer only two plans: free and "Deluxe." The free version offers free federal tax preparation, and state income tax preparation costs only $12.95 per state. The "Deluxe" version is available for only $6.99, and provides live chat, priority support, Audit Assist, and unlimited amended returns. State income tax preparation for the "Deluxe" version also costs just $12.95 -- if you need it.
IRS Free File
This one isn't for the faint of heart. Yes, it's free, and it's offered by the IRS. But you had better already have an idea of what you're doing with taxes, since you're rather unlikely to receive much hand holding or assistance. Many of the other services listed here pretty much walk you through the process of filing your income taxes, but not so much on the IRS site.
Also, you are on your own when it comes to filing state income tax forms, if you're required to file them. Most people are going to view using the IRS website as a last ditch effort.
Summary
There's a saying that the only two certainties in life are death and taxes. Thanks to the online offerings by these and other companies, fulfilling one of those certainties (albeit on an annual basis) has become a much easier task, especially for Linux users.