Skillet Ravioli Lasagna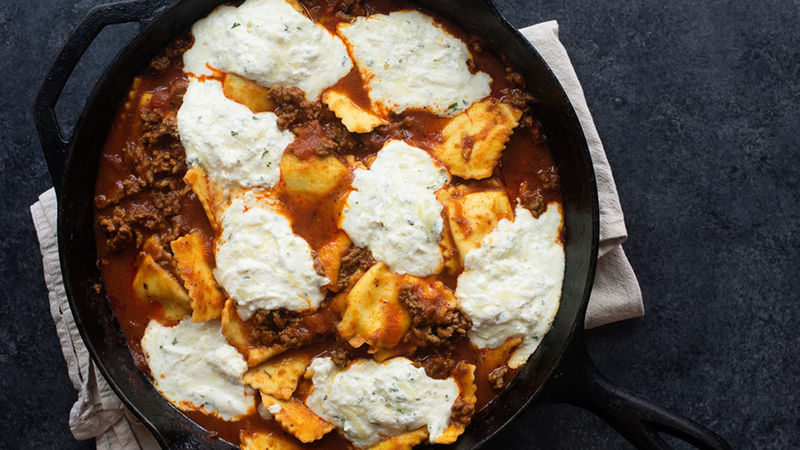 INGREDIENTS:
1 lb ground beef
1 jar (25.5 oz) Pasta Sauce Italian Herb
1/3 cup water
1 package (18 oz) frozen cheese ravioli
1 cup ricotta cheese
1/4 cup grated mozzarella cheese (1 oz)
1/4 cup finely chopped parsley
DIRECTIONS:
1. In 12-inch skillet, cook beef over medium-high heat, stirring frequently, until brown; drain.

2. Add pasta sauce and water; stir. Add frozen ravioli; stir to coat in sauce. Heat to boiling; reduce heat. Cover and cook 8 minutes, stirring halfway through.

3. In small bowl, stir together ricotta cheese, mozzarella cheese and parsley until well combined. Drop spoonfuls of ricotta mixture over pasta. Cover; cook over low heat about 2 minutes or until cheese is melted.

4. Serve immediately.
Any flavor of frozen ravioli or pasta sauce works in this dish, so feel free to experiment!
TIPS:
Skip the meat for a vegetarian version!