by Paul Arnote (parnote)
As the sun sets low on the horizon, the silhouette of a lone trumpet player appears beneath a tree. The song is a familiar one.
Google Answers. GOOG-411. Google Buzz. Google Blog Search. Squared. Desktop. Aardvark. Google Notebook. Knol. Google Wave. Jaiku. Meebo. Google Reader. Google Talk. iGoogle. Google Checkout. Orkut. Google Code. Picasa. Inbox.
The sad song played by the silhouetted trumpet player plays for these discontinued Google services, and many, many more.
Get ready, because four more Google services are joining their fallen brethren in the next couple of months. Google+, Google Notifications, Allo, and Google Fiber in Louisville, KY are all closing up shop.
Allo
Originally touted as a secure messaging app, Allo sported apps for Android and iOS, as well as web clients for Google Chrome, Firefox and Opera.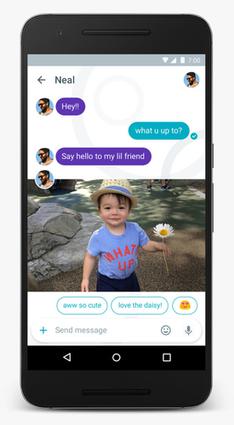 Image source: Wikipedia
Well, the initial intent was for it to be a secure messaging app, anyways. By the time it finally arrived, end-to-end encryption had been turned off by default, and Google kept logs of all messages sent, unless the end user deleted those messages. As a result, many faulted Allo for its lack of security. That lack of security made it easy for nefarious folks and prying governments to access raw, unencrypted data from Allo users. Google's explanation for why end-to-end encryption was turned off by default? They said it would help with the automated reply abilities of Allo. [cough] [cough]
If you're an Allo user, you can still keep using the app through the end of March, 2019. After that, Allo will be no more. If you want to download all of your Allo messages before they close up shop, you need to do a few things. First, you will need to update to the latest version of Allo, which should be version 27. It should be available in either the iOS app store, and in the Google Play store. This version has been updated with an export tool, to allow users to export their messages, conversations, and media.
Then, proceed according to an article on The Verge:
Go to Settings --> Chat. Right at the top, you'll see two options for exporting Allo data.
Choose "export messages" to preserve your conversations. This will create a CSV file with a log of all your current chats in the Allo app.
Choose "export media" to preserve the photos, videos, and other files contained in your Allo chats. Allo will combine everything into a single ZIP file.
Picking either option will bring up the Android system share sheet, which will let you conveniently transfer either the chat log or media package to any app you have installed that will accept them. Obvious candidates for backup purposes would be Google Drive, Dropbox, or OneDrive. But you should also be able to attach them to an email or drop them into any number of services. You can't just transfer your Allo chats into Google's Messages app, however.
Allo will be replaced by Google's Messages app. While most of Allo's best features have been migrated to Messages, some haven't yet made it to Messages, like the ability to change text sizes to indicate shouting (larger text) or whispering (smaller text). It's not yet known if all the features of Allo will make it into the Messages app. Reports claim that Google Messages is used by 175 million people each month.
Notifications Widget
Introduced around the time that Google+ came into being, the notification widget on most Google pages alerted you to when new people followed you on Google+, or if someone +1'd or reshared items from your Google+ postings. It was later expanded to include Google Photos and Google Hangouts.
Anyone who opened it up from a Google service during the month of February would have seen something similar to the image above. Notice the nice little message at the bottom of the popup window. Yes, folks, the Notifications Widget will be going away on March 7, 2019.
Clicking on the "Learn More" link in the image above leads you to a support page, like this one below:
So, Google wants everyone to turn on and use browser notifications, instead. Well, that would be nice, except turning on browser notifications is ONLY available in the Google Chrome browser. If you're a Firefox user, you aren't even presented that option. If you're an Opera user, you're in the same boat as Firefox users, with that option never being presented.
Thanks a lot, Google! There really IS a reason that I avoid running the Google Chrome browser kind of like ... THE PLAGUE ... even though I do have it installed for those rare times that I'm forced into using it (like my Chromecast that no longer works thanks to funky upgrades/updates, or receiving certain messages from my son's school).
Google Fiber (Lexington, KY)
In 2012, Google rolled out Google Fiber to Kansas City (my hometown). Kansas City was the first city that Google offered the service in on a large scale basis. However, they stopped just short of where I actually live, in Independence, Missouri. Literally, they stopped less than two miles from my home. Within the Kansas City area, they eventually expanded to include several other suburbs around the Kansas City area (I am literally surrounded by Google Fiber, since it's in every community surrounding me), but never Independence.
When Google built their fiber network in Kansas City, they used the more traditional approach of running their cables on existing utility poles, if I remember correctly. Google Fiber was the first service in the area that offered gigabit speed to the masses. Its availability did lead to other providers in the area seriously increasing their internet speeds, eventually.
Then, in 2014, Google Fiber rolled out in Austin, TX, and Provo, UT. After that, Google Fiber expanded to Charlotte, N.C., Atlanta, GA, Orange County, CA, Salt Lake City, UT, Raleigh-Durham, N.C., and Nashville, TN. In 2017, Google Fiber expanded into Huntsville, AL, Louisville, KY, and San Antonio, TX.
The fiber network in Louisville was unique and different from previous Google Fiber networks, in that it would be the first city to be built on Google Fiber's infrastructure that used wireless technology to connect to homes and businesses, according to a TechRepublic article. The article goes on to mention that Google used a different construction method, called microtrenching, where the fiber optic cable was placed into shallow trenches cut into the streets and sidewalks, rather than using traditional (and deeper) trenches.
The announcement came via a Google Fiber blog post on February 7, 2019. Here is the bulk of their post there:
Today, we're saying goodbye to one of our Fiber cities. And it ain't easy.
After a lot of analysis, we've made the tough decision to leave Louisville, Kentucky. As we told our customers today, we will be turning off the network on April 15 and their next two months of service are on us.
We'll work with our customers and partners to minimize disruption, and we're committed to doing right by the community, which welcomed us as we tested methods of delivering high-speed Internet in new and different ways.
This decision has no impact on our operations in any of our other Fiber cities, where we continue to sign up and install new customers every day.
When we launched Fiber service in Louisville in October 2017, we noted at the time that it was the fastest we've ever moved from construction announcement to signing up customers. That's because we were trialing a lot of things in Louisville, including a different type of construction method — namely, placing fiber in much shallower trenches than we've done elsewhere.
Innovating means learning, and sometimes, unfortunately, you learn by failing. In Louisville, we've encountered challenges that have been disruptive to residents and caused service issues for our customers.
We're not living up to the high standards we set for ourselves, or the standards we've demonstrated in other Fiber cities. We would need to essentially rebuild our entire network in Louisville to provide the great service that Google Fiber is known for, and that's just not the right business decision for us.
The lessons we've learned in Louisville have already made us better in our other Google Fiber cities. We've refined our micro trenching methods and are seeing good outcomes elsewhere.
For that, and many other reasons, we are deeply grateful to Mayor Greg Fischer, the City of Louisville and its residents for their partnership and spirit of innovation over the past two years.
After clamoring for and wanting access to Google Fiber where I live, this is starting to make me glad that it isn't even an option for me. Plus, given Google's history of abandoning projects, often before they've had a legitimate chance to catch on or despite their popularity (most "service providers" would be ecstatic to have 25, 85, 100 million users, even though Google appears to consider those numbers to be failures), anyone that relies on Google for necessary services should be nervous. Of course, there are other compelling reasons to NOT use Google as your internet provider, too, but we'll save that for another time.
Google+
Boy, oh boy! Do you want to talk about a service with an identity problem, plagued by missteps and miscues that are beyond any reasonable explanation or rationale? You would, of course, be talking about Google+.
Originally started in June, 2011, it was originally touted as a Facebook killer. Many users out there had high hopes that Google+ would be just the thing to knock Facebook down several pegs. In fact, it was originally designed to compete with Facebook and Twitter. Google+ was Google's fourth attempt at creating a social networking site, after Google Buzz, Google Friend Connect, and Orkut (all now defunct).
Then, in the first of many miscues, Google angered a LOT of users by making signing up for any Google service contingent upon that user ALSO signing up for a Google+ account. Keep in mind that this included signing up for an account on YouTube, Gmail, and just about any other Google service. Existing users were "threatened" to sign up for a Google+ account (whether they wanted it or not), or risk their existing Google accounts being deleted.
Then came the poorly received (along with poorly executed and poorly thought out) redesign of the Google+ site. The original two column presentation of "panes" was replaced with a single column, and TONS of wasted screen real estate on both sides. Posts in the beginning used to be in chronological order. But that logical presentation was replaced with some arbitrary order that no one has yet figured out or deciphered, and that never made any sense.
This was followed by Google+'s change of direction. They stopped trying to be a social network that competed with Facebook and Twitter, and started referring to themselves as a social layer across all Google services. Say what?! From then on, it was an ever tightening downward spiral, until we arrived to where we are now.
So, where we are now is with the public version of Google+ being shut down on April 2, 2019 (Google+ will live on in enterprise applications). Google has cited diminishing use of the service, coupled with some programming snafus on its part that potentially exposed private Google+ user data to hackers. The original programming snafu forced Google to announce that Google+ would be closing down in August, 2019. The discovery of some more bungled code (and another vulnerability) caused Google to accelerate the closing of the service to April, 2019. Come April 2, 2019, Google will start deleting Google+ data.
If you've been a user of Google+ (full disclosure: I've been on Google+ since the beginning), you might be interested in downloading your Google+ data. This includes all videos, images, content, +1's, and any thing else you may have ever done through Google+.
First, go to this link to download your Google+ data, via Google Takeout. Select at least one category (but I recommend choosing all four) that represents the data you want to download. Then, select the "Next" button.
Next, select the format you want your data archived in. The default is ZIP, but you can also select a tar.gz (tgz) format. With the ZIP format, the maximum archive size is 2GB. If your data exceeds 2GB, you will receive links to multiple ZIP files containing your content. With the tgz format, the maximum archive size is 50GB. I chose the tgz format, which is easily accessed from Linux. Windows users may have some difficulty accessing tgz formatted archives, so they are advised to choose archives in the ZIP format. I chose to keep the default action of receiving a link via email to download my completed archive. You can also choose to have the archive delivered to your Google Drive account, added to Dropbox, added to OneDrive, or added to Box. Click on the "Create Archive" button.
The next screen will confirm your selection. Now, sit back and wait for the confirmation email (if you, like I did, chose to have the link emailed to you). It shouldn't take too long. I received my email with my download link within an hour of telling Google that I wanted the archive of my Google+ data.
Now, just click on the "Download archive" button, and you will be taken to the next screen. You are given one week to download your data. If you don't download it by then, the archive will be deleted, and you'll have to go through the whole process again.
From here, you will able to download the archive of your Google+ data, by clicking on the "Download" link. My archive was 9.21 GB in size, so keep this in mind if you are on a metered internet account.
The new social networking site, MeWe, has turned into quite the refuge for Google+ refugees. You can read more about MeWe in a separate article elsewhere in this month's issue of The PCLinuxOS Magazine. MeWe is coming out with a tool on or before March 12, 2019 that will allow Google+ users to transfer all of their Google+ content and circles to MeWe, in JSON format.
More To Come
Never fear, there are more Google services closing up shop soon. Inbox by Gmail is supposed to be completely closed by March, 2019. The Goo.gl URL shortening service is expected to be discontinued by March 30, 2019.
There are rumors circulating that Google Hangouts may be the next Google casualty. There are reports on The Verge and TechTimes of Hangouts pending demise sometime in 2020. This shouldn't come as a surprise. It has suffered an identity crisis ever since being introduced as the replacement for Google Chat in 2013. The Google Hangouts app has been stripped in recent years of popular features, like SMS texting ability. In fact, the app hasn't been updated in over a year, boding a not-so-bright future.
Summary
Google's products have become central to how I work with my computer. Gmail and Google Photos are key aspects of my computing life. All of my photos of my kids are in Google Photos (and most are archived here at home). Gmail is my primary email resource. The use of Google Drive, Google Groups and Gmail are central to how the production process of this magazine currently works. Without those tools, we'd have to seriously alter the way this magazine is produced.
Given Google's propensity for shutting down services on a whim, it's enough to make anyone who depends on those services nervous.
Do no evil. I wish Google would go back to that method of operation.