Philly Cheese & Ground Beef Casserole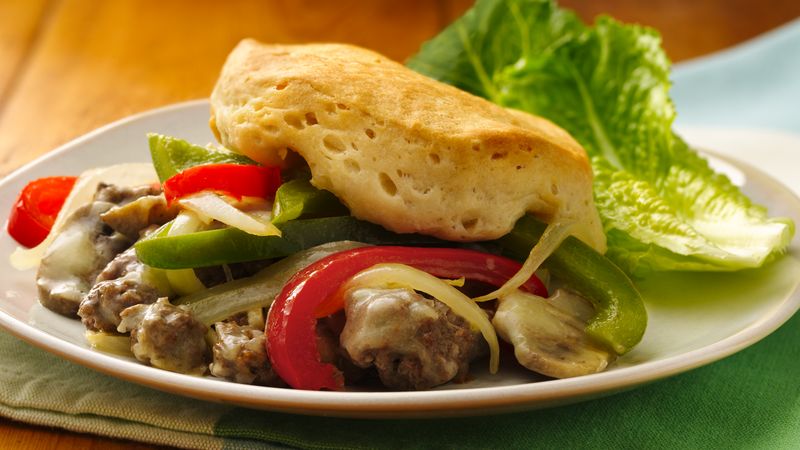 Ingredients:
1 1/2 lb lean (at least 80%) ground beef
8 oz sliced mushrooms
1 teaspoon salt
1/2 teaspoon pepper
8 slices (1 oz each) provolone cheese
2 tablespoons butter or margarine
2 large onions, halved and thinly sliced into wedges
2 medium red bell peppers, cut into strips
2 cloves garlic, finely chopped
1 can (16.3 oz) Pillsbury™ Homestyle original biscuits


Directions:
1. Heat oven to 350F. Spray 13x9-inch (3-quart) baking dish with cooking spray.

2. In 12-inch skillet, cook beef, mushrooms, salt and pepper over medium-high heat 7 to 9 minutes, stirring frequently, until beef is thoroughly cooked; drain. Place in baking dish. Arrange cheese over beef mixture, overlapping slices if needed.

3. In same skillet, melt butter over medium-high heat. Add onions and bell peppers. Cook over medium-high heat 3 to 5 minutes, stirring frequently, until peppers are crisp-tender. Stir in garlic; cook 1 to 2 minutes longer. Spoon over cheese in baking dish.

4. Separate dough into 8 biscuits. On lightly floured surface, pat biscuits into 5-inch circles. Arrange biscuits over vegetable mixture.

5. Bake 35 to 40 minutes or until biscuits are golden brown on top.