as told to YouCanToo

What is your name/username?
Bill Dawson Jr. (BillDjr)

How old are you?
Feels like 1,000. I'm 56.

Are you married, single?
I've been very happily married for 20 years. My wife is a saint.

How about Kids, Grandkids (names and ages)?
I have 2 kids. Liam, age 15 and Chorin, age 10. Best kids ever.

Do you have pets, what is your favorite?
We have a dog named Buddy. He has a supernatural gift to piss me off.

Are you retired, still working and if working, what do you do?
I'm on a disability income. Always on the hunt for things to do.

Where do you call home? What is it like? IE: weather, scenery
Ottawa, Ontario, Canada. Yes, winters are brutal. We all live in igloos. Summers are equally brutal. Way too hot and way too humid. We are blessed with plenty of greenery everywhere we go.
Parliament Hill, Ottawa
The CN Tower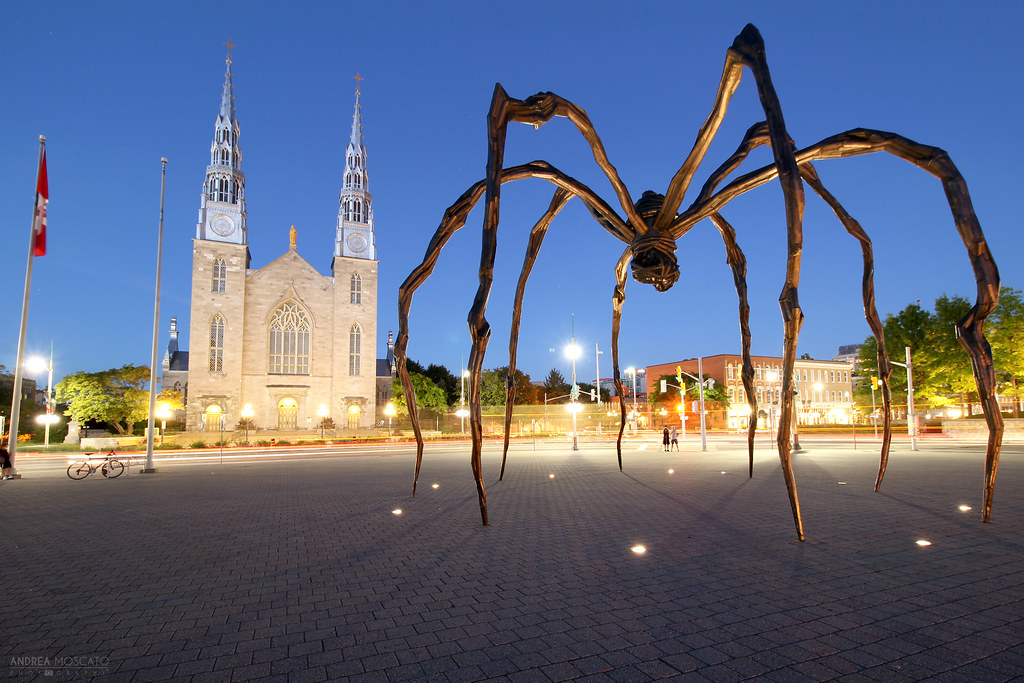 The Maman Statue
Where did you go to school and what is your education level?
I went to Merivale High School in Ottawa, but missed graduating by 3 credits. I got my real education at the school of hard knocks.

What kind of things you like doing? hobbies, travel, fishing, camping?
It frustrates the hell outta me sometimes and hurts my brain, but I really enjoy programming. Can't wait until I have enough experience with python to start using that full time instead of the IDE for BASIC I've been using.

I am totally fascinated by quantum mechanics. The implications on the nature of reality are earth-shattering. I'm also one of those "red pill" people, if you know what that is … always going down many rabbit holes at the same time. That, too, can be earth-shattering.

I've only ever traveled once, to Cozumel with my wife. We absolutely adored the place. Sadly, finances have always been an issue for us, so more traveling doesn't seem to be in the cards.

I'm an ex-wanna-be rock star, and recently my son Liam has begun putting together techno and dubstep music tracks on his laptop. That boy's got some real talent. We have started having lengthy discussions about the nuances of music and his tracks in particular, which gets us both really fired up. He woke up the musician in me, which I am so grateful for.

My favorite hobby of all is threatening to tickle Chorin. I don't actually have to do it, just threaten, and he goes off as if I had done it. Cracks me up every time.

Why and when did you start using Linux?
I was introduced to Linux about 20 years ago, as a means to set up a web server. Redhat 5. I took to it like a fish to water, and did run it as a server for many years, but never considered it as a desktop system due to my being quite the gamer at the time … until 2007, when I discovered PCLinuxOS. I've kept up with PCLinuxOS and other distros over the years, but was never ready to "take the plunge". I was very adept at Windows and all its deep inner-workings, and the thought of switching to something else where I'd basically be back to square one seemed pointless. Then along came Windows 10. That did it. I was ready to switch, and thankfully, I did. I can honestly say that I don't miss Windows one bit. It never even enters my mind. While the first month with PCLinuxOS was a major struggle, that came down to using Mate. Nothing against Mate, it just didn't seem to agree with my system somehow. Switching to KDE solved pretty much all of my problems.

What specific equipment do currently use with PCLinuxOS?

Toshiba Tecra R950 Laptop

Intel i7-3540M 3.0 ghz
AMD Radeon 7500M/7600M HD Graphics 1 gb RAM
16 GB RAM
Realtek HD Audio
500gb SSD
PCLOS KDE 5 Plasma 2019

Laptop screen: 15" 1366x768
External Monitor: 24" BENQ G2450HM 1920x1080

Do you feel that your use of Linux influences the reactions you receive from your computer peers or family? If so, how?
Absolutely. With the single exception of my wife, they all fall prey to the stigma that Linux is for geeks and gurus. They're basically afraid of it and too comfortable with Windows, in spite of its many issues. Short of taking my laptop everywhere and making people sit down and give PCLinuxOS a try (it worked with my wife!), there's just no convincing them.

What would you like to see happen within PCLinuxOS that would make it a better place. What are your feelings?
I don't feel that PCLinuxOS is lacking at all, nor needs anything to make it "better" (and DAMN, it boots up fast!). Obviously, Tex et al do an awesome job with this OS and I really can't ask for more. My laptop has never run faster or been more stable. As for the folks on the forum, I have a few things to say: First, it's so refreshing to visit a forum where there's a noticeable lack of in-fighting, power-struggles, and abuse. You're all grown-ups and you act like it. Everyone is so friendly and willing to share their time and knowledge on an ongoing basis. There's a palpable comradery here. I have the utmost respect for everyone on the forums, and I am very grateful for all your help and patience. And last, but certainly not least, you all put up with my special brand of crazy BS!
PCLinuxOS Family Member Spotlight is an exclusive, monthly column by YouCanToo, featuring PCLinuxOS forum member. This column will allow "the rest of us" to get to know our forum family members better, and will give those featured an opportunity to share their PCLinuxOS story with the rest of the world.

If you would like to be featured in PCLinuxOS Family Member Spotlight, please send a private message to youcantoo, parnote or Meemaw in the PCLinuxOS forum expressing your interest.