by Paul Arnote (parnote)
Over the past several years, "cord cutting" when it comes to cable or satellite TV has become quite popular. With cable TV, subscribers are getting fed up with a pretty much all-or-none subscription plan, forced to pay for channels they don't watch and have no interest in. It's a similar situation for satellite TV customers, too. In my neck of the woods, the typical cable bill runs somewhere between $100 and $200 per month (but that includes cable TV, high speed internet, and a VoIP landline phone connection).
The companies that run cable and satellite TV services make obscene profits, and the prices for the services keep going up and up, year after year. Nationwide, the average cable bill is $107 per month (2018 data), and the cost for cable television has gone up 50 percent since 2010. It's enough to make any reasonable person wonder if the prices keep going up each year (or is at least one of the reasons) as more and more customers cut the cord, and the companies keep raising the prices to meet projected earnings. In the end, only the stockholders of those companies are kept happy, while the customers keep fleeing the ever increasing prices and fleecing.
There are many paid options, and most people are very familiar with them. Streaming services, such as Hulu, Netflix, Amazon Prime, Sling and others offer popular alternatives to cable or satellite TV. But these cost money that many don't want -- or can't afford -- to pay.
In the end, paying for two or three of these streaming services is still cheaper than paying for the most basic cable or satellite plans out there. Plus, you get the option of viewing the programming you want, when you want, on YOUR schedule. You'll likely see significant savings, as well. For example, subscribing to just Hulu and Netflix will cost you about $200 a year. That sure beats the $200 a month you'll spend on some cable plans!
By all means, if you are an Amazon Prime member (I am not, but I know a lot of people are to take advantage of the free two-day shipping), take advantage of the free access to Amazon Prime Video. No one would blame you. It's Amazon's streaming service that comes as a "perk" for being an Amazon Prime member.
But, what's a person to do when they want to NOT have to pay for television programming content? Fortunately, there are several options. This is what I plan to explore here. There's another way to accomplish this, without having to install Kodi or MythTV. It will involve a little more work than sitting back in your recliner and changing the channel on your cable or satellite box, but it is doable. And, it isn't that difficult.
Let me preface all of this by stating that the services are not listed in any particular order. You'll also probably have more success if you are willing to be a bit more flexible with your browser choices. I'm a diehard Firefox user, and I really hate to fire up Google Chrome (but this article isn't about all of the reasons I really dislike Google Chrome, so we won't even go into any of that). However, some of these services won't play in Firefox, but end up playing exceptionally well in Google Chrome. Many of these services play well in either browser. If you're planning on "casting" your streaming media to a Google Chromecast, then Google Chrome will be pretty much a requirement.
We'll focus mainly on services that will play well on your desktop or laptop computer. Some services are designed primarily for viewing on mobile platforms (like Android or iOS), and desktop/laptop users find it a struggle to view them, if at all. Some services will require you to sign up for an account, while others will allow you to watch programming with or without an account.
Finally, you may want to use a VPN. In fact, it may be necessary, like when you're trying to view BBC programming but you're not in Europe. At the very least, you may want to anonymize your viewing activity to some degree, and a VPN could very well help you do just that.
OTA
If you cut the cord to your cable or satellite service, you will most likely want to receive the programming of your local channels. You will most likely want to at least receive the local news, weather and sports reports. If you're watching on your TV set, all of this can be achieved by receiving OTA (over the air) channels via an antenna setup. But if you're wanting to stream local programming, don't despair. For local news, weather and sports, it's as easy as connecting to your local broadcaster's website. Where I live, you can stream entire newscasts, as well as pick and choose which news stories you are interested in viewing, from no fewer than four different broadcasters.
Plus, you're not restricted to local news from just your area. Let's say you live in Bangor, Maine. You have family that lives in Atlanta, Georgia. You're planning a visit in three weeks to see them. You can pull up the local newscasts from the Atlanta broadcasters to stream on your computer.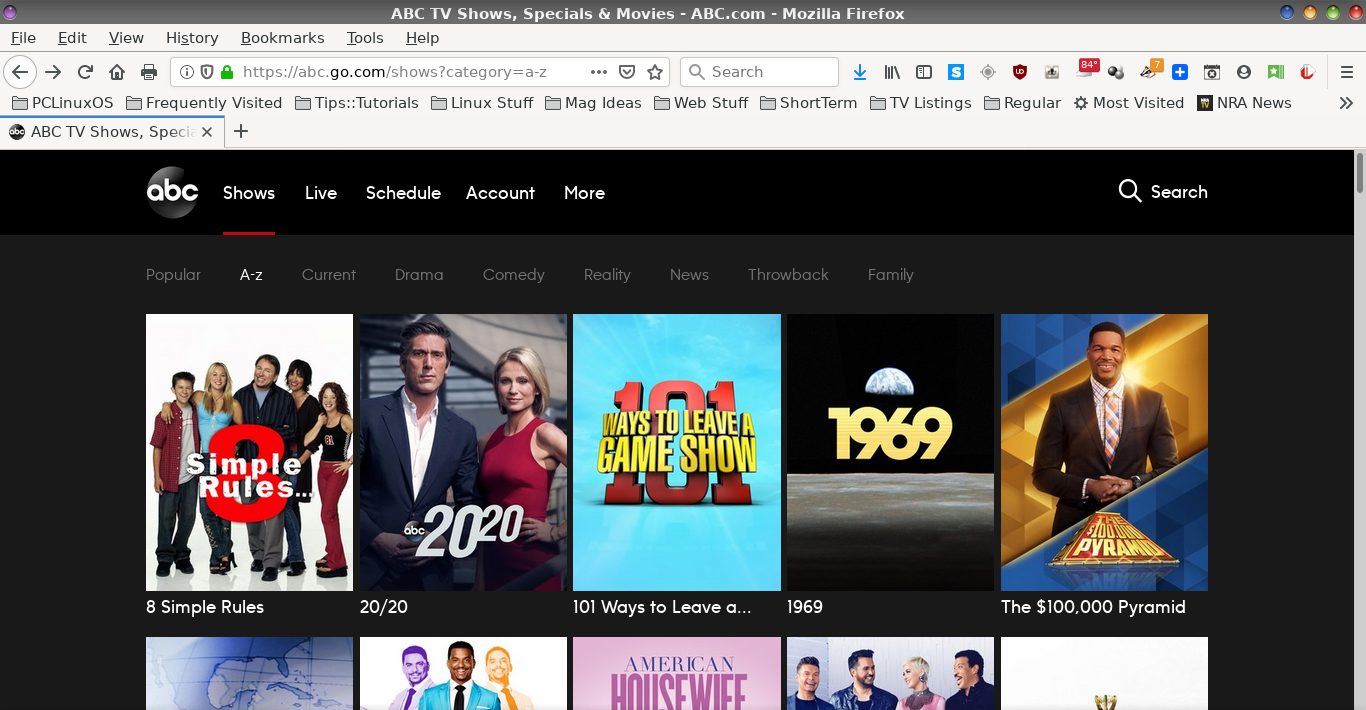 Being able to stream local independent stations may be a rather hit-or-miss proposition. But if the local station you want to stream is affiliated with a major network, you can also pull up the website for that major network to stream shows from their programming lineup. ABC, CBS, NBC, FOX and PBS (you will have to provide your ZIP code for the PBS site) are the major over the air broadcast networks in the U.S., and you can stream their programming on your computer with relative ease. It's pretty much the same with the minor broadcast networks, like The CW (and don't skip the sub-site CW Seed, where you'll find some rather unique programming, like animated shows from DC Comics). The exception here is CBS. It isn't clear which items are free to stream, and which items require CBS All Access, CBS's paid streaming service that offers such programming as Star Trek: Discovery and the new, upcoming Star Trek series, Picard. They seem to spend an inordinate amount of time and effort to get you to sign up for a CBS All Access account.
Cable Channels
Just because you give up your cable or satellite service provider, that doesn't mean that you also have to give up your favorite cable/satellite access only programming choices. Most of the cable network providers also have the ability to stream their programming directly on their website(s).
Some, like AMC and History, have limited free offerings without signing in through a cable provider. This isn't unusual to find, so don't be too disappointed. They don't always make it easy for cord cutters to access their programming for free, and I suspect it has something to do with deals made with cable and satellite service providers. Even though you may be locked out one time, it's worth going back again and again. Periodically, they unlock content that you might want to watch. Keep in mind that if you see a little padlock or key, or if you don't see the words "Free Episode" next to a description, you will most likely have to sign in with the credentials for your cable or satellite service provider to view that content.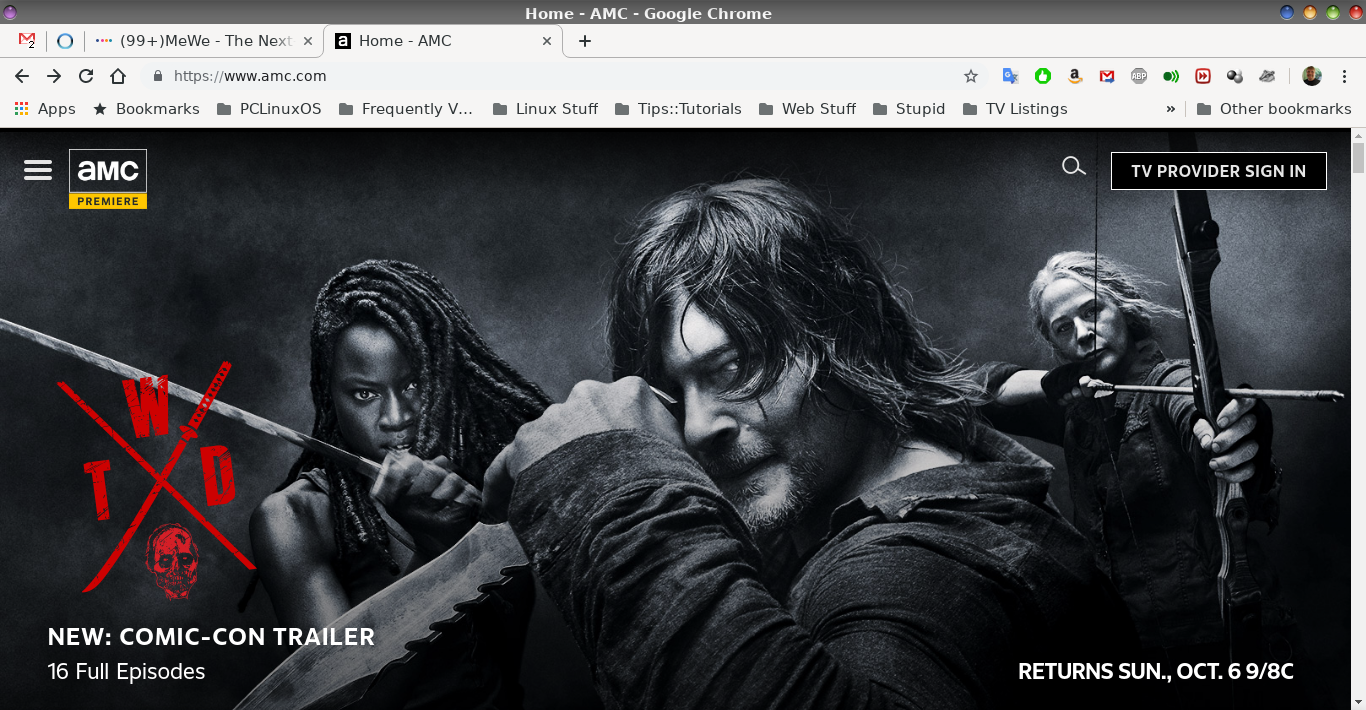 One thing to be on the lookout for is a button (usually somewhere at the top of the page) that says "Watch Live" or "Live Streaming." This will sometimes allow you to watch the programming that the networks are currently airing. Other times, it will lead to a page containing the live feed, asking you to log in with your cable or satellite service provider before allowing you to watch. It's another trip to the craps table at the casino.
While searching out programming choices, you're likely to be surprised about whom owns who. AMC Networks, for example, include AMC, BBC America, IFC, and Sundance, among others. NBC owns USA, Syfy, Telemundo, E!, Universal Kids and Oxygen. The Discovery Networks include such programming choices as Animal Planet, American Heroes Channel, TLC, Science Channel, DIY, and several others. I think you get the idea.
And just because, for example, AHC (American Heroes Channel) is owned by Discovery, don't expect that because a lot of stuff is "locked" content on Discovery that things will be the same on AHC. Another good example is on IFC. On the "mothership" site, AMC, a lot of content is "locked" and requires logging in with your cable or satellite service provider to view. However, on the IFC site, this is not necessarily so, as there is a significantly higher percentage of "unlocked" programs on the IFC site than on the AMC site.
On many of the "cable channel" sites, the extras and trailers are usually free to watch. Don't overlook them, as they can be quite informative and entertaining. While the Discovery Channel seems to be locked up tighter than Fort Knox, most (if not all) of the "extras" are free to view without logging in through your cable or satellite service provider.
The cable news channels (Fox News, CNN, MSNBC, etc.) almost always have plenty of news content. Usually, you can either watch live, or hand-pick which news stories you want to watch. The same goes for cable channels that present the weather, like The Weather Channel.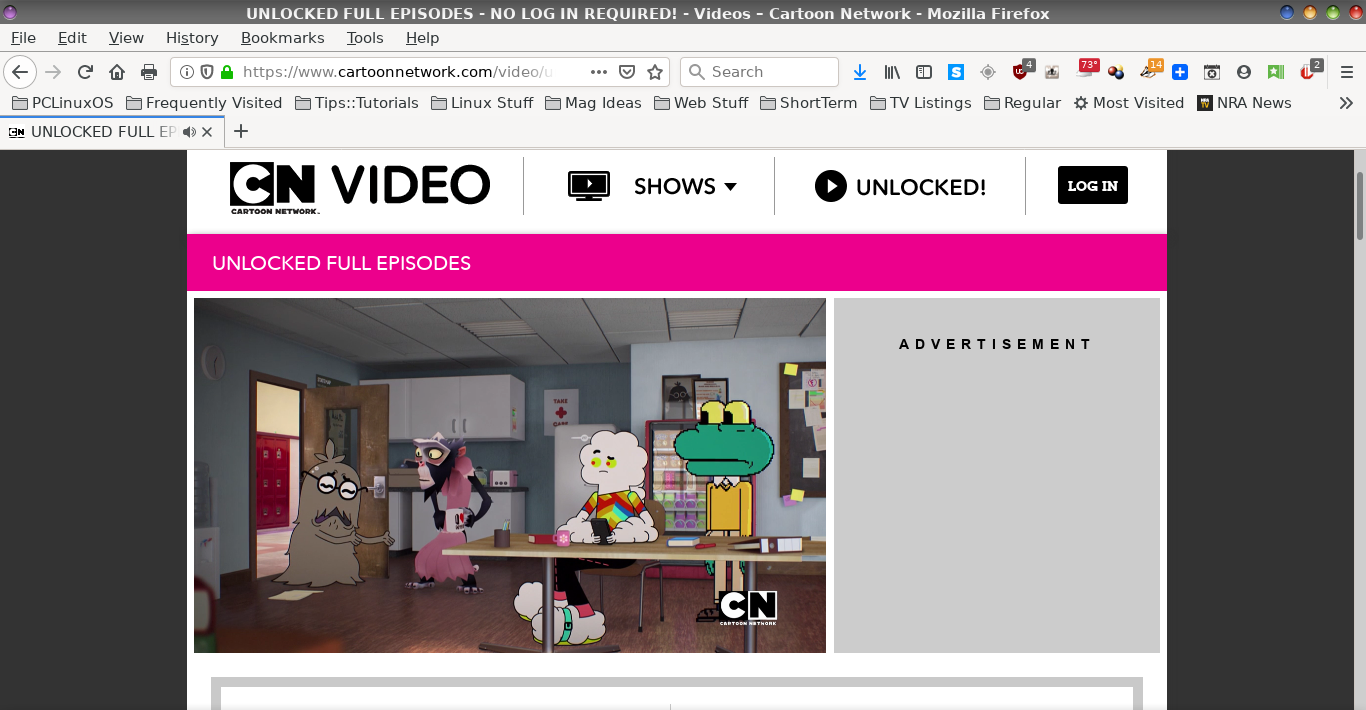 You can keep the kids entertained with not only wholesome and educational shows from PBS and PBS Kids, but you can also stream unlocked episodes of animated kid-friendly programming from the Cartoon Network.
Here's something I found to be odd. WGN America is carried on just about every cable and satellite service provider's lineup available in the U.S. This is the broadcast that is sent out to the rest of the country. There is a WGN-9 in Chicago, and that broadcast used to be sent out to cable and satellite service providers everywhere. On it, you could watch Cubs games, watch the 9 p.m. news, and everything else, just like everyone else in Chicago. But WGN America doesn't broadcast Cubs games, or anything else that's "Chicago-centric." Instead, it's a lineup of mostly heavily recycled reruns. Oddly, there is no provision on the WGN America site to live stream that channel. But, you can live stream the local Chicago feed from WGN-9. The Cubs games are blacked out on the live stream of the local WGN-9, for those looking to catch a Cubs game ... or two ... or three ... or more.
Don't expect to find any of the programming from the premium cable channels lurking out there for free. HBO, Cinemax, Showtime, Starz, The Movie Channel, The Disney Channel, etc. all have their own streaming services that are available for a monthly subscription. You might be able to sign up for a free trial, but be certain that you cancel your subscription before the trial period is up. Otherwise, you'll end up with an unexpected charge.
With everybody and their brother starting up new subscription model streaming services, subscribing to them all will cost you more than a monthly cable subscription. Most streaming services want between $5 and $10 a month just to stream their programming. This can add up very quickly, which is why I've spent most of my time focusing on free streaming services.
Internet Only Streamers
Luckily for most cord cutters, you have some additional resources for streaming your television programming. These are services you'll probably rarely (if ever) see on your cable or satellite service provider's channel lineup.
This is also where things get most interesting for cord cutters. These internet only streaming services offer a wide selection of movies and television shows. Are you going to have access to the latest, most recent movies or television shows? Nope. But if you can't find something there to watch -- or re-watch -- then there is probably something wrong with you.
Before anyone says anything, I left one popular service off the list. That service is Sony Crackle. I cannot get it to play on PCLinuxOS, in any browser I've tried. So, if it won't play on PCLinuxOS, it gets omitted. There are a lot of people who praise Crackle online, so consider that to be yet another possibility if you are streaming on a mobile device.
Vudu not only has a healthy selection of movies, but it also has a healthy selection of television shows. Granted, most of the free offerings are older, having come out quite a few years ago. Still, there's a good chance you'll find something to watch. Maybe it was a movie that you always intended to see, but for some reason never did. Maybe it's a movie you want to watch again. The free movies are supported by periodic ads. Ad-free versions of the movies and newer movies are available, for a price. You will also need to sign up for an account. Vudu will not playback programming content in Firefox, so you'll have to use Google Chrome to view the content.
Vudu is also home to all the digital copies you see touted on DVDs and BluRays sold at Walmart and other retailers. Redeem the code for the digital copy that is enclosed with your qualifying DVD or BluRay disc (usually on some piece of paper inserted into the disc packaging), and you'll be able to access those movies from wherever you may happen to be, as long as you have an internet connection. My new Vizio Smart TV has connected access to Vudu, and many other smart TVs do as well. It makes it extra convenient to pull up the list of movies and play them on the TV. Plus, those movies that you own a digital copy of are shown in high-definition, without any ads. We covered Vudu in the January 2019 issue of The PCLinuxOS Magazine.
Tubi is another streaming service that we have previously covered in The PCLinuxOS Magazine, back in the May, 2016 issue. With Tubi, you get access to thousands of titles, ranging from movies to television shows. You can search for titles by name or genre. Just like with Vudu, most of the available titles are a few years old, but there is a very wide variety of titles available. Tubi plays fine in either Firefox or Google Chrome.
Retrovision Classic Movies might be your destination if you really like older, classic movies and TV shows. Browsing through their offerings, I saw one movie from 1925 (Phantom of the Opera). They have a wide variety of television shows from the 1950s and 1960s, as well as a lot of movies mostly from the 1930s through the 1950s. I did see a smattering of movies from the 1970s and 1980s, though. There are the first five episodes of the Beverly Hillbillies, quite a few Ozzie &Harriet episodes, and even some old Popeye cartoons for the kids. Retrovision Classic Movies plays equally well in either Firefox or Google Chrome.
Popcornflix is another free streaming site that has tons of movies (including the first three Star Trek movies), and features about 100 different TV series. The movies are sorted by genre, including a "Staff Picks" section containing a collection of the highest rated movies and TV shows. You don't even have to sign up. Just visit and start viewing your selections! Popcornflix plays just fine in either Firefox or Google Chrome.
Pluto TV is a free streaming site with a guide that resembles the guide on many of cable and satellite services. They feature a collection of movies and television shows. You should be able to easily find something to watch amongst its offerings. Do expect the programming to experience slight interruptions for advertising, but it isn't extreme. Look at it this way: your programming on cable and satellite is also interrupted by advertising, and you pay for that! I first learned about Pluto TV when I was exploring my new smart TV, which had a built in app for it. The only downside is that you have to watch the programs when they are aired. There is no time shifting. Pluto TV plays well in either Firefox or Google Chrome.
XUMO is another free streaming site that is very similar to Pluto TV. It has a guide presentation of the programs that are currently playing. But what's different about XUMO is that it also has an On-Demand section. There is no need to sign up, sign in, or create an account. Just visit their website and start streaming! Here is a tip, though. You will be unable to view the XUMO guide unless you make the web page full. On my Xfce desktop with Firefox, I do that by pressing F11. XUMO plays very well in either Firefox or Google Chrome.
SnagFilms is a streaming site that I can best describe as eclectic. Browsing through its offerings, I recognized few films in the catalog. Still, there were several that caught my eye as potentially interesting. SnagFilms plays well in either Firefox or Google Chrome.
The Internet Archive has a whole collection of movies and TV shows that you can stream. Some of the titles in the collection are reminiscent of the titles that they used to make fun of on MST3K, like "The Brain That Wouldn't Die." But there are also some real gems in there too, like Vincent Price's performance in "The Last Man On Earth," based on the SciFi novel "I Am Legend." The site runs equally well in either Firefox or Google Chrome.
It might not seem obvious at first, but YouTube also offers a ton of free movies. Pull up YouTube, go to the list on the left side of your browser window, scroll down to "More From YouTube," and select "Movies & Shows." The first category that is displayed should be "Free With Ads." There is a healthy selection of quality movies available for streaming. Similarly, you can find hundreds (if not thousands) of lesser known movies by typing "free movies" into the YouTube search bar.
Use Your Card
No ... not your credit or debit card. Use your library card, you silly goose! Many libraries allow you to electronically check out movies and documentaries, as well as ebooks, audiobooks, and music. If your library participates, you can typically "check out" programming using your library card, and you have three days to watch movies or documentaries. Here's the sweet part of the deal: in most locales, you can sign up for a public library card ... for FREE!
Hoopla is one such service that partners with participating libraries to allow you to do just that. I'm unable to locate a list of participating libraries on the Hoopla website. But, you can browse their list of movies here. OverDrive is another service that does the same thing. It has functionality to see if your local library participates. Just go here, and enter your zip code to see if your local library is listed. Kanopy is a third such service, with nearly 5,000 movie titles available to choose from. Just enter your local library (or university) name in the search box to see if your local library or university participates.
Summary
If you are serious about "cutting the cord" to your cable or satellite service provider, it's becoming easier and easier to rid yourself of the overpriced, onerous cable bills. Even more, it's becoming quite easy to replace your cable or satellite service provider with FREE streaming options. While you might not be able to access the latest, greatest programming choices by using the free services, it's unlikely that you'll have much difficulty watching something that YOU want to watch, WHEN you want to watch it.
If you're willing to pay the much more modest fees for the subscription streaming services, then you'll also gain access to much more recent programming content.
These are choices that weren't generally available even five years ago. Linux users are accustomed to having choices. Isn't it nice to have choices?