by Paul Arnote (parnote)
Oh, my! It's that time of year again! The winter holidays are literally right around the corner, so we here at The PCLinuxOS Magazine are presenting you some ideas for your holiday gift purchases. Of course, these could be gifts for others, or gifts for yourself.
We hope you find some gift ideas that help you in your holiday gift purchases. Who knows. Maybe one of us has found that one perfect thing that you have been looking for. We attempt to find things that we think have broad appeal, and items to fit into every budget.
All prices are expressed in U.S. dollars. We cannot guarantee the availability of the highlighted products in markets other than the U.S. market. In fact, since we're only presenting the products here from other retailers, we really cannot make any guarantees at all. Please plan ahead and allow for sufficient time for the products to arrive to your shipping address/place of residence. Otherwise, you might not receive them in time for holiday gift giving.
Personalized "World's Best" Beer Glass
The Lakeside Collection, $16.99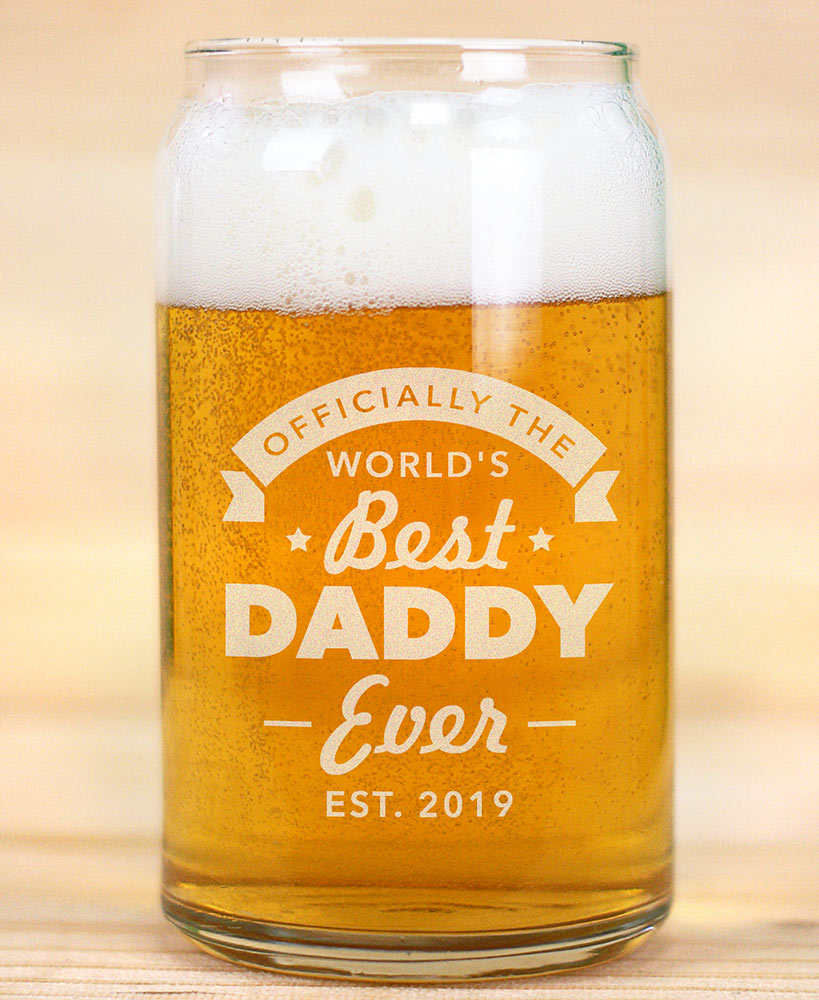 Now, I'm not much of a beer drinker, but this is one cool gift. Shaped like a beer (or soda) can, this 16 ounce (473 ml) glass may become your gift recipient's favorite glass! And, there's nothing that says you HAVE to use it for only drinking beer. You can personalize the name (represented by "DADDY" in the picture), and the year. In fact, both are required fields when ordering. So, be sure to enter the name you want, exactly as you want, paying particular attention to spelling and the use of lowercase and uppercase letters. Plus, even if it's not used every day, it makes a great keepsake and "special use" gift.
Easy Change Artwork Frames
The Lakeside Collection, $8.99 to $9.99
I would have never even thought of something like this four or seven or more years ago. But, once my son started school and bringing home artwork, something like this makes perfect sense. Now, when he brings home artwork, we can display his artwork proudly in the frames on the wall! It is available in two sizes: 8½ x 11 inches (21.59cm x 27.94cm), or 9 x 12 inches (22.86cm x 30.48cm). Each frame is ¾" (1.9cm) deep, making it capable of holding about 50 sheets of paper before you have to empty it out to make more room for newer pieces of artwork. This would make an awesome gift not just for parents, but also grandparents and anyone else wanting to display a child's artwork.
The Official John Wayne Family Cookbook
The Lakeside Collection, $9.99
Without a doubt, Marion Robert Morrison was one of the most popular Hollywood actors to have ever graced the silver screen. What? You don't recognize his name? He was more commonly known by his professional acting name, John Wayne, also nicknamed "The Duke." He starred in 146 movies over his career that spanned five decades. He started acting in small bit roles in 1930, and became "star material" with the lead in John Ford's 1939 movie, Stagecoach.
The Official John Wayne Family Cookbook presents recipes that are sure to appeal to the whole family. Each page pairs hearty down-home recipes with sidebars, facts and stunning photos from Duke's amazing film career and joyous family life. Duke knew that life's most cherished memories are often made around the table and over plates of home-cooked food. With this book, you'll learn how to create meals that will bring the entire family together--it's great for breakfast, lunch or dinner!
This 252 page cookbook features such recipes as Lone Star Skillet Mac & Cheese, Beef Tenderloin with Horseradish Sauce, and Slow Cooker Chicken.
Team 128GB microSDXC UHS-I/U1 Class 10 Memory Card with Adapter
Newegg.com, $14.99
You won't go wrong buying this microSD memory card! It features Class 10 high speed write speeds, and comes with an adapter card that allows you to use it in devices that use the full size SD memory cards. While this particular card is 128GB, it is also available in 16GB or 32GB sizes for $3.99, or 64GB size for $6.99. I've actually used this item to supplement the limited storage space on my Lenovo X230 laptop. I bought the laptop used off eBay, and it came with a 128GB SSD. The addition of this microSD memory card, coupled with its full size SD adapter card, allowed me to more than double my available storage space. This card would also be perfect to use in a smartphone, tablet, drone, or any other electronic device that allows you to expand storage memory with microSD cards. These memory cards are shockproof, temperature-proof, waterproof, magnetic proof and X-ray-proof, which offer your precious files all-around protection. At this price, you can pick up multiple units to serve as stocking stuffers!
IOGEAR GFR3C15 3 in 1 USB-C Quantum Card Reader/Writer - CF, MicroSD, UHS-II SD
Newegg.com, $17.99
Let's say you're on vacation, and you need/want to download images from your digital camera to your smartphone. Maybe you ran out of space on your digital camera's SD storage card, and downloading them to your smartphone and uploading them to your online photo storage account is a viable solution for freeing up space on your SD storage card. Or, if you're like me, you can check the SD cards from your trail/game cameras while you're out in the field by downloading them to your smartphone.
This card reader hooks up to your smartphone via its USB-C connector (common on all the latest smartphones), allowing you to read CF, SD, and microSD cards directly on your smartphone. Heck, this is the only reason I take a laptop with me when I go hunting ... so I can look over the images captured by my trail/game cameras. I have no internet connection where I go hunting, so my laptop is only used to look at trail/game camera images.
PCLinuxOS Mens Baseball Tee
PCLinuxOS CafePress Store, $24.99
You can't go wrong with this item! You'll definitely be "stylin'" as you wear your PCLinuxOS Men's Baseball Tee around town. Made from a spun cotton and polyester blend, this shirt features ¾ length sleeves, and the PCLinuxOS logo emblazoned across the front. It is available in multiple colors. It is available in sizes from small to 2XL. It's the perfect gift for the PCLinuxOS user in your life ... or for yourself! A portion from the sale of items with the PCLinuxOS logo on them in the special PCLinuxOS store on CafePress goes to help support PCLinuxOS.
PCLinuxOS 16 oz Stainless Steel Travel Mug
PCLinuxOS CafePress Store, $15.65
This insulated stainless steel travel mug will keep your favorite beverage hot or cold for hours. Grab up your favorite drink as you head out the door and take your favorite drink with you as you go about your day. All the while, you're helping to spread the word about the world's best Linux distro EVER ... PCLinuxOS! The 16 oz (473ml) Stainless Steel Travel Mug measures 7.25"x3.5" (18.42cm x 8.89cm), and fits easily in most cup holders. A portion from the sale of items with the PCLinuxOS logo on them in the special PCLinuxOS store on CafePress goes to help support PCLinuxOS.
250 Watt 5 Tray Food Dehydrator With Digital Timer & Temperature Control
Amazon.com, $75.99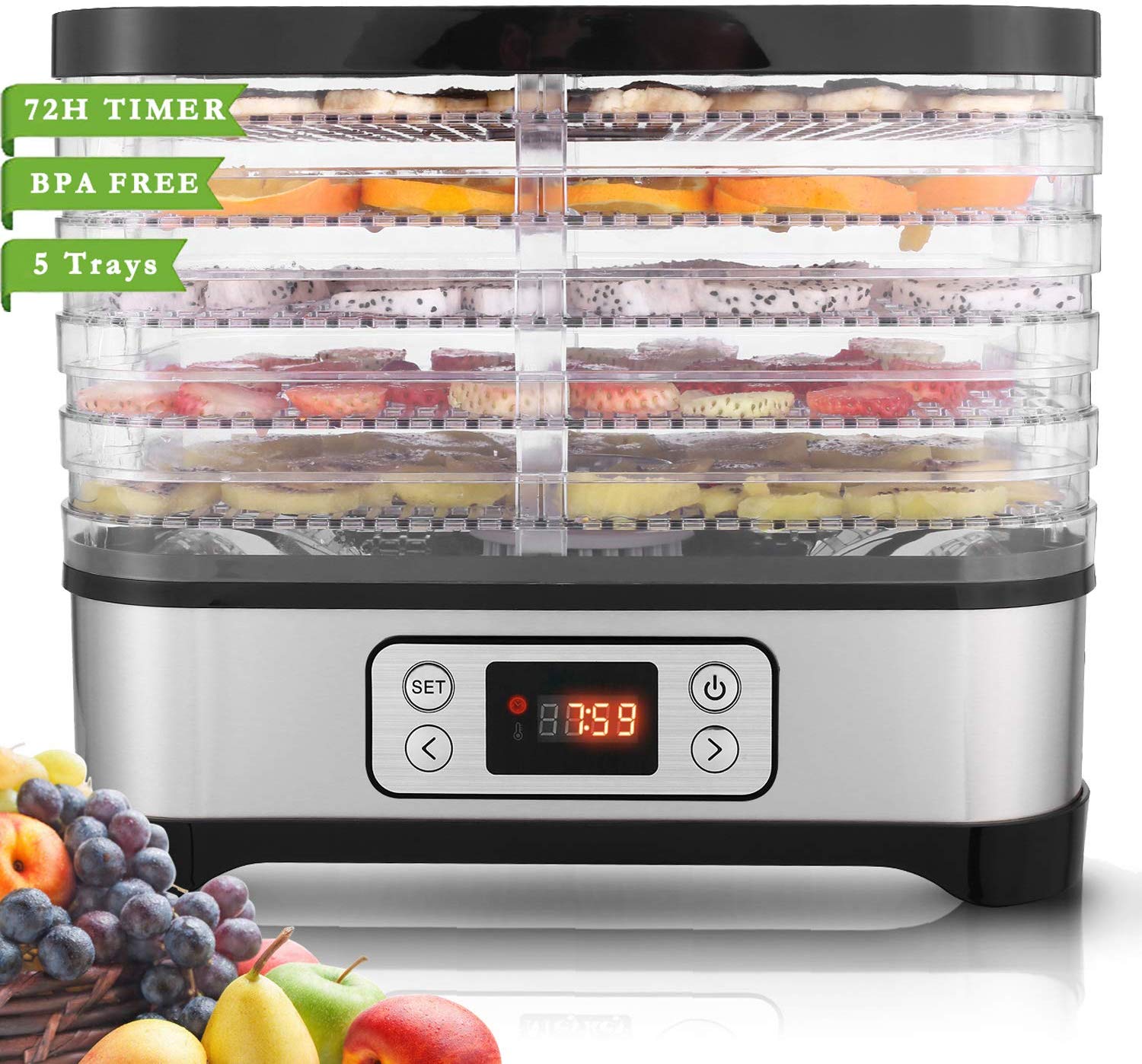 There are few methods of food preservation and preparation that are as healthy as food dehydration. With a food dehydrator, you can dehydrate all kinds of fruits, vegetables, flowers and meats. Dehydrated, a lot of foods will keep a lot longer, while preserving their flavor and nutritional value.
When most people think of using a food dehydrator, it's the latter that they most likely think of first: making jerky. Others think of being able to make their own homemade fruit rollups. Regardless of what comes to your mind first when thinking of dehydrated foods, when done properly, it can help make food last a lot longer before becoming spoiled. Food dehydration removes the vast majority of moisture from foods, which is what bacteria and fungi need to breed, multiply and thrive. Virtually all dehydrated foods have less than 10% moisture content.
This food dehydrator has five dehydration trays, an adjustable temperature setting from 95° F to 158° F, and a timer to turn the unit off when the desired amount of time has elapsed (up to 72 hours). The trays are made with BPA-free, food grade plastic. A low-noise fan keeps the heat circulating throughout the dehydration process.
Sure, there are less expensive dehydrators available, but the old adage "you get what you pay for" really does hold true when it comes to food dehydrators. There are also more expensive dehydrators available, too. This particular food dehydrator should do well for anyone looking to get started with making their own dehydrated food, such as jerky, banana chips, dried kiwi, dried apricots, dried apples, dried tomatoes, or any other of tons of foods that can be dehydrated and preserved. Imagine being able to buy food items on sale, and then preserving them at home in your own food dehydrator, turning them into healthy, tasty snacks and food items.
Plantronics Explorer 52 Bluetooth Headset
Walmart.com, $24.80
I don't know about you, but one of my BIGGEST pet peeves is people driving down the road, either with a phone permanently/surgically attached to their head, or talking on their phone in speaker mode with it in one hand and driving (actually, attempting to drive) with the other. Virtually EVERY. SINGLE. PHONE. SOLD. TODAY. has Bluetooth connectivity. As such, true hands-free calling is possible for a very inexpensive price.
Plantronics is a storied company that went to the moon. Literally. From the Plantronics website:
The Mission was Apollo 11.
At the height of the race to space, NASA challenged us to build a comfortable headset that would equip astronauts to communicate with Mission Control from the earth to the moon, and back again.
Their quality standards are high, and those standards are reflected in their very affordable Bluetooth headset, the Plantronics Explorer 52. The sound and vocal transmission quality is outstanding (I actually have one of these). My wife also had one, until she lost it (she has since replaced it with a comparable model). I could easily tell when she was using her phone's native mic and speaker, vs using her Bluetooth headset. Furthermore, the built-in rechargeable LiON battery lasts and lasts and lasts, providing up to 11 hours of talk time between charges. It's lightweight, and you can hardly tell you have it on your ear, even after having it on all day.
So, what better gift to give someone you care about than this Bluetooth headset, where the recipient can make true hands-free calls while minimizing distractions ... and all the while keeping their hands truly free for other tasks (that are probably way more important).
Wine Ziz Wine Air Pressure Pump Bottle Opener | Foil Cutter | Amazingly Simple Wine Opener Air Pressure Wine Opener
Amazon.com, $14.99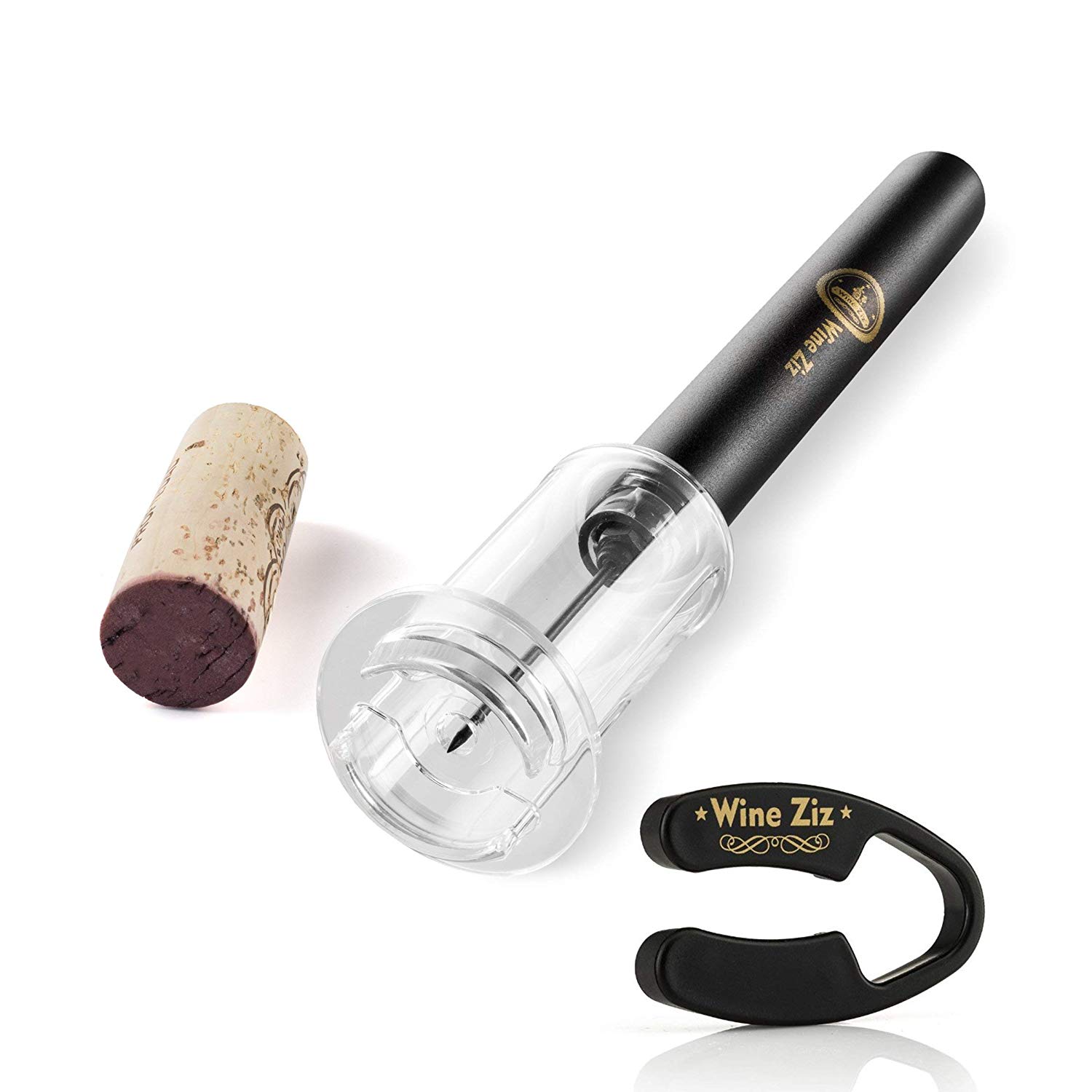 Some of you may not know this, but one of my "hobbies" is making homemade wine. We don't drink much; I end up giving a lot of it away to friends and family. I have my jugs that I ferment the fruit juice in. I have bottles out the wazoo. I have corks and a corker. I put shrink wrap bands on my bottles after they are corked. I even make my own homemade labels, using glabels in the PCLinuxOS repository. As you can imagine, my wine rack in the basement is nearly overflowing with wine, most of it homemade.
One thing that is a real pain is removing the corks when you want to drink a bottle of wine. But the Wine Wiz bottle opener makes it super easy to uncork a bottle of wine. Using the accompanying foil cutter, remove the foil top from your bottle of wine. Then, gently push the needle (be very careful ... the needle is VERY sharp!) through the cork until the tip of it emerges from the bottom of the cork. Now, pump the handle of the Wine Wiz decorker, and the air pressure inside the bottle should make the cork slip right on up and out.
This is a perfect holiday gift for any wine lover on your list!
Bonus Ideas For Stretching Your Money
If you're on a tight budget (an increasingly common situation these days), you might want to look for gift ideas on Amazon's Warehouse deals. There, they sell returned, refurbished, used and warehouse damaged goods (often, just the packaging is damaged). They have a bit of everything there, so you're likely to find items for those on your list at a very budget-friendly price. While there, also check out Amazon's Outlet, where they sell overstocked items for up to 75% off. Are you NOT an Amazon Prime member, and you want to qualify for free shipping? Maybe your cart total sits at $23, but you need $25 to qualify for the free shipping. Type "add on items" into the Amazon search bar, and you'll find a whole list of small items to bring your total up to the minimum required to qualify for free shipping.
Other sites, as well, may offer huge discounts on refurbished products. I do know that you can find some awesome buys on Newegg.com by typing "refurbished" into the search bar on the Newegg site. That's how I found my HTPC!
Summary
This should give you some ideas for gifts for those on your gift list. The lists from Meemaw, YouCanToo and others can also get your gift giving karma off to a good start.
No matter which of the winter holidays you celebrate ... or even if you don't celebrate any of them at all ... we at The PCLinuxOS Magazine wish you and your family happy holidays!