by CgBoy
PhotoFilmStrip is a nice program for easily creating video slideshows of your photos. It supports audio tracks, panning and zooming, and has a few transition and image effects. The interface is quite well designed, making the program quick and easy to use.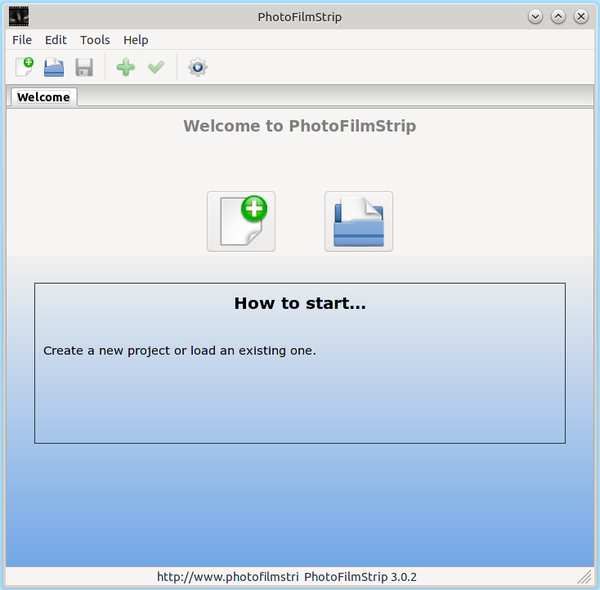 To begin, click on the New Project button, which will bring up a new window where you can set the project name and location, the video aspect ratio, and the length of the slideshow. If you don't want your video to be silent, you can then also add audio files that will play during the slideshow. Once you've set all of that, press OK, and you'll be taken to the editing screen.
Now it's time to add the images you want to use in your slideshow. Basically, the image preview on the left hand side is the starting point for the pan and zoom, and the one on the right is the end point. You can drag and resize the highlighted boxes to set where in the image the zoom and panning motion begins and ends. The top button in between the two image previews will randomize the panning.
You can also change the image orientation, if need be, or apply one of the two image effects (Black and White, and Sepia tone). After that, you can then set the amount of time it takes to pan across the image, and you can also change the movement method to Linear (Moves at a constant speed), Accelerated (Starts slow and speeds up, then slows down again), or Delayed (Only starts moving after a short time). The transition effect can be changed to None, Fade, or Roll. As with the movement, you can also specify the amount of time it will take to transition to the next image in the slideshow. Along with all that, you can even add your own subtitles to the images.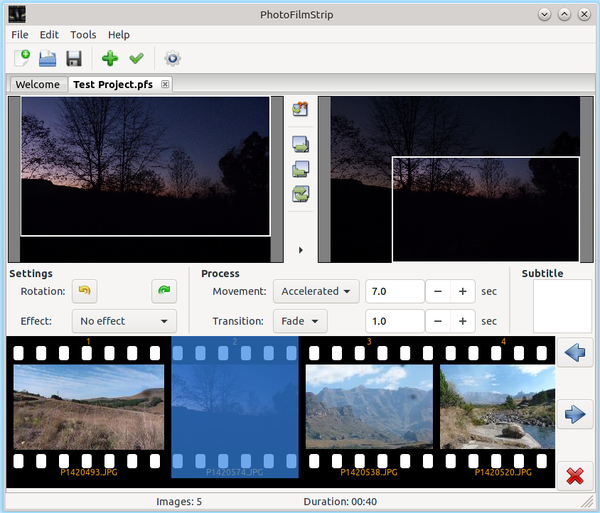 At the lower half of the screen is the filmstrip, where you can rearrange the order of the images, or go back and edit them again. Once you have finished editing the slideshow, just hit the green check mark button at the top to render the project in the format and resolution of your choice.
Summary
I really like how PhotoFilmStrip makes it very easy to quickly produce a high quality slideshow of your favorite photos. It's definitely far simpler than doing it all manually in dedicated video editing software. I recommend PhotoFilmStrip to anyone looking for a quick and easy solution to photo slideshows.