Chicken Tortilla Casserole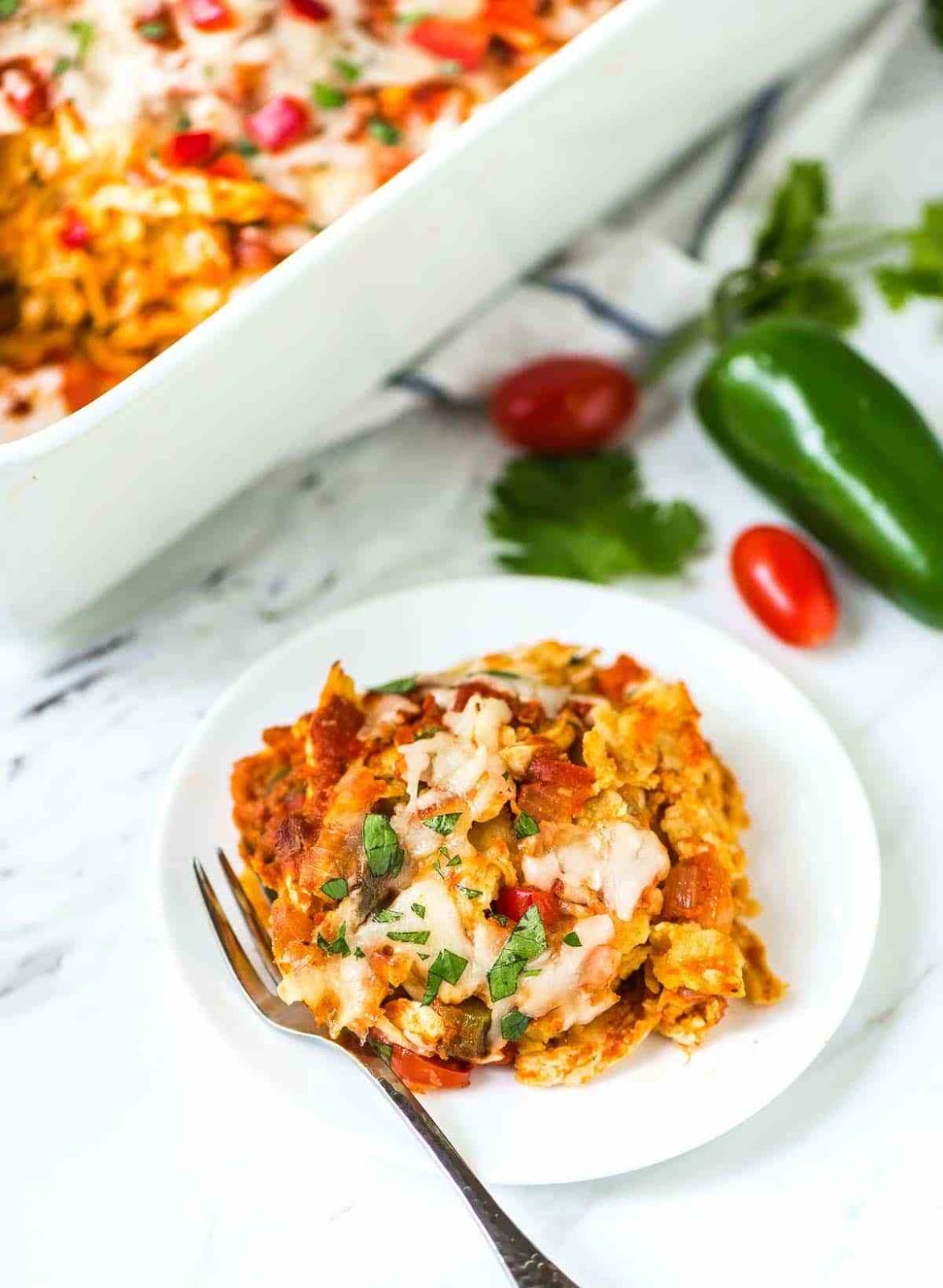 INGREDIENTS:
1 1/2 pounds boneless skinless chicken breasts* - cooked and shredded
2 teaspoons extra-virgin olive oil
1 large onion chopped
1 green bell pepper cored and chopped
1 red bell pepper cored and chopped
1 jalapeno cored and diced
2 cloves garlic
2 teaspoons ground cumin
1 teaspoon dried oregano
1/2 teaspoon kosher salt
1/4 teaspoon black pepper
1 can tomato sauce (28 ounces)
1 1/2 cups chicken stock
3 tablespoons Tabasco Jalapeno Sauce plus additional for serving
18 (6-inch) corn tortillas
2 cups freshly grated Monterey Jack cheese (8 ounces)
DIRECTIONS:
Preheat the oven to 375 degrees F. Coat a 9x13-inch casserole dish with baking spray. If needed, cook and shred chicken according to these easy steps.
Heat the olive oil in a large, deep skillet over medium high, then add the onion, green bell pepper, red bell pepper, and jalapeno. Saute until the veggies are tender, about 10 minutes. Add the garlic, cumin, oregano, salt, and pepper and cook until fragrant, about 30 seconds. Add the tomato sauce, chicken stock, and Tabasco Jalapeno sauce, then stir to combine. Let the sauce simmer for 12 minutes.
Assemble the casserole: Spread a thin layer of the sauce on the bottom of the prepared baking dish. Arrange 6 tortillas on top so that they cover the sauce, overlapping as needed. Top with 1/3 of the chicken, 1/2 cup of the cheese, then 1/3 of the remaining sauce. Repeat the process twice more, sprinkling the last 1/2 cup of the cheese over the top.
Cover then pan with foil, then bake for 35 minutes. Remove the foil, return the pan to the oven, then bake for 10 additional minutes, until the casserole is hot and bubbly and the cheese is melted. Let rest 5 minutes. Serve hot with desired toppings.
TIPS:
Optional for serving: salsa, sliced avocados, lime juice, plain Greek yogurt (or sour cream), chopped fresh cilantro.