by CgBoy
PDFsam (Split and Merge) Basic is a helpful program used for splitting, extracting, and merging PDF documents. There are paid versions of PDFsam with more features, but for this review we'll just be focusing on the free Basic edition available in the repository.
PDFsam has a modern, well designed interface. Each editing function of PDFsam is divided into a different module accessible from the main screen.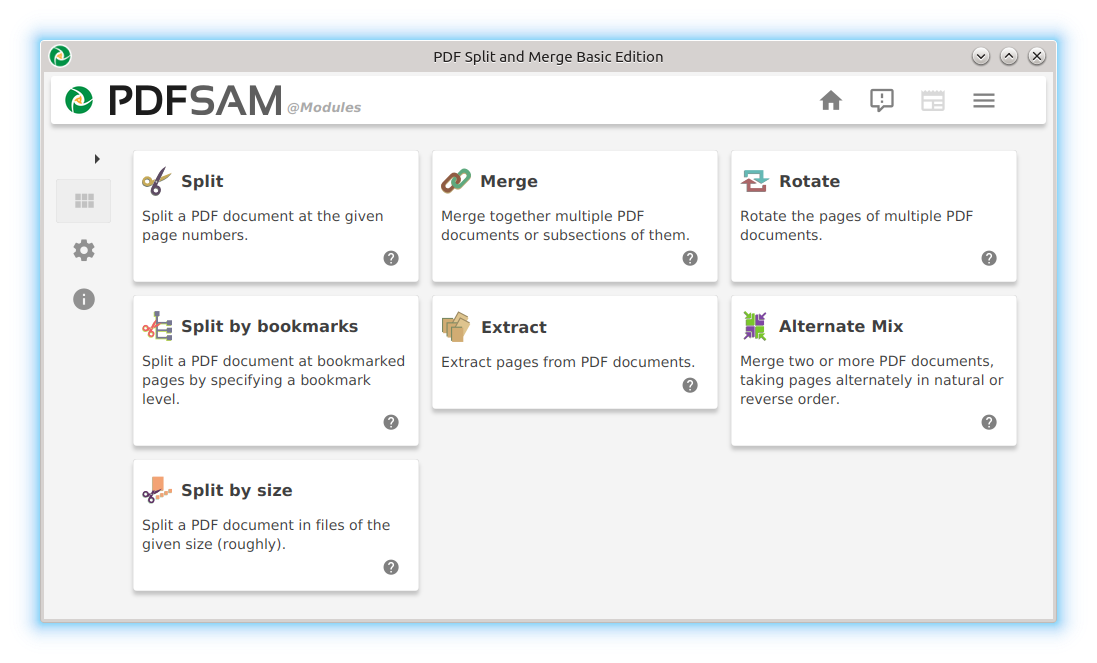 To merge two or more PDF files together, go to the Merge module and load in the files you want to mix. Then, if you don't want every page to be merged, you can set which ones you do want by double clicking on the Page ranges column at the top right, and entering comma separated page numbers (for example, 1-3, 15, will include pages 1 to 3 and page 15). You then have a few options, such as normalizing the page sizes, generating a new table of contents, adding a page footer to indicate which file the page was from, and options for handling bookmarks and interactive forms. Next, choose the output location and filename. By default, the output PDF file will be compressed. Now just press Run and let it merge the documents.
The Alternate Mix module is used for merging two or more PDF files by alternating the pages taken from each document.
To split a PDF document, go to the Split module and load the PDF file in. Then you have the option to split the document after every page, every even page number, every odd page number, after any page numbers you enter in, or after every specified number of pages. When you press Run, it will then split the document into multiple PDF files.
The Split by bookmarks module allows you to split a PDF file at the bookmark level you specify. And the Split by size module lets you split the PDF document into smaller files all of a certain file size, which you can set.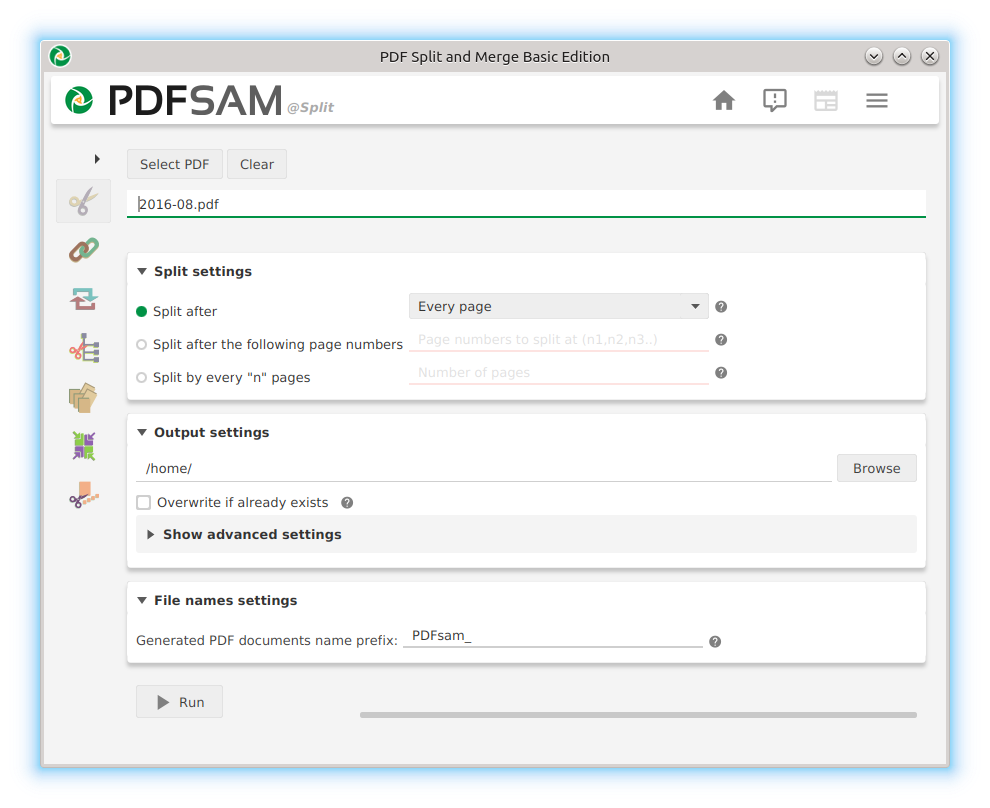 If you want to change the orientation of a PDF document, go to the Rotate module and simply choose to rotate it by 90, 180, or 270 degrees. Like before, if you want to only apply this to some of the pages, specify the page numbers in the Page ranges column at the top.
And finally, the Extract module allows you to extract selected pages from one or more PDF documents. It will save all the extracted pages into one PDF file.
Summary
There are other PDF merging and splitting tools in the PCLinuxOS repository, but I chose to review PDFsam because I thought it was the best one all round, especially with its user friendly interface. If you need a simple program for performing some PDF splitting and merging tasks, I would really recommend PDFsam Basic.