I have to admit, right up front: I haven't had as much time in the past month to work on the magazine as I usually have. These are difficult and trying times. We, collectively, haven't seen anything like this in over a century.
For those of you who do not already know, my full time job is as a respiratory therapist in the midwestern U.S. I have been a respiratory therapist for over 33 years. At least in the U.S., we are the ones who deal with/treat patients who have breathing problems, either because of asthma, COPD, congenital defects, pneumonia, trauma, or a whole host of other problems that negatively impact the respiratory system and make it difficult to breathe. I plan to retire in another two years and four (or so) months, and as far as I'm concerned, that amount of time cannot pass quickly enough.
We administer breathing medications via aerosol nebulizers to make it easier for patients to breathe, by relieving bronchospasm, decreasing inflammation, and treating infections. We draw arterial blood samples to ascertain how well a patient's lungs are functioning, and to see how well the patient is oxygenating. We administer oxygen to those who need it. We manage and run the mechanical ventilators for patients who are not able to adequately breathe for themselves. We help clear up patients' airways of accumulated mucus. We are members of the "Code Blue" team, responding to all resuscitation efforts in the hospital, maintaining the airway and breathing for those patients. We perform diagnostic tests that help determine any lung pathologies and the degree of impairment.
In my personal favorite role, respiratory therapists are present to help premature infants, whose lungs are not mature enough to support proper breathing, and other newborns suffering from some sort of breathing issues, to get over that initial challenge. In all honesty, if I could work ONLY with the premature and newborn infants, I probably would delay retiring at 62 years of age. But, the chances of that happening are somewhere between nil and none.
Then, the coronavirus global pandemic hit. With a vengeance.
Globally, the coronavirus SARS-CoV-2 has infected over 660,000 people (confirmed cases ... it's estimated that many more have been infected, but didn't receive testing) in 177 different countries or regions, and caused the deaths of over 30,500 people. You may also be more used to hearing it as COVID-19. It's one and the same. Those who come down with a SARS-CoV-2 infection are said to be suffering from COVID-19. As of the time that I write this article, and using the exact numbers available at that time, that represents a mortality rate of just over 4.6 percent.
With so many countries and regions represented by the global infections, the reaction by local officials and multiple jurisdictions has varied considerably. In Italy, one of the hardest hit countries, the mortality rate is running around 9 percent. But in Germany, the mortality rate is less than 0.5 percent. The U.S., which took over the dubious lead in the number of confirmed cases, currently has a mortality rate of right around 1.7 percent. Fully one-fourth of those are in New York City. In China, where the virus appears to have started, the mortality rate has been right at 4 percent. In the U.K., the mortality rate is running right around 5.9 percent. In South Korea, the mortality rate is running around 1.5 percent.
To slow the spread of the virus (to flatten the curve of the rate of infection, so that all the sick don't overwhelm the hospital systems by coming in sick all at the same time), most jurisdictions have limited gatherings of more than 10 people. It's called physical distancing, a.k.a. social distancing. In some areas, it's no more than two people at a time. Many jurisdictions have issued "stay at home" orders, encouraging people to stay at home and avoid intermingling. It's that close person-to-person contact that hastens the spread of the virus among members of a community.
To promote social distancing, schools have been closed. At least at my son's school, the teachers have made online instruction available via YouTube videos, and have made available virtual learning resource packets. The latter are full of worksheets for students to practice what they learned from the videos. Since my son is in kindergarten, his worksheets cover sight words, vowel sounds, and basic math (so far, just addition). Even though it has been reported that kids have much milder symptoms of coronavirus infection, they can act as viral reservoirs and aid in the spread of the virus to those who are much more at risk of a more serious manifestation of the virus (such as older adults).
Events that encourage a large gathering of people ... concerts, sporting events, trade shows, etc. ... have been canceled all over the world. Even the tech sector has been deeply impacted. Google, Microsoft, Facebook, Amazon and many others have encouraged as many of their employees as is logistically possible to work from home. Even the Free Software Foundation's big annual soiree, LibrePlanet, was changed to a free, multi-day webcast event. Verizon Wireless is offering 15GiB of free wifi hotspot usage to their customers on their cellular network. Xfinity and Spectrum cable providers, by far the two largest cable providers in the U.S., are offering free wifi access via their wifi hotspots to everyone, whether they are a customer or not.
Elsewhere, non-essential businesses have been closed. Restaurants and bars have been ordered closed, or to offer drive-thru and take-out only. Only "essential" businesses, such as grocery stores, pharmacies, liquor stores, gas stations, etc. have been allowed to remain open to provide essential goods and services. Community centers are closed. Gyms are closed. Indoor shopping malls are closed. Automobile assembly lines have shut down their usual work (there are two in the Kansas City area, one Ford, one GM). MLS soccer games have been suspended. The NBA suspended the rest of their season. The NHL did the same. Opening day for MLB (baseball) has been postponed indefinitely.
Around my parts, finding many of those essential goods has become quite the adventure. Alcohol-based hand sanitizer is next to impossible to find. We have made our own from two parts alcohol (MUST be greater than 90%) to one part aloe vera gel (if you can find it). Add one tablespoon (15 ml) of 3 percent hydrogen peroxide to every 235 ml (1 cup) of the mixture (for a total mixture measuring 250 ml). Blend well and refill your empty hand sanitizer bottles. But, unless you are out and about, alcohol-based hand sanitizers SHOULD take a back seat to proper hand washing with soap and water, which is most effective in eliminating the virus from your hands. Only if you are somewhere that soap and water isn't available should you be using alcohol-based hand sanitizers. Obviously, if your hands are visibly soiled -- uh, dirty -- you should be using soap and water to wash them.
Toilet paper is just as hard to find. People are hoarding toilet paper out of fear that they might run out if they are forced to endure a two-week self quarantine, should they come down with a coronavirus infection. Also, because so many businesses are closed during the pandemic, those workers are staying home. That means that their toilet paper usage at home has gone up by 40 to 50 percent. People are also stocking up on canned goods, meat, bread, pasta, cleaning products, liquid hand soap, bottled water and just about every other item ... all out of that same fear that drives the toilet paper hoarding. I've never seen store shelves so bare and empty.
At the hospital where I work, all non-essential (elective) surgeries and outpatient procedures have been postponed. Visitors are no longer allowed, except in a very few limited and tightly controlled exceptions. Personal protective equipment (PPE) is in short, short supply. In response, the hospital has enacted PPE conservation tactics and plans that we wouldn't even consider during normal times.
Private industry has stepped forward to fill in the gaps in the supply chain. Distilleries across the country have converted from making alcohol for drinking to making alcohol-based hand sanitizer. This even includes InBev's Anheuser-Busch, who typically makes beer. Other businesses have stepped up to make N95 respirator masks. GM is leveraging its supply chain and distribution channels to help manufacture critical care ventilators, which are anticipated to be in very short supply in the not-too-distant future to accommodate the anticipated and expected surge of COVID-19 patients. Ford Motor Company is doing the same for another ventilator manufacturer. The owner of the My Pillow company is shifting his entire business to making masks for healthcare workers during the pandemic. Various restaurants (e.g., Jersey Mike's Subs) are providing free meals for healthcare workers. Hospital equipment vendors are also providing free meals. Donut shops are sending free donuts for healthcare workers. Lowe's home improvement stores have donated N95 masks, as has Harbor Freight Tools. The list could go on and on and on.
On the other side of that same coin, healthcare workers are being attacked while filling up their vehicles with gasoline, or if they stop to pick up essential items or food on the way home. Wearing your scrubs out in public is becoming dangerous. (We have to provide our own at the hospital where I work, which is not uncommon among hospitals around here). Ignorant members of the public think we're out "spreading the virus." In other instances, healthcare workers are having bleach splashed or poured on them
Most days, when I get home from a 12 hour shift at the hospital, I'm physically and mentally drained from the extra layers of vigilance that the coronavirus pandemic is thrusting upon us. I'm more drained than normal, which has eaten up my time for working on the magazine that I normally am able to perform. Add in the extra time it takes to track down and find essential goods and services, and that cuts into my "magazine time" even further. Then, there's the change of routine, since my son's school is closed until at least the end of April. We (his mother and I) have become his surrogate teacher during this time, guided by the virtual learning packages provided by his teacher.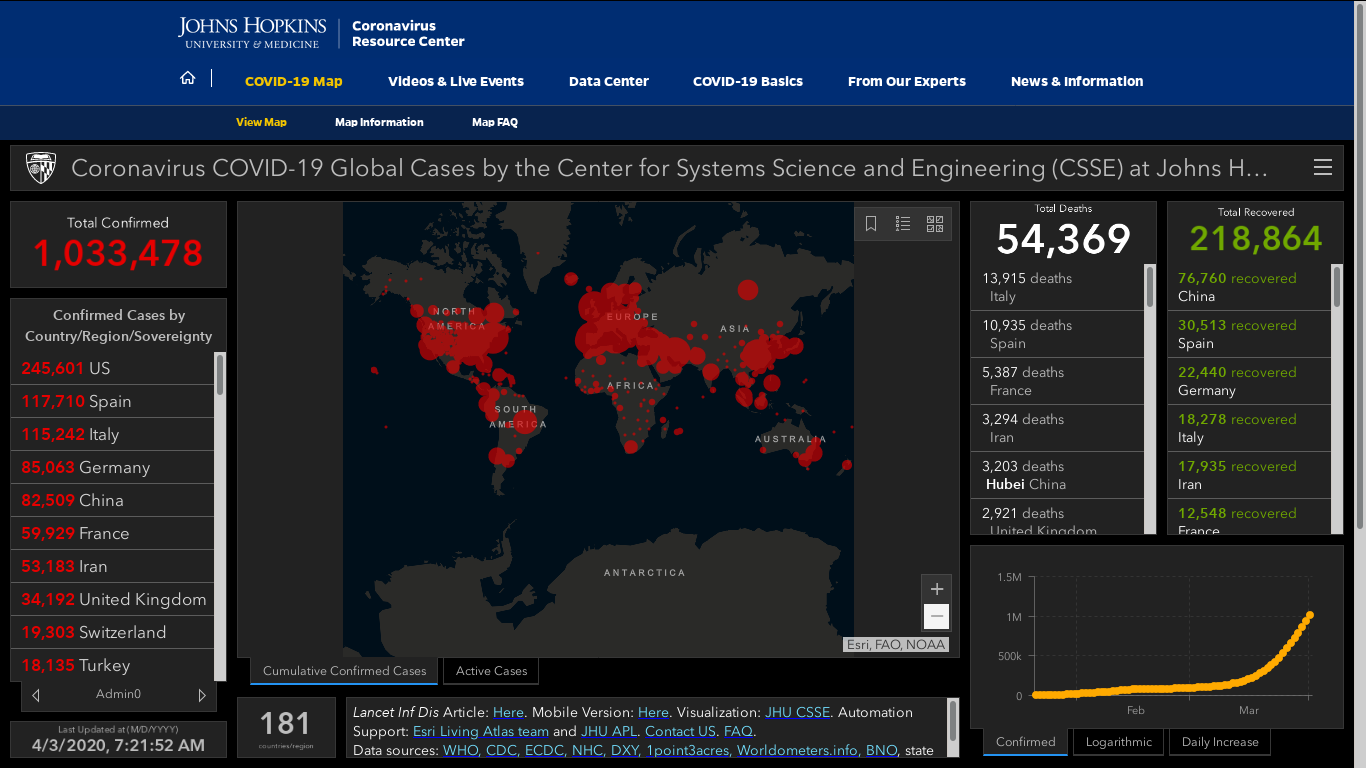 Meanwhile, work is underway at a feverish rate to find an appropriate and effective treatment for the causative virus of COVID-19, SARS-CoV-2. Some drugs have been identified as potential treatment options, but they must be studied for safety and efficacy. Work is also underway for a vaccine for the virus. In the U.S., the FDA has fast-tracked a possible vaccine, giving it to a group of patients. Just as with the drugs that have been identified, the vaccine must be studied for safety and efficacy before being released to treat a vastly larger number of patients.
To help prevent the spread of coronavirus, avoid large gatherings. Follow the advice of your local public health experts. Wash your hands frequently with soap and water. Use alcohol-based hand sanitizer for those times when you're unable to access soap and water. Cough and sneeze into your elbow. If you develop symptoms (fever, scratchy throat, dry hacky cough) or think that you have been exposed, or have a family member that has contracted the illness, contact your healthcare provider. If you have shortness of breath with the symptoms, seek medical attention. Most people will have milder symptoms, and get over it without any problem. Most will need to merely self quarantine for two weeks to help prevent spreading the virus to others who may be more susceptible to the more severe manifestations of COVID-19. If you're seeking additional information and want to stay up to date on the fighting of COVID-19, please refer to only reputable sources, such as the WHO, the CDC, and the live-tracking coronavirus map from Johns Hopkins University.
Eventually, life will return to normal. Just keep in mind that "normal" may be a few months away, and by then, our definition of "normal" may be slightly altered. This pandemic will definitely leave its mark on us in ways we haven't even begun to imagine yet.
Until next month, do your level best to stay healthy. I wish you peace, happiness, serenity, prosperity ... and continued good health.