I'm in quite a quandary. Back in 2015, I wrote up an article about building a HTPC. I used an off-business-lease refurbished computer, the HP DC5800, as the "base" of the system. I added a nVidia GT610 video card, and a wireless mouse and keyboard combo from Logitech.
Since I wrote that article, I've gotten a different, newer "smart" TV. It has the ability to stream movies from many sources. Because of that, I really don't use the HTPC much to stream movies. More, I use it more as a dedicated media server that is connected only to my living room TV. It's definitely not what my intention was when I built the HTPC. Of course, the HTPC runs PCLinuxOS with the Xfce desktop.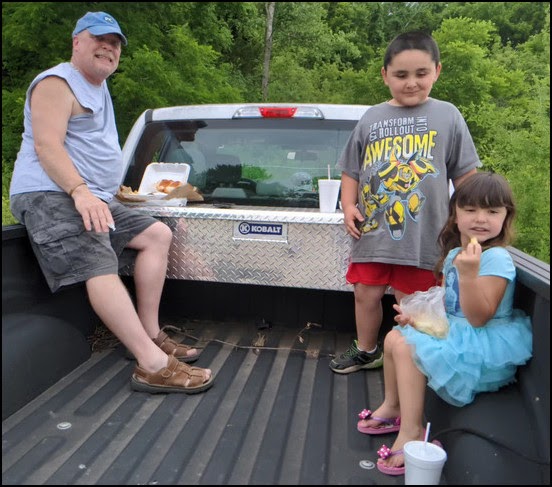 Time for a picnic in the bed of dad's pickup truck. Even though things are opening back up, we won't go eat at a restaurant. Nope. It's way too risky. Instead, we order it "to go" and have a picnic outdoors.
Over the 5+ years since I built the HTPC, I never quite got around to upgrading the 2GiB of RAM on the computer. I'm rectifying that issue this week, with the purchase of 4GiB of DDR2 RAM for the computer. It has shipped, and should be arriving in a few days (from the time I'm writing this). But wait, there's more.
The nVidia video card is no longer supported. In fact, to update my system, I had to use an old release of Trinity that had a working nVidia driver for the video card. Otherwise, I had nothing but a blank screen once GRUB2 finished its boot duties. So, once I was able to get PCLinuxOS installed, I disabled the nVidia driver, and used the open source nouveau driver. That worked perfectly ... for a while.
And actually, it still works fine ... just so long as I don't use a 5.x Linux kernel. Any attempts to use a Linux kernel greater than 4.9.x results in a blank screen. Ouch! There's that $%*& blank screen issue, again!
I know that hardware reaches a point where it's no longer supported. But it sure seems that nVidia is one of the worst about dropping support for older cards. And granted, the computer that I used as a base over five years ago was released in the fourth quarter of 2008, nearly 12 years ago. Even though it sports a 64 bit architecture, it's not what you would call a speed demon. But then, for a HTPC, I didn't expect it to be. The video card becomes increasingly more important to fulfill that particular role.
Since I wrote up my original article over five years ago, I've added a 256GiB SSD and a 2TiB HDD to the system -- both within this past year. Storing movies and other assorted videos consumes a LOT of storage space.
Once the new RAM arrives, I'll install it and have 6GiB of RAM installed on the system. That should help with the somewhat anemic performance from the machine. But, the handwriting is on the proverbial wall. This computer will not be able to continue to perform its expected duties as a HTPC forever.
So, I'm starting to look around for a newer computer to use as a base for a newer HTPC. Prices have definitely gone up over the past five years, even for off-lease refurbished business class computers. I did find one listed on Newegg that should fit the bill. It's an HP ProDesk 600 G1 - SFF Intel Core i5 4th Gen 4570 (3.20 GHz) 8 GB DDR3 500 GB HDD Intel HD Graphics 4600. My only concern is with the Intel HD Graphics 4600. Intel doesn't necessarily have the best track record for graphics performance. However, I suspect that it should function just fine as a HTPC. I'll purchase an add-on video card with better capabilities later, if I find that the Intel onboard graphics don't perform adequately. But I'll wait to see how the Intel graphics perform, first. The price for this particular computer is more than twice what I paid for the current system five years ago.
As for the 256GiB SSD and 2TiB drives that I recently installed on the current system, I'll just move them into the new computer. And, of course, the wireless mouse and keyboard combo will be moved to the new computer. If I can get another five years usage out of the new system, as I've done with the current system, it'll be a bargain. That will amount to just a little over $30 per year for the convenience of a HTPC.
**********
This month's cover commemorates July as International Joke Month. Meemaw created Tux in a Court Jester costume, surrounded by one-liners all the way around.
**********
Until next month, I bid you peace, happiness, serenity, prosperity … and continued good health! Remember that this pandemic isn't close to being over. Be safe!