by Alessandro Ebersol (Agent Smith)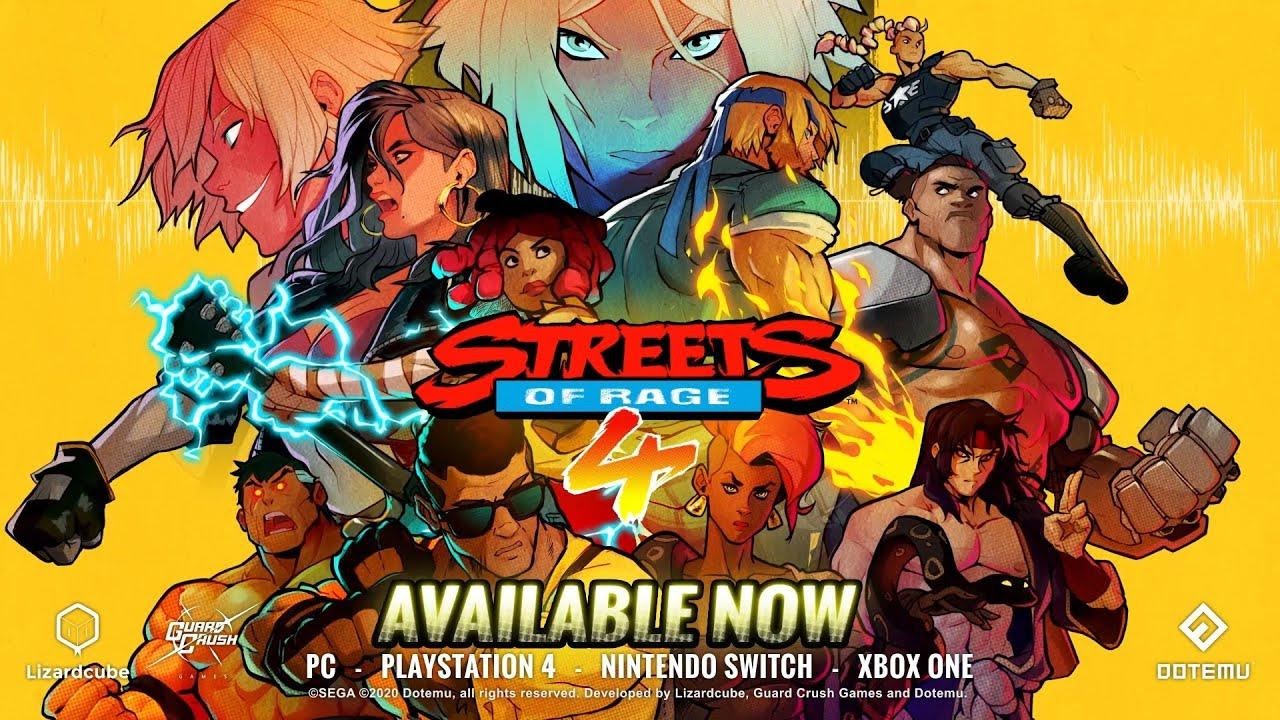 Nostalgia... Ahhh, nostalgia. The whole world looks different with nostalgia glasses. Let's intoxicate ourselves with nostalgia now. Ladies and gentlemen, finally, Streets of Rage 4, review, from the version sold on GOG, running natively on PCLinuxOS!
Streets of Rage 4, a game that took (too) long to come out...
Twenty-five years. This is how long it has been since Streets of Rage 3 (Bare Knuckle 3 in Japan) was released for the MegaDrive. The saga developed its three main chapters in a very short period of time, from 1991 to 1994. From then on, nothing was done, except for the conversions that were made for other systems. Fans of the franchise received a pleasant surprise in August 2018, when DotEmu, a studio specialized in retro titles, officially announced that it was working on a new chapter, Streets of Rage 4.
The Road to Streets of Rage 4
Rumors of a fourth entry in the series had been circulating since the mid-1990s. Following the success of Wonder Boy: The Dragon's Trap, a 2017 remake of 1989's Wonder Boy III: The Dragon's Trap, studio Dotemu and developer Lizardcube approached Sega about creating a sequel in the Streets of Rage series. Sega agreed and production on the game began in early 2018, with the game publicly announced on August 27, 2018.
The soundtrack is composed primarily by Olivier Derivière, with participation from original series composers Yuzo Koshiro and Motohiro Kawashima, partnered with Yoko Shimomura, Harumi Fujita, Keiji Yamagishi, Scattle, Das Mörtal, XL Middleton, and Groundislava. Koshiro was not part of the project from the beginning, but joined after playing a demo of the game at BitSummit, an indie game show in Kyoto, in June 2019. He cited fan requests and how the game was coming along as reasons for joining. Initially Hideki Naganuma was to take Fujita's place, but in March 2020 Dotemu announced that he would no longer be composing for the game due to scheduling complications.
According to Jordi Asensio, a game designer at Guard Crush Games, Joe Musashi from the Shinobi series was proposed as a playable character, along with other Sega characters outside the Streets of Rage series, but the idea was turned down by Sega Japan.



The Companies Involved

Streets of Rage 4 is an idea from DotEmu in collaboration with Sega. The team worked together with Lizardcube (Wonderboy III: The Dragon's Trap) and Guard Crush Games (Streets of Fury) to shape the new production, in which Sega AM7, the studio that brought the original trilogy to the MegaDrive, had no involvement. Also known as Team Shinobi, the original developer of Streets of Rage, was renamed Wow Entertainment and went through several phases before being diluted as a studio.


Development

Following the success of Wonder Boy: The Dragon's Trap, a 2017 remake of 1989's Wonder Boy III: The Dragon's Trap, publisher Dotemu and developer Lizardcube approached Sega about creating a sequel in the Streets of Rage series. Sega agreed, licensed the franchise to Dotemu, and production on the game began in early 2018, with the game being publicly announced in August. The game was co-developed by Guard Crush Games, using a modified engine from their Streets of Fury game, with a five-member core development team across the three companies. It was released for Microsoft Windows, Nintendo Switch, PlayStation 4 and Xbox One in April 2020. Each playable Streets of Rage 4 character has approximately 1,000 frames of animation, with enemies having between 300 and 400 frames each. Seaven Studio ported the game to PlayStation 4 and Nintendo Switch while BlitWorks ported it to Xbox One and Windows 10.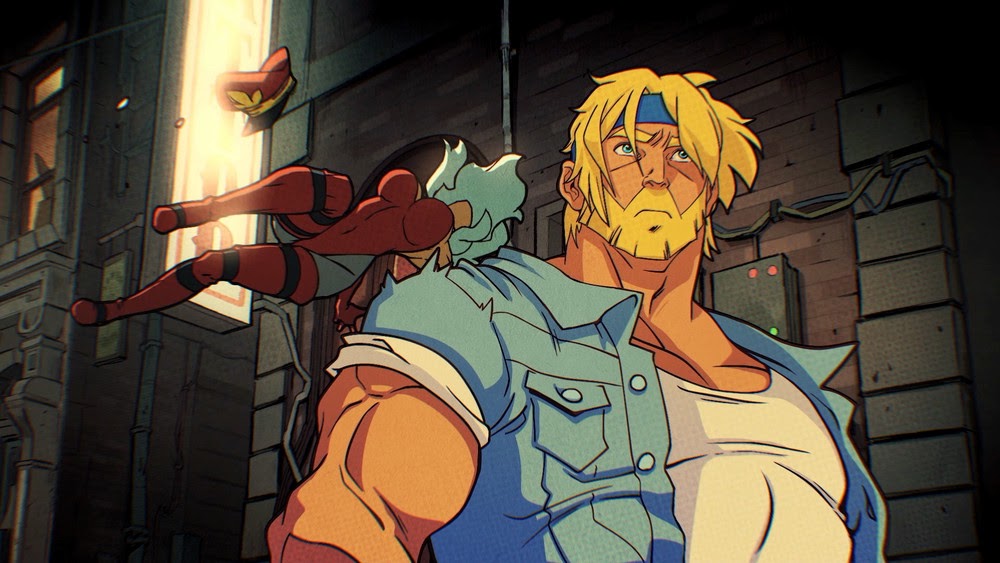 The Linux Version
On November 12, 2020, Lizardcube and Dotemu announced that Streets of Rage 4 is officially supported on Linux (and macOS) with a port made by Ethan Lee, creator of FNA.
Not only is it officially supported, but it is also the 50th port made by Ethan Lee using FNA and brings with it both OpenGL and Vulkan support for the Linux version.
Some Features of the Linux version:
The return of the legendary Streets of Rage series.


Beautiful fully hand-drawn graphics animated by the studio behind Wonder Boy: The Dragon's Trap.


Clean up Wood Oak City alone or with another friend online! (I have not tested online multiplayer)


For the first time, team up to 4 people offline to take back the city.


Classic gameplay enhanced with brand new mechanics.


Soundtrack by several world-class musicians.


Roast chicken everywhere.


A dozen old Streets of Rage characters unlockable and playable in their original pixel art versions.


Original, unlockable songs from previous games.


12 unique stages.


Fight against your friends in Battle Mode


Or team up to defeat Boss Rush Mode!
FNA, the magic that makes games run natively on Linux
FNA is a completely new open source reimplementation of the Microsoft XNA 4.0 Refresh runtime libraries for Windows, Mac OS X, and GNU/Linux. Originating as a rewrite of the MonoGame desktop platform, FNA features a complete reimplementation of the graphics and audio subsystems, and a dramatic increase in portability on the desktop. With a single FNA binary, it is possible to create for Windows/Mac/Linux without having to recompile for each individual target.
FNA is also a complementary library to the MonoGame project; while MonoGame aims to succeed XNA 4.0, FNA aims to preserve XNA 4.0 with precision and preservation as the project's top priorities. With XNA-compatible code and content, a game can be run under FNA with nothing more than a new project file.
Highlights:
FNA is now officially supported by developers


A free and open source reimplementation of XNA 4.0


Windows, Mac, and Linux support with a single binary


Already used in dozens of Windows/Mac/Linux games


Developed by Ethan Lee, professional video game porter
My Review
After waiting for 25 years, fans of the series had already despaired and created their own sequels. Yes, the creation of the Openbor engine and the Streets of Rage remake was a sign of this desperation.
However, it was Sega's fault that in all these years, they had neglected a fantastic intellectual property with a lot of fan appeal.
But, let's go to the analysis of the game.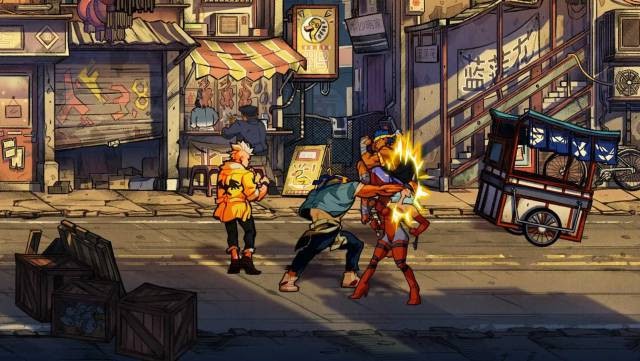 Story
The story is horrible: Mr. X's sons, the Y twins (Hahahahahaha), are trying to continue the work started by their father: to control the town of Wood Oak by exercising power in all its spheres: politicians, policemen and criminal gangs. They intend to do this by using hypnotic music to control the citizens of Wood Oak (Hahahahahahaha).
Blaze Fielding then calls in some old favors, to bring down the twins. Joining Blaze are his old friends Axel Stone and Adam Hunter, Adam's daughter Cherry Hunter, and Floyd Iraia, an enhanced cybernetic apprentice of Dr. Zan.
Initially, Adam Hunter is unavailable, but by advancing to the second stage of the game, he becomes unlocked to play.
With a plot as deep as a sheet of paper, the story is just a pretext for the banging that ensues in the game.
Gameplay
Here's a criticism, and a very blunt one: It seems that the developers have unlearned everything that came before SOR 3 (Streets of Rage 3). The characters have lost moves, such as dash, which brings a much faster dynamic to the game. And the worst: It is too difficult. Thanks to the loss of the dash movement, it is now much more difficult to escape from group attacks, which was relatively easy until the third game in the franchise.
Only the character Cherry Hunter has dash, which makes her the best character in the game right out of the gate.
When unlocking the earlier versions of the characters things get better, because they all have the dash move and the game gets easier, but until you get there you will have to finish the game a few times to unlock these versions, and many people may not have that much patience.
Unlockable characters: Axel (SOR1, SOR2, SOR3 ), Blaze (SOR1, SOR2, SOR3 ), Adam (SOR1), Skate (SOR2, SOR3 ), Max (SOR2), Zan (SOR3) and Shiva (SOR3)
Graphics
Here the game shines, with an intensity never seen before. The graphics, all, are hand-drawn, and are all in high resolution. The style follows anime, and is a sight to behold.
Many of the designs are the same of the old games, the locations in Wood Oak City, but have been reimagined in a way that looks truly fantastic. Score 10 with honors.
Music
This is where things get complicated. The game has songs, but they are not even remotely reminiscent of the classic songs. They are not bad, but they are like elevator music: bland and uninspired. Also, I wonder how composers from the old games participated in the soundtrack. Luckily, you can turn on the old songs and listen to them during the game, because the new ones are a disappointment.
As for the sound, it only works with pulseaudio, but if you don't use pulseaudio, apulse solves this problem easily.
Verdict
As I wrote in the beginning, we were going on a nostalgia trip in this review, and, I believe, that many gamers and game journalists were intoxicated with nostalgia to give this game their grade of excellent.
It's hard to badmouth this game. It's very well made, there was a lot of work put into making a competent piece, both visually and sonically, but, at its heart, it's like a wind cake - it's empty. It's empty of what players wanted to see and feel when they bought it, which is to be a sequel to Streets of Rage 3.
Yes, as competent as the production was, the final product doesn't have the feel of SOR, it feels like something else. And, this is also a consequence of the use of the Streets of Fury game engine, which is a parody of beat-em-up fighting games, which belongs to the SOR franchise.
Now, I make this review without nostalgia glasses, but informing what needs to be said: it is a very competent game, but it is not SOR.
To have an experience like SOR, play the games made in Openbor, or the Streets of Rage remake, which is much better than this game, even though it is unofficial. By the way, the fans are making better games than the professionals, and have been for some time.
To Buy or Not to Buy ?
The game has a very large replay factor - to unlock all the characters and game modes, you will be playing for hours, so in that respect, it will have a pretty long life on your computer.
If you are a fan of the franchise, buy it. If you are a casual gamer, I wouldn't advise it. If you are a fan, it will be an interesting piece to have in your collection.
Available at: https://www.gog.com/index.php/game/streets_of_rage_4%20
Price: US$ 24.99