Compiled by Meemaw
Furniture Store Opens To Help People Stay Warm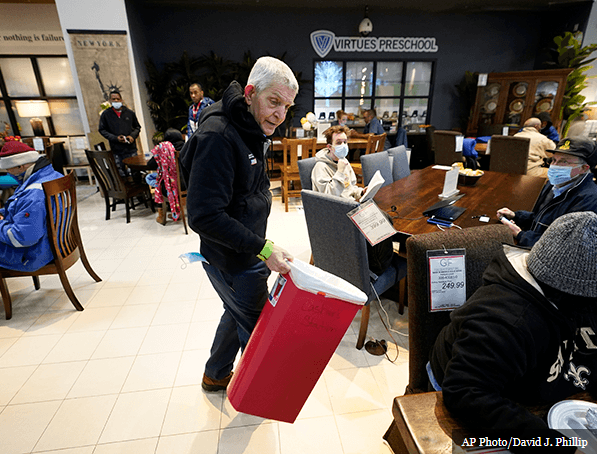 The owner of a Texas-based furniture store chain opened two of his stores as warming centers in Houston to shelter people from the winter storm. The furniture store owner, who goes by the name of "Mattress Mack" opened two of his furniture stores and turned them into warming centers.
Jim "Mattress Mack" McIngvale, owner of Gallery Furniture, told the news media, "A lot of people are without power. Come see us until the power gets back on."
He stocked the warming centers with food, hot chocolate, sweatshirts, coffee, and blankets. The locations of the centers were advertised so people could go in and get warm while their power was out.
The news story states, "This is not the first time Mack has opened his doors to people in need in times of crisis. In 2017, during Hurricane Harvey, he also opened his doors to those affected by the flooding and ordered employees to pick up people stranded inside their cars and homes."
Boy and Friend's Mom Clean Snow


In the midst of the frigid temperatures and snow in February, Christian Stone and his friend's mom, Abbey, spent several hours cleaning snow off cars belonging to hospital workers in Westerly, Rhode Island. Christian wanted to give back to the hospital workers because they give so much. Abbey said, "It sucked. "I hate the snow but being out here with him, because this is what he's passionate about. I did it because he wanted to do it. It's a good feeling."
Christian said, "I feel like that I've actually liked, helped someone out and that's like a really good feeling when you know someone's been helped out."
Woman Buys Car For Teen Who Walked 7 MIles To Work>
A Cobb County, Georgia, woman first encountered teenager Jayden Sutton when her son recognized him as they drove past one day. "He was walking really fast down the road and my son said I think that's Jayden," she remembered. He was walking seven miles to work after school every day, and seven miles home as well, no matter what the weather. She drove Sutton to work that day, but knew that she had to do something more.
She set up a GoFundMe to raise money within the community to find him a car. While the campaign raised $7,000, it wasn't enough. She contacted the Nalley Honda dealership in Union City, and the owner agreed to lower the price of one of their vehicles to fit the money they had.
When she presented the vehicle to Sutton, he was overwhelmed. "I just want to say thank you. A million times. You don't understand how much," he said, embracing her. "I love her for it. I just want to thank her so much. I don't know how to say thank you."
But she deferred the credit to God, saying "We aren't going to lift my name up, we are going to lift His name up because it's all about Him," she said. We are in the middle of the pandemic and so many people are focused on what's being torn down," she said. Instead, she decided to build something new in the life of a young man: Hope.
Community Helps Family Who Lost Their Home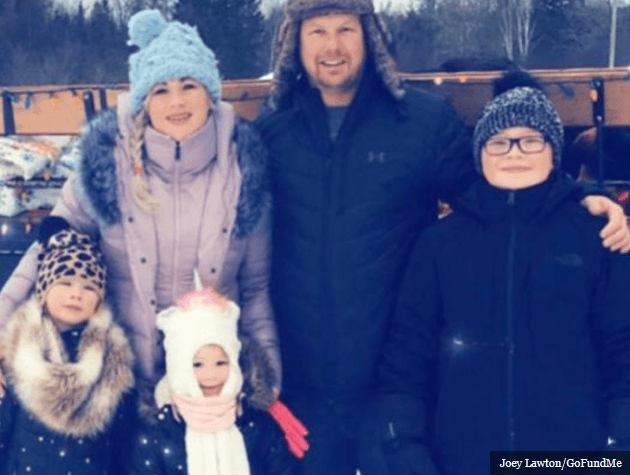 The Lawton family had been in their Wisconsin home two months when a chimney fire destroyed it. Retired firefighter Chris, wife Stephanie and their children were unhurt, but lost everything. The community has set up dropoff sites and Chris's brother Joey has set up one of the two GoFundMe pages for this family. The GoFundMe donors range from friends to strangers who just wanted to help. As of this writing, the GoFundMe page had raised $6087 of the $10,000 goal.
A local restaurant also had a Giving Sunday fundraiser where they give $2 of the price of their Cheeseburger Baskets sold to a worthy cause, and chose the family as their March 14th recipients.
Joey Lawton, Chris's brother, said, "It brings tears honestly to our eyes because of the support that people are giving without really asking. They are just giving and there is no way to really say 'thank you.' There's no proper way to express how much gratitude there is."
Sanitation Workers Save Kidnapped Girl
Brandon and Dion, Louisiana sanitation workers, were doing their jobs when they noticed that a car back in a field looked like one that had been on an Amber Alert in their area. They started live-streaming their situation on Facebook, and backed the sanitation truck into the driveway in the hopes it would block the car from being able to get out. Then they called 911.
When the police came they found that the car did match the Amber Alert and they arrested the driver. He had kidnapped a 10 year-old girl, who was found safe. The kidnapper was a convicted sex offender.
Retired Military Dog & Handler Reunited
A retired military dog and her handler were reunited after a year. Marine Corps Sergeant Angela Cardone and Bogi worked in Iwakuni, Japan in narcotics detection, safety sweeps, and vehicle searches. Then Cardone was relocated to Hawaii and Bogi was not allowed to go with her.
After a year, she found out that Bogi was being medically retired because of a neck injury, so she called American Humane for assistance in adopting her.
The organization's website reads, "To ensure that all our heroes come home, American Humane is working to bring back retired military dogs and reunite them with their former handlers." In February 2021, Bogi and Angela were reunited at last.