Compiled by Meemaw
Paralyzed Wife & Husband Renew Vows
At her bachelorette party eleven years ago, Rachelle was playfully pushed into a pool by one of her bridesmaids. She fractured one of her vertebrae, and made her a paraplegic. After a one-year recovery, she and Chris got married. This year, with their six year-old daughter Kaylee looking on, they renewed their wedding vows.
"We exchanged rings and we also got a special ring for Kaylee, with all of our birth stones together," Rachelle recalled. "We put that on her finger, so there was a whole little moment for her that felt more special."
Women Donate Kidneys To Each Other's Husbands
Tia and Susan have worked at Children's Healthcare in Atlanta for ten years, but didn't interact with each other, being in different departments for most of that time. Returning to work in September after working from home, they had an opportunity to visit with each other, and discovered that their husbands were both needing kidney transplants. As they visited, sharing information about blood types, Susan told Tia that she was not a match for her own husband, but soon discovered that she might be a match for Tia's. They both got tested in October, and found that they were matches for each other's husbands.
On March 19th, they all underwent surgery to take Tia's kidney for Susan's husband Lance, and Susan's kidney was transplanted into Tia's husband Rodney, and a strong bond now exists between the two families.
Teenager Invents Infection-Detecting Sutures
After a person has surgery, there is always a chance for infection. Sometimes, the infection is caught much later, resulting in a much more difficult recovery, or even death for the patient. However, a 17-year-old student has developed sutures that change color when infection is present.
"When you have an infection, there's chemical imbalances going on, and my stitches pick up those chemical imbalances, and then they change color because of what's going on all, all the science stuff," she noted.
Taylor reportedly uses sutures dyed with beet juice and said, "Beets are natural indicators. So, a natural indicator is just a baseline term for a substance that changes color when the pH changes."
Her invention will most likely save countless lives.
Boy Seeks To Share Books With 500,000 Children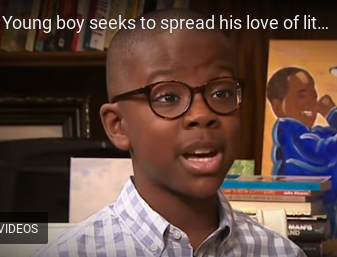 Ten-year-old Orion wants to share his love of literature with 500,000 other children.
"Kindness is a virtue we can all possess. If we are willing to," he noted, adding, "So why not start today. Because right now, it's what we need more than ever."
His Race To Kindness website asks people to donate new or gently used books so they can be given to those children who have none. The site lists book fairs and drop-off points in Texas, where Orion lives.
USA Olympic Wrestler Uses Winnings To Buy Mom A Food Truck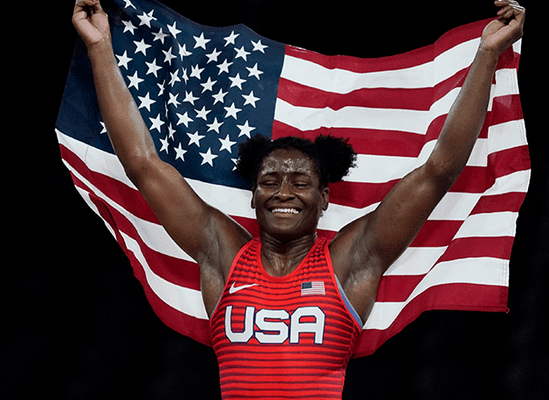 USA Olympic wrestler, Tamyra Mensah-Stock, will use her Olympic winnings to help her mother achieve her dream of owning a food truck. Her father died in a car accident in 2009 and Tamyra has wanted to help her mother ever since. "She's always doing back-breaking work and ... I've just seen her struggling ever since my dad died and I don't like seeing it."
Her mother wanted to get a food truck, and Tamyra gave her $30,000 to buy it.
"I love representing the U.S.," she said in a tear-filled exchange with reporters after her Olympic win Tuesday. "I love living there. I love it. And I'm so happy I get to represent the USA!"
WW2 Veteran Reunites With Italians He Saved
In 1944, Martin Adler was a soldier in Monterenzio, Italy. His commanding officer had ordered the soldiers in his company to search each home in the town looking for enemy soldiers. In one house he thought he saw some movement under a blanket and was going to shoot, when the mother put herself between him and the blanket, yelling that her "bambinos" (babies) were there. He stopped and uncovered them. His company stayed in town for a while during the retreat of the Nazis and he went and saw them several times. The mother allowed someone to take a photo of him and the 3 children.
This year, his daughter decided to search for the children, using social media. Starting with North American veterans groups, her search led to the photo being seen by an Italian journalist who found where Adler's company had been, and tracked down the 3 individuals, who still lived in Italy, but are now grandparents. He and his daughter flew to Bologna and reunited with the siblings.
Helicopter Pilot Saves 17 From Tennessee Floodwaters
Joel, a Nashville, Tennessee helicopter pilot, got a call from a lady who said her brother was stranded on his roof with his two daughters. Joel had just helped his fiance get her pilot's license, but took off to find the brother. Over seventeen inches of rain in 24 hours on August 21st had flooded the town of Waverly, TN, killing 21 people. The power was out and there was no Internet at the time so he couldn't use it to find the house.
He began flying back and forth over the flooded creek, rescuing anyone he could, and ended up saving not only the three he had been called about, but fourteen more people by flying close to the home and getting them off their roofs.
"She just so happened to call the right person, because I'm the only person crazy enough to even try to do that," he explained.
In another news story, an anonymous donor paid for the funerals of all those that died in the flood.