by Paul Arnote (parnote)
Whoa!
It's really THAT time of year again!
How did it get here that fast?
With the Winter Holidays just around the corner, it's time again for the annual holiday gift guides by the staff of The PCLinuxOS Magazine. As in years past, we (The CrankyZombie, Meemaw and me) will present our ideas for what we think will make excellent holiday gifts for those on your holiday wish lists. There will be no guarantee about availability of any particular product (supply chain issues seem to rule the headlines these days), the prices you might pay (inflation is rearing its ugly head), or the suitability of any product for any particular purpose. All prices are expressed in U.S. dollars. Also, due to government jostling, positioning, and import/export restrictions, we cannot guarantee that any of the items listed will be available to you in your specific locale.
We have tried to include items in our holiday gift guides for all price ranges, from very affordable to "maybe-a-little-more-than-I-might-like-to-spend." Each of us have chosen 10 items that we think PCLinuxOS users might like to buy for those on their holiday gift lists, or maybe even for themselves.
With all of that mumbo-jumbo out of the way, let's dive into my holiday gift guide suggestions.
AstroAI 2 Pack 27" Snow Brush & Detachable Deluxe Ice Scraper with Ergonomic Foam Grip for Cars
$19.99 Newegg.com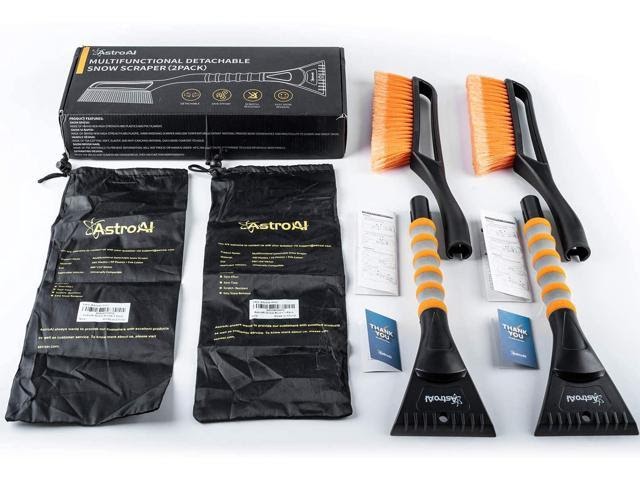 While there isn't anything "AI" about these ice scrapers and snow brushes, they do appear to be well thought out. Much of the time, these items are monstrous items that take up a lot of space inside your car. But these combo ice scrapers and snow brushes break down into two smaller pieces, and then stow inside their own bag, helping to keep them clean and in good condition for the times that you need them. The brush features layered bristles, to speed the sweeping away of snow. The ice scraper features a fine scraping blade that won't scratch your windshield, and some aggressive "knuckles" on the back of the ice scraper to help chip through even the toughest ice buildup. Plus, you get two. You can keep one back "in reserve" for later use, or put one in each vehicle (if you're like us, and have two vehicles).
Husky 12/120 Volt Auto and Home Inflator
Home Depot $64.98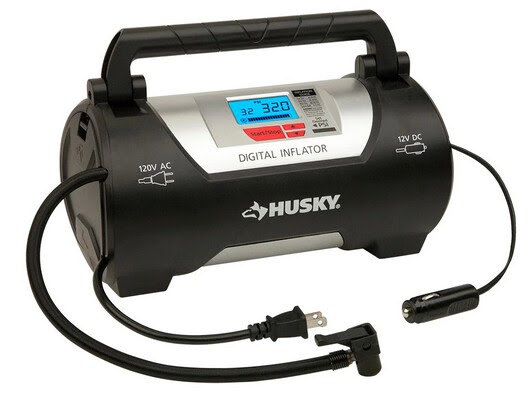 This inflator/air compressor will handle all of your needs around the home and in your vehicle. This inflator can plug into your regular 110V household electrical outlet, or you can plug it into the 12V accessory outlet in your vehicle. The unit has built in storage in each end, storing the inflator line and the AC cord in one end, and the 12V accessory cord and the included accessories in the other end. The included accessories include a mattress nozzle, two sports needles, and a presta valve adaptor. The inflator really shines in its use with your vehicle to keep your tires inflated to their proper inflation pressure. Simply plug in the 12V power line into your 12V accessory outlet, then set the desired pressure you want to inflate your tires to. Attach the inflator hose and wait while your tire is inflated to your desired pressure. The unit will automatically turn itself off when it reaches your set pressure.
Craftsman Extreme Grip 10" Adjustable Wrench
Amazon.com $24.99
If you've ever used a "regular" crescent wrench, you know how frustrating it can be. Of course, the convenience of a crescent wrench is that you have one wrench that fits many sizes of bolts and nuts. While better than nothing, a regular crescent wrench constantly needs adjusting to maintain a firm, snug grip on the nut or bolt you are trying to use it on. The lack of a firm, snug grip on the nut or bolt means you could very easily round off a nut or bolt, making it next to impossible to loosen. Well, this Craftsman version marries the convenience of a crescent wrench with the firm, snug grip of locking pliers. As a result, this version has twice the gripping power of a regular crescent wrench. Because it's adjustable, it fits metric or SAE bolts/nuts up to 1" (2.54cm) in diameter. In addition, they have added a comfort grip that helps improve your grip on the tool.
Zippo Refillable Hand Warmer
Amazon.com $17.62
I know I've included disposable hand warmers in my holiday gift guide before. But if you want true value, invest in one (or more) of these refillable hand warmers. These things have been around for well over 50 years, and continue to perform well. You fill the hand warmer with hand warmer/lighter fuel, then light it. The filament burns the vapors without an open flame, and produces heat for up to 17.5 hours. When it runs out of fuel, simply refill it again. The hand warmer comes with a soft bag to slip into. Then slip that into your coat pocket. You won't believe the warmth. So, if you (or someone you know) spend some time in the outdoors during cold weather, this will be a highly appreciated gift.
APEXEL Phone Photography Kit Flexible Phone Tripod, Remote Shutter, 4 in 1 Lens Set,18X Telephoto Lens, Fisheye, Macro & Wide Angle Lens for iPhone
Amazon.com $27.99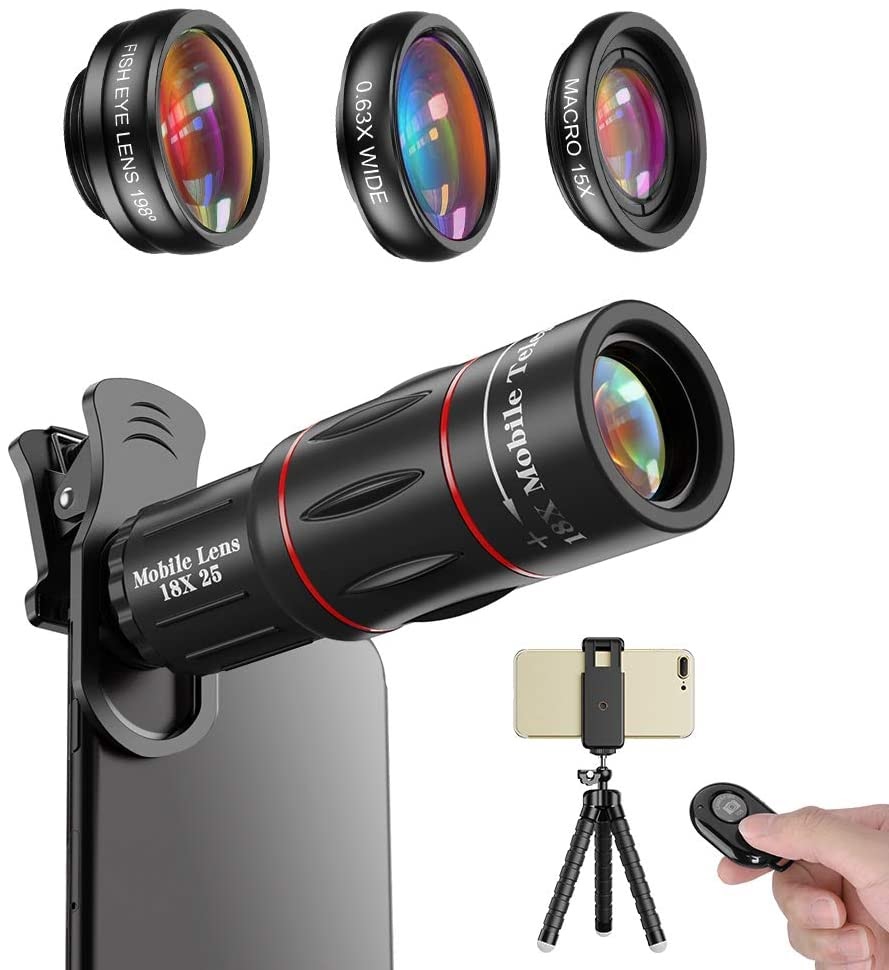 Today's cell phones often sport some pretty fancy and advanced cameras. But you can get even more from your cell phone's camera by adding in this photography kit. Yes, you can "zoom in" with your cell phone, but that is usually just a digital zoom that sacrifices image quality significantly. The addition of one of these auxiliary lenses uses an optical solution to help preserve image quality. This kit comes with a tripod for your cell phone, a remote shutter trigger, a fisheye lens, a wide angle lens, a macro lens for extreme closeups, and a 18X telephoto lens. So add a new level of creativity to your cell phone photos, and leverage the high quality camera built into your cell phone with the addition of this photography kit. If nothing else, it will add another level of fun to your cell phone pictures.
Greatlizard S89 Mini Drone Foldable WiFi FPV Drone With 4K HD Camera For Adults, RC Quadcopter With 3D Flip, Headless Mode, Altitude Hold, One Key Return, Bag And 3 Batteries
Newegg.com $69.99
If you've ever thought about exploring flying your own drone/UAV (unmanned aerial vehicle), this may just get you up off the couch. This Greatlizard drone features dual cameras, 4K video, a remote, smartphone control, three 3.7v 1800 mAh batteries, two replacement blades, a carrying case, and more. A 60 minute charge of the batteries will get you roughly 12 minutes of flight time, per battery. This drone is listed as having "one touch" takeoff and landing, so the most perilous parts of flying the drone are handled for you. All you have to do is touch the button on the remote or the phone app, and it either takes off or lands. If you are using the phone app to control the drone, you can set a flightpath or multiple points in the area for your drone to visit during its flight. Just draw the flightpath on the screen of your phone, and the drone will follow. This drone is listed as being for beginners, and with a price of only $70, how could you possibly go wrong?
WD Blue 3D NAND 1TB Internal SSD - SATA III 6Gb/s 2.5"/7mm Solid State Drive
Newegg.com $89.99
Do you want to give your PCLinuxOS computer a real speed boost? And I mean a REAL speed boost to faster than when you bought it? Or maybe your computer is getting a little long in the tooth, and you want a way to make it last even longer by giving it a fresh breath of life? If so, replace your computer's hard drive with a solid state drive, or SSD (but only after backing up your current hard drive ... we wouldn't want to lose any of our personal files!). You won't believe how fast your computer boots, and how much more responsive it is overall. Prices for internal SSDs are currently running right around $100 per TB of storage, while external SSDs are currently running right around $140 per TB of storage. That is, at least, what I've noticed about how the prices are trending. As for what to do with your hard drive you took out of your computer? Buy a USB external case (most can be bought for under $20), put your old hard drive in it (the whole process takes about five minutes) and use it for external storage. Of course, by replacing your HD with a SSD, you'll probably have to reinstall PCLinuxOS, but you will be amazed at how fast PCLinuxOS installs to a SSD. Plus, you'll have a fully up-to-date, clean installation of PCLinuxOS on your computer!
PCLinuxOS Men's & Women's Baseball Tees
CafePress $33.99 (Men's)/$29.99 (Women's)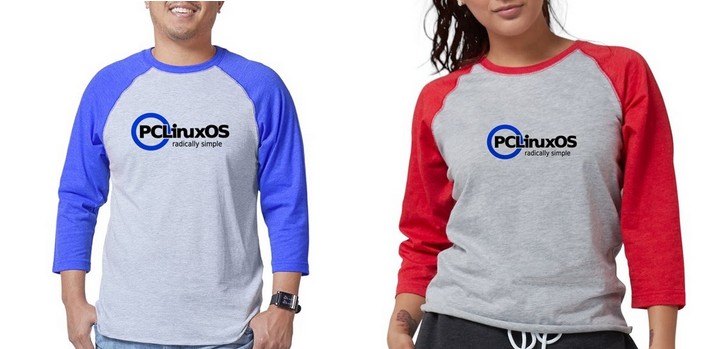 Show your love for your favorite operating system by wearing these PCLinuxOS logo-emblazoned baseball tees! Featuring a 60/40 blend of combed cotton and polyester, these shirts will wear well with minimal shrinkage (of course, if you're in doubt, you can order one size larger). These tees feature 3/4 length sleeves, and are available in a combination of colors. Plus, you'll help spread the word about the best Linux distro in the universe! In addition, a portion of each sale from the PCLinuxOS Store on CafePress goes to help provide financial support that's necessary to keep developing PCLinuxOS.
PCLinuxOS Journal
CafePress $9.49
I know you've heard this advice before: keep a notebook near your computer to jot down useful commands you might need in the future. Well, a PCLinuxOS Journal would make that perfect notebook to do that with! Measuring 5x8 inches, you have a choice (when you check out) of blank, lined, dot grid, or task page sheets. Plus, a portion of each sale from the PCLinuxOS Store on CafePress goes to help provide financial support that's necessary to keep developing PCLinuxOS.
Help Provide Financial Support For PCLinuxOS
Unlike other Linux distros, PCLinuxOS does not have the financial backing of famous, very wealthy benefactors. PCLinuxOS also doesn't have any corporate sponsorship. Instead, PCLinuxOS relies almost entirely on the generosity of its users. There are costs involved (server space, electrical costs, sustenance for its main developer) in making PCLinuxOS available for your use. PCLinuxOS is offered up for free (as in beer) for anyone who wants to use it. So, instead of buying that overpriced virus-magnet commercial operating system, you get a much more stable and secure operating system for free. So, how about sending over some of that money you might have otherwise spent on that commercial operating system (and for each program you might need to be productive) to support and sustain the development of PCLinuxOS. There are multiple ways to contribute. Via the PCLinuxOS GoFundMe page, you can donate whatever amount you can afford. Or, by way of GumRoad, you can make a one time donation, or an ongoing monthly donation (see below). You can make your donation either in your name, or in the name of your gift recipient.
or
PCLinuxOS $5/Mo Donation
PCLinuxOS $10/Mo Donation
PCLinuxOS $25/Mo Donation

PCLinuxOS $5/Yr Donation
PCLinuxOS $10/Yr Donation
PCLinuxOS $25/Yr Donation
PCLinuxOS $50/Yr Donation
Summary
I'm sure that between the holiday gift suggestions from me, The CrankyZombie and Meemaw, you will be able to find that special gift for those on your holiday gift list, or even something for yourself!
Happy Holidays!