by Meemaw
I probably say this every year, but it really does seem like time has flown since last December! Shopping for holiday gifts has probably been going on a while for many people, but I always seem to wait until November. Even then, I'm sometimes at a loss. What do you get for a person who already has plenty? Kids are pretty easy to buy for, because they grow out of clothes and should have more advanced books to read as they get older... but what do I buy for my grown children who are used to going out and getting what they need? While I'm at it, what do I buy for my friend who is nearer my age? (I'm a MLU in the forums - a Mature Linux User.) Let's look at some options. I might pick some things from some of my favorite places to shop (Bits & Pieces, Newegg or Bass Pro Shops).
Projection Weather and Date Clock $19.99 at Bits & Pieces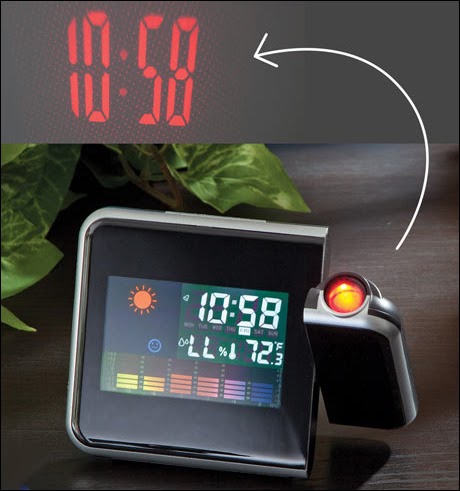 This clock has the time, obviously, but also has the temperature and humidity. It also has an alarm if needed. The thing that sets this apart from other clock/weather combos is that the time can be projected on the ceiling or wherever you want it with just a turn of the projection piece.
Wind Spinners $49.99 to $129.99 at Bits & Pieces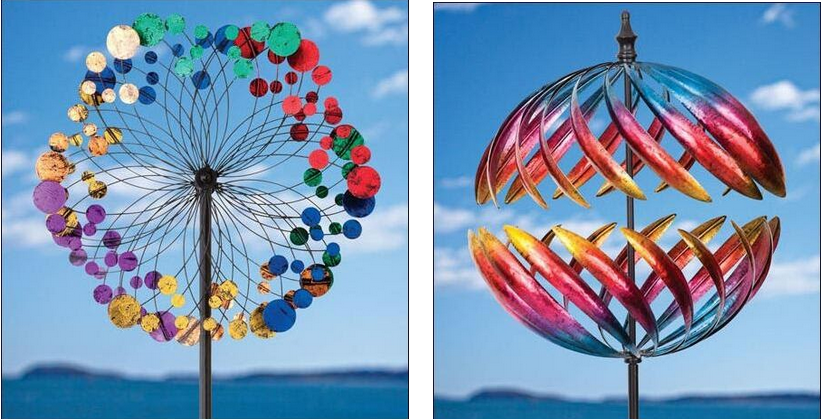 A friend of mine has a wind spinner in her yard, and I love watching it! I want one for my own yard now. I'll have to say that you can get one in your price range, depending on how much you want to spend. If you go to the site, they also have smaller wind spinners and even hanging wind chimes for lower prices. The one on the left above is $79.99 and the one on the right above is $129.99.
Cats Gone Bad! $9.95 at Bits & Pieces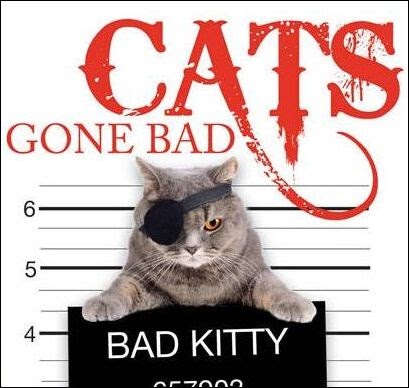 This is a book of true stories about cats! Fluffy Butt would probably get some bad ideas! From the site, "In 1924, a Labrador was sentenced to life in Pennsylvania Penitentiary for murdering the governor's cat! From funny felons to cat burglars to the just plain naughty. In 2012, a couple in Seattle called the police for help after their ferocious feline cornered them in their bedroom!"
Around The Tree Train Set $20.99 at Newegg
I found this in the Clearance Sale section, so I don't know how long it will be available, but I thought it was really cute. It has a "retro" engine which makes "real" train sounds, 3 cars to attach to the engine and tracks that snap together to a 59" circumference. Also included are 4 straight tracks that can snap in to make the track oval.
Tinker Toys $29.99 on Bass Pro Shops
Wow, I haven't seen Tinker Toys in a while! To be honest, I haven't done a lot of toy department searching. These are advertised as the classic Tinker Toys. From the site,
Includes 100+ of your favorite TINKERTOY parts, including spools, rods, and flags
15 unique building ideas to get the fun going
Nostalgic collector's tin provides storage
Makes a great gift for ages 3 and up
Power Inflator $69.00 at Home Depot
This is a handy inflator to have if you need a tire aired up and aren't close to a service station. I have a compressor at home, but if you aren't home, it's handy to carry in your vehicle as long as you keep the battery charged. From Home Depot's site:
"The cordless convenience allows for use in virtually any location, such as tight spaces or corners, high pressure applications such as sports balls, or in the driveway. The included battery provides extreme weather performance to withstand frigid weather conditions with fade-free power for maximum performance. The charger included in this kit is compatible with all RYOBI 18V ONE+ Lithium-Ion Batteries."
If Ryobi isn't your favorite brand (many buy only one brand, which is good because the batteries are usually interchangeable between tools), Milwaukee and DeWalt also make small inflators, but they are bigger and carried with a handle. DeWalt's is $284 with the battery, charger and the different connectors (all sold separately), and Milwaukee's is $297 with the battery two-pack and charger.

Chefman Air Fryer $129.99 at Best Buy
Everyone's talking about air fryers now. They are very handy to heat up food or cook items without immersing them in oil. Those who want to avoid the oil use them a lot. The one shown above has racks for lots of food. I have one and can cook meat on one level and fries on another. In addition, this one has the option to use a rotisserie (and came with all the attachments for one). Smaller ones are available that just have a basket to place the food in.
LED Candles $25.19 at Amazon
Three grey glass containers, each with a flameless candle. The set comes with a remote, used to set the candles on a timer, or adjust the flicker and brightness on the candles.
Sequence Board Game $15.95 from Amazon



From the site:
Play a card from your hand, and place a chip on a corresponding space on the game board - when you have five in a row, it's a SEQUENCE
Each player or team tries to score the required number of five-card SEQUENCES before their opponents
Easy enough for children, challenging for adults!
Exciting gameplay develops STEM skills like strategy
For 2-12 players, ages 7 and up
We have this game and it's wonderful for all ages. This is the original board game, but is available in jumbo and kid's versions. The jumbo has a much bigger vinyl mat ($49.11) and the kids version has different artwork and uses pictures rather than card faces ($17.99). You can also get it in a metal box ($29.99).
Tips for parents buying childrens' gifts from Frugal Fun 4 Boys & Girls. I found these tips for gift-giving, and thought I would share.
Tip #1: Limit the number of gifts. This sounds so obvious, but it's easy to buy more than is needed in the excitement of the season. Kids really don't need a lot of gifts to have a fun Christmas. In fact, too many gifts can be overwhelming, especially for toddlers and preschoolers.
Tip #2: Ideas for consumable gifts. Giving and receiving gifts is a lot of fun! We want to encourage our kids to be givers, and we have a tradition of exchanging sibling gifts each year on Christmas Eve. However, it's very helpful in the clutter department if at least some of the gifts given are things like art supplies or edible treats. Here are some ideas for gifts to give that are consumable.
Drawing paper
Paints/brushes
Markers
Gel pens -- These are fun for both drawing and coloring, especially with detailed coloring books
Notebooks or journals
Tape -- never underestimate the joy of owning one's own roll of Scotch tape, with no one telling you to stop wasting!
Rubber bands -- the boys find endless uses for these!
Duct tape
Fun pencils
Stickers
Play dough
Favorite snacks, especially things that are not normally purchased
Gift card for a restaurant or book store
Parachute cord and supplies for making bracelets
Tip #3: Ideas for experience gifts.
Experiences create memories rather than clutter and mess! Why not give the gift of a fun experience that you would not normally spend money on?
A musical instrument and/or music lessons
A month of karate or gymnastics or swimming lessons (indoors for this time of year, of course!)
A coupon for a "date night" with just that child and one or both parents -- dinner out, etc.
A horseback trail ride
Movie tickets
Tickets to a sporting event
For the family -- a family pass to the zoo or local museum
Symphony tickets or tickets to a play
Tip #4: Ideas for gifts that are not toys.
Tool set
Flashlights -- these are always a hit!
A camera
Binoculars
Clothes -- if they have been wanting an item that you haven't bought because it isn't a need, it might make a fun gift!
Books
Wall calendar
Accessories -- hats, gloves, wallet, etc.
Tip #5: Open-ended toys that encourage creative play.
Well chosen, open-ended toys can be worth the expense (and the clean-up!). We really like toys that are parts of a larger set such as wooden trains, LEGO, Lincoln Logs, etc.
Also, for adults, ideas could include gift certificates for a favorite restaurant or store, or a child could give a parent a "coupon" for a special job that's not part of their normal chores. Another idea for those with extended families who don't want to spend money on every single person could be to draw names and just get one present each, or pool their money and "adopt" a needy family in their area.
Happy Holidays!