by Alessandro Ebersol (Agent Smith)
Gone are the days when Linux was synonymous with frustration when it came to games. Ahh, no, now we have so many games that, in a lifetime, I doubt anyone could finish every game available for Linux. We've come to this point thanks to companies like Valve, which believed in GNU Linux to create their new line of handhelds, SteamDeck, and thereby boost video games on Linux. Not only that, but Epic Games announced an anti-cheat module for the Linux kernel, which could enable hundreds, thousands of games that use anti-cheat features on Windows. Yes, it's an admirable new world, and 20 years ago, who would have thought that things would get where they are today?
So, let's review the options to buy PCLinuxOS games this Christmas, and play a lot at the year-end celebrations.
Steam, the biggest and best online store specialized in PC games
Steam was created by Valve Corporation (Half-Life, Counter-Strike, Team Fortress) and presents itself as "the ultimate online gaming platform". It is certainly one of the most complete packages that currently exist. You'll find over 70,000 titles (more than you'd find in a physical store) and a community of tens of millions of players (not an exaggeration). There are other features like the mod workshops, live streams, guides, forums, game swaps and a Big Picture mode (where you can interact with the interface with a game controller).
The Steam promotions are legendary! There are several each year, usually in summer and winter, but also during certain days (Halloween, Black Friday). You can buy a large selection of games for cheap prices.
Here's a list of Steam's pros and cons:
Pros
1. Games often go on sale. Due to several annual promotions, AAA games go on sale at attractive and affordable prices.
2. Access to a vast library of titles. Yes, more games than one person could play in a lifetime.
3. Games are account based. If you switch computers, you don't need to open another account, your games in your Steam account will be available to play on your new computer.
4. Unlockable Achievements in Games. Achievements change the game, bringing a new life to a title, with new skins, weapons and even unlockable areas based on your in-game achievements.
5. Streaming and Social Elements. It's possible to stream gameplays via the Steam platform and also share screenshots, help in the forums, create communities and more which is built-in on this gaming platform.
Cons
1. Unfair practices of developers. One thing you need to be aware of is shady developers. Some people will try to pack any content (game assets) and sell it to earn a dollar. You might see yourself throwing money into a trash of a game.
2. Easily Manipulated Ranking System. Ranking systems at Steam are easily manipulated. So again, pretty much any ranking system on the Internet is. If a group of people are unhappy with a company's policies, you can be sure that their games will sink in popularity.
3. Too much emphasis on card trading exchange. I never got involved really in the idea of Steam trading cards. I know some bad developers were trying to corrupt the system while making a lot of money from it.
4. Lack of company involvement to protect players. Although Steam is getting better at protecting players from shady developers, the business still needs to do more. Right now, it's too easy for the "creators" to rip off The Steam player community with incredibly obscure practices.
5. Improve the Search Algorithm. I can't count the number of times that I looked for a game that I knew was on Steam only to see a "not found" on the screen. Most of the time, I had to look for it in a different way, with other search tools.
6. Last but not least, DRM. DRM does not have many advantages for consumers. However, it is useful to track the progress of your game, such as through Steam trading cards and achievements. These are associated with the steam account of a user and are authenticated through DRM. However, the risks and possible harms outweigh the benefits in a staggering way: one of the biggest problems with DRM is the exclusion of games from your Steam account. If a platform like Steam removes a game from your listing, you can't play it anymore, since you only owned the license and not the game itself. This license is void when the game is canceled by Steam or the game publisher.
The Delisted Games website has a list of over 1,400 titles you can't currently download on your PC. Many of these games include online titles that publishers have discontinued, although there are also many single-player titles. Also, in order to play your Steam games, the Steam client must be running at all times, to allow access to the Steam server and allow the game(s) to run.
URL: https://store.steampowered.com/
How to install the Steam client on PCLinuxOS?
There is the usual way, which is to use the Steam client via Flatpak, but our well-known friend Matt Hartley made a video where he demonstrates how to install the Steam client alternatively: https://invidious.namazso.eu/watch?v=oaxXO0hlc8Y
GOG, one of the most user-friendly stores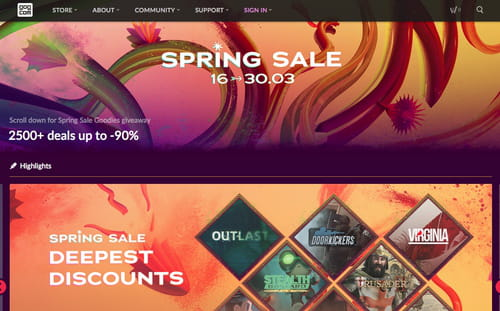 Don't let its name fool you: Good Old Games not only offers classics from other times, but is constantly updated with the latest releases. Owned by CD Projekt Red, game makers of such important games as The Witcher, or Cyberpunk 2077, GOG stands out from Steam for its sales policy without anti-piracy protection. This feature is ideal if you want to lend a game to a friend without any hassles. GOG also has a 30-day refund policy, even if you have downloaded, installed and played the game in question.
Here is a list of pros and cons of GOG:
Pros
1. No regional restrictions. Regional restrictions exist simply for the game publisher to get the best price and maximize their profit. GOG has a price only for the whole world.
2. DRM free. In second place, and most importantly (and probably the most obvious), there is never any DRM bundled with a GOG.com game or movie. When I buy a title, I own it, I can download it as many times as I want, and I can back it up to whatever medium suits me, whether it's a pen drive or CD, or DVD.
3. There is no client. Although GOG has introduced the GOG Galaxy client, it is not mandatory, for you to be able to play your games, it doesn't need to be running on the background, like the Steam client.
4. You get a lot more for your money. Games that belong to your GOG.com account also come with many extras - extras like soundtracks, in mp3 format, wallpapers, game art, as well as manuals and other gifts.
5. Better client Support. GOG has better customer support than most distributors. I wouldn't say it's the best, but it's better than Steam and Origin, for sure.
There is also GOG connect, which allows users to add games to their library, if they have purchased them from another online store, such as Steam.
Cons
1. Game prices. Some might argue that the base price of a game (lowest is $5.99) is too high. Some games are overpriced, and selling prices aren't always that spectacular. It is often possible to get the same games cheaper elsewhere.
2. Bundles. I don't like the way games are sometimes bundled together. For example, they put Commands 2 and 3 in a bundle for sale instead of selling them separately.
3. Missing expansions and incomplete series. It's kind of annoying that some series are incomplete, or that they lack game expansions and other goodies. And to add to that, they are immensely slow to add other games from a publisher's back catalogue.
4. Expanding their catalog. This may sound harsh, but other distributors receive new games regularly. It's probably because of how difficult it must be for GOG to negotiate a deal, especially with larger publishers, to get quick access to AAA titles.
5. More freeware games. GOG should have more freeware games like Steam offers, have installers and support for games that are very difficult to find elsewhere. They should also consider hosting free standalone games like The Dark Mod and STALKER: Lost Alpha.
URL: https://www.gog.com/
How to install?
There is nothing to install. Just buy your games, then download and play. It's that simple.
Origin
The origin store is the official platform of EA (Electronic Arts) and therefore has all of its popular titles: The Sims, FIFA, Battlefield and more. In addition to the possibility of a direct purchase, it offers two subscription plans called EA Play (US$ 5,00) and EA Play pro (US$ 19,00 ), which include full and indefinite access to a collection of games that is expanding over time, like a video game version of Netflix. The catalog is smaller than on Steam or GOG, but some of these games can only be found on Origin.
How to install Origin client on PCLinuxOS?
The Origin client can be installed via Lutris.
Epic Games Store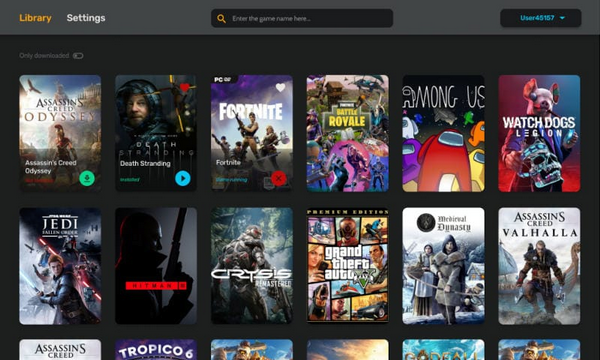 Driven by Fortnite's overwhelming success, studio Epic Games opened its own digital store in late 2018. While its game catalog can't compete with a giant like Steam, the Epic Games Store has managed to gain a prominent position in the market thanks to its exclusive titles: Detroit: Become Human, World War Z or the aforementioned Fortnite - you'll only find them at the Epic Games store.
One thing that has helped the games' popularity from Epic, is that they also give one or two games a week. These can be easily found in the Free Games section of their web store.
URL: https://www.epicgames.com/
How to install the client from Epic Games Store on PCLinuxOS?
There is an unofficial Epic Games Store client, Heroic Games Launcher.
Heroic Games Launcher is an unofficial Epic store client for Linux. It is actually a GUI front-end to the Legendary tool. Legendary is an open-source game launcher that can install and run games from the Epic Games platform on Linux and Windows. However, until now there was no GUI for Legendary.
Another way to access Epic's store is through Lutris.
The Indies Stores
Because Linux is not a mainstream operating system (it wasn't, now it is), it attracted the attention of many independent developers, who, of course, were favored by independent stores as well.
Here follow some independent stores with games for PCLinuxOS.
Humble Store
Humble Store works a little differently from others. On the one hand, there is no PC application, and the games you buy cannot be downloaded directly from the store. Instead, you will receive a code where you redeem your game on Steam, or another platform. On the other hand, they offer so-called Humble Bundles, which are bundles with several games that you can buy at any price you like, starting with a minimum amount, around US $1.00 (if you pay more, you can expand the package). And as if that wasn't enough, part of the money raised with each purchase goes to a charity. The Humble Store also offers several subscription models, with which you can choose up to 9 new games per month.
URL: https://www.humblebundle.com/store
itch.io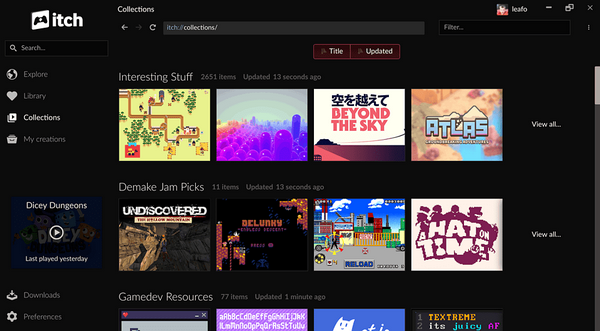 itch.io is a site for users to host, sell and download indie electronic games. Launched in March 2013 by Leaf Corcoran, the service has had nearly 100,000 games and items as of February 2018.
On March 3, 2013, Leaf Corcoran posted a blog entry on leafo.net detailing what the site would be like, with a Pay-As-You-Want template. In an interview with Rock, Paper, Shotgun, Corcoran said that the original idea was not a store, but rather a place to "create a custom gaming homepage."
As of June 2015, the service hosted over 15,000 games and programs.
In December 2015, the service announced the launch of a desktop application to install games and other content. It was released with simultaneous support for Windows, macOS and Linux. Today, the Itch application is recommended as "the best way to play your itch.io games".
URL: https://itch.io/

Game Jolt
Game Jolt is a social community platform for video games, gamers and content creators, which hosts fan-run communities for over 1,644,492 games. The platform is home to hundreds of thousands of developers and gamers from all corners of the world - from novice gamers to independent developers, top notch influencers and some of the most reputable studios in the industry. Game Jolt was founded by Yaprak and David DeCarmine.
David started developing Game Jolt in 2002 at the age of 14. His intention was to create a platform for gamers where new independent games could be discovered and quickly playable, and where feedback could be provided directly to the creators, allowing them to continue to improve their games. On launch in July 2004, Game Jolt included a public account system, game forums, a chat room and a large game database, with each game downloaded with the permission of the creators.
In December 2008, David launched a second version of the site with Game Jolt becoming a gaming portal. The site was redesigned and introduced an automated system for uploading games for download, as well as Flash, Unity and Java games.
In January 2016, Game Jolt released the client and frontend source code for the site on GitHub under MIT license.
An online marketplace was announced in April 2016 and launched the following month in May, allowing developers to sell their games on the site.
Honorable Mentions
The online stores listed below are not guaranteed to work on PCLinuxOS, but if you want to take a risk...
Uplay Store: Official Ubisoft Store.
Google Stadia: Google Game Subscription Service.
Blizzard: The official store of Blizzard, creators of the Diablo series.
Bethesda: The official store of Bethesda software, owners of the Quake franchise.
So hopefully you have lots of online stores to visit, and lots of games to play in the holiday season. Happy Holidays and a great 2022, are the best wishes from your friend Agent Smith (Alessandro Ebersol).