Compiled by Meemaw
NFL Player Dances The Extra Mile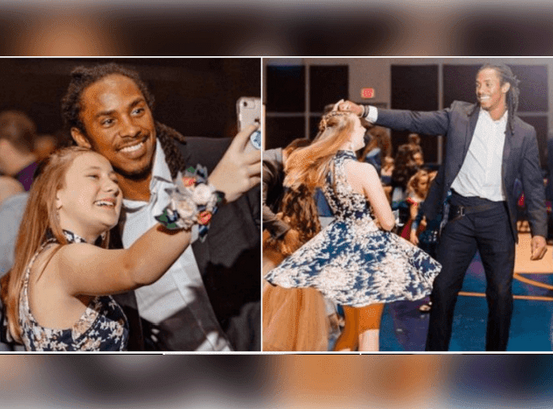 After Audrey's father and grandfather both passed away in 2021, they were having a hard time. The Father-Daughter Dance at Audrey's school was coming up and there was no one to take Audrey. Audrey's mother Holly contacted her favorite NFL player, Eagles safety Anthony Harris, via social media. She explained the situation and asked Anthony if he could help by taking her. Surprisingly, he was willing to do it, so he came and took Audrey to the dance. Audrey was stunned. "This was truly a night to remember, and I don't think I'll ever fully wrap my mind around it," she wrote.
Holly was very thankful, because the last year had been so difficult for them.
When interviewed, Harris said he was simply trying to be human. "Trying to take off the helmet, trying to take off the cape of what I do professionally and show some sympathy for that family and try to show some support there," he explained.
A school bus stalled on the railroad tracks in Illinois, and was hit by a passing train, but the passengers were already safe.
The local fire department received a call that the vehicle had stalled on the train tracks. The bus driver had stopped for the tracks, as required, but when she tried to move across the tracks and continue her route, the bus stalled out. A train was approaching, and the gate came down on top of the hood of the bus. Thinking quickly, the bus driver escorted the five students off the bus and moved them to a safe distance from the tracks.
The Fire Chief explained that no one was hurt, thanks to the quick actions of the bus driver.
Coast Guard Rescues 18 From Ice Floe
The United States Coast Guard and a good Samaritan successfully rescued 18 people who were on an ice floe that separated from shore.
The mass rescue was conducted on February 6 in Ohio after snowmobilers became stranded on the floe, according to tweets from Coast Guard Great Lakes.
Dustin, an Air Taxi pilot, saw that there were people on the ice of Lake Erie near Catawba Island, and that the ice had broken, leaving them on a floating ice shelf with no way to get back to shore. He radioed in to the Coast Guard, saying, "There's a huge crack that's just opened up. There's a bunch of guys stuck on the wrong side of the crack, can you guys go check on them?"
The Coast Guard sent out a helicopter and a rescue boat. In the following hours, they rescued all 18 people who had been stranded. No one fell in, and no one required medical treatment.
The Coast Guard urged people to "take precautions, not chances" when engaging in recreational activities on the ice. "Remember to dress appropriately for the water temperature, not the air temperature; to wear a life jacket and carry a reliable form of communication; and to carry icepicks or screwdrivers that can help them self-rescue if they go through the ice," the release said.
10 Year-old Assembles Chemo Comfort Bags to Honor Grandfather
Sophie, a fifth-grader from New York, was very close to her grandfather, Terry. She was his only granddaughter, and they spent a lot of time together, with him telling her family history stories or taking her for rides in his red Corvette.
He was diagnosed with pancreatic cancer, and was in the midst of his treatments, telling her about the treatments and why patients have such a hard time. It was then that she got the idea to assemble Chemo Comfort Bags, which contained pillows, blankets -- some of which her great-grandmother crocheted -- cozy socks, snacks, tea, and games. She made ten of them, and donated them to the Roswell Park Comprehensive Cancer Center, where Terry was receiving treatment. Sadly, he passed away shortly after that.
Sophie intends to keep making the comfort bags, and wants to donate 20 by the end of March in honor of her grandfather's March birthday.
95 Year-old Veteran Writing Third Children's Book
In 1942, just four months after Japan attacked Pearl Harbor on December 7, 1941, a young Sam Baker enlisted in the Marine Corps. He served at Guadalcanal, and was discharged in 1947, joining the U.S. Coast Guard and Geodetic Survey -- which became the National Oceanic and Atmospheric Administration (NOAA) -- where he worked for 30 years before retiring.
A few years ago, with his son's encouragement, he wrote his first children's book, named The Silly Adventures of Petunia and Herman the Worm, which was published in 2018. Oscar the Mouse was published in 2020, and he's writing another now, at age 99, to be published this year.
Couple Adopts Baby Left At Police Station
A couple named Ben and Gina have four older children, but when they decided to become foster parents, they got some exciting news.
In 2020, a baby was left at a police station, the mother apparently being aware of the Texas Safe Haven Law.
"The Safe Haven law, also known as the Baby Moses law, gives parents who are unable to care for their child a safe and legal choice to leave their infant with an employee at a designated safe place," according to the Texas Department of Family and Protective Services (DFPS) website. "Remember, If you leave your unharmed infant at a Safe Haven, you will not be prosecuted for abandonment or neglect," the DFPS website noted.
When they were called, Ben and Gina rushed to buy some necessities, and picked up the baby girl, who they named Hope. They adopted her soon after.
Social media posters also praised the mother for leaving the baby in a safe place so she could be cared for.