by Alessandro Ebersol (Agent Smith)
Although not as well known as the LEGO, "The Incredibles" and Sonic adventure game franchises, Psychonauts 2 is the creation of famed designer Tim Schafer from Double Fine Studios. Humorous, charismatic and touching, the game has amazing graphics and great gameplay.
Continuing the story of the acrobat Rex, the main character from previous titles Psychonauts and Psychonauts in the Rhombus of Ruin, the game brings more amazing acrobatic moves, several references and a world full of content to be explored.
The Story
Razputin "Raz" Aquato, agile acrobat and magnificent mentalist, has fulfilled his dream of becoming part of the international psychic espionage organization known as... Psychonauts! But now, these superspies have a little problem. The leader hasn't been the same again since he was kidnapped, and there's someone infiltrating the headquarters.
Combining fun missions with mysterious conspiracies, Psychonauts 2 is an adventure and platform game with a unique style and numerous customizable powers. Control Raz on a journey as dangerous as it is hilarious through the minds of friends and foes alike until you defeat a ruthless psycho-villain.
Psychonauts 2 continues the franchise's plot, starring young Raz, who has fled his life to join the camp of the Psychonauts, an international psychic spy group. For first time players not to get lost in the story, the game recaps the latest adventures of the characters through a quick video, which also serves to introduce the upcoming challenges.
An even better and more exciting version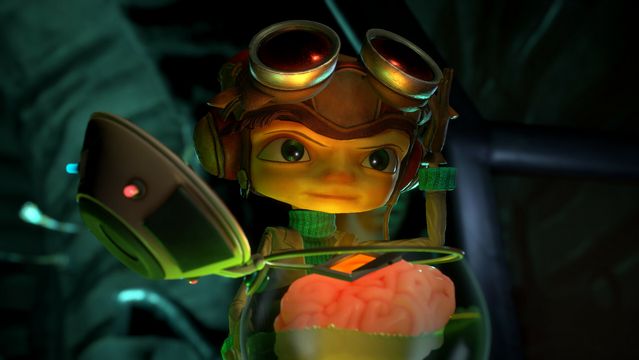 Compared to its predecessor, Psychonauts 2 stands out by offering more interesting interactions, more attractive moves and moves, such as long distance attacks, and a more open world to explore. Although the villains are not as challenging, the game makes up for it with its creative design and excellent cultural references.
Graphics
Psychonauts 2 offers fans the richest 3D graphics and effects ever seen in the franchise, which makes for a more polished and appealing gameplay experience. The humorous interactions between the characters, as well as their strong charisma, also stand out. In addition, the game's mysterious missions and eccentric challenges make Psychonauts 2 a must-have for adventure aficionados.
Features
Experience a creative and cinematic story that blends humor and intrigue, created by legendary game designer Tim Schafer (Grim Fandango, Brütal Legend, Broken Age).


Explore unique environments using Raz's ability to enter people's minds to battle their inner demons, unlock hidden memories, and solve their emotional problems.


Acrobatically leap through the air, over ropes and trapeze in a varied, challenging, and fun platformer experience.


Use various powerful psychic powers to explode, incinerate, and levitate things, or even slow down time to solve environmental puzzles and strange enemies.

Trivia
Psychonauts 2 was briefly released on the Xbox store for pre-load on May 5th 2021, but was removed less than an hour later.


Psychonauts 2 was developed without any development crunch, as Double Fine founder Tim Schafer learned from the severe crunch times on the first game how unsustainable that style of game development is.


GameInformer's May 2021 issue featured Psychonauts 2 as its cover story, and provided exclusive details about Hollis' Mind.


Psychonauts 2 was stated by Tim Schafer to have "even more brains than the first game," which included 10 mental words. The game in general seems to have a much larger scope than its predecessor.


The final line of dialogue to be recorded for Psychonauts 2 was Richard Steven Horvitz as Raz, saying: "I hope Ford dismantles this thing... or Bob turns it into a planter."


There are a lot more characters with five fingers on each hand in Psychonauts 2, than in the first game. It's possible the reason is that the models in the second game are much more detailed. Still, most of the characters with 4 fingers are recurrent characters.


There is an artwork gaffe in the intro video to the game, which recaps the events of both Psychonauts and Rhombus of Ruin. It depicts Raz, Coach Oleander, Milla, Sasha, and Ford running to the jet for the rescue mission to find Truman Zanotto. However, at the end of Psychonauts, Ford was briefly put out of commission, and it was Lili - not Ford - who went on the mission to find her father.


In addition to the callbacks to the preceding Psychonauts and Rhombus of Ruin, Psychonauts 2 has multiple references to prior games worked on by Tim Schafer at both Double Fine and Lucasarts.


he PSI King's Sensorium has numerous references to prior Double Fine game Brütal Legend, including and due in part to Helmut Fullbear's voice actor, actor/comedian/musician/songwriter Jack Black, who also voiced that game's protagonist, Eddie Riggs.


The roulette croupier at the Lady Luctopus Casino says the same French and English lines said by the croupier at Manny's night club in Lucasarts' Grim Fandango.

Minimum requirements
Requires a 64-bit processor and operating system
OS: Any 64 bit Linux OS.
Processor: Intel Core i3-3225, AMD Phenom II X6 1100T
Memory: 8 GB RAM
Video Card: Nvidia GeForce GTX 1050, AMD Radeon RX 560
Storage: 30 GB available space
Other notes: 2 GB video memory
Essential: Steam account!
So folks, in these hard times of ours, taking an escape into a magical world from the creative mind of Tim Schafer might be a great mental hygiene, since good magical stories are what we need. A big hug, and see you next time!