Compiled by Meemaw
High School Students Sign Yearbook
Brody was so excited the day the yearbooks arrived at his school, but when everyone was signing each other's books, very few would sign his. Two just scribbled their first names, but many just refused. He ended up with 2 students and 2 teachers writing in his yearbook. So, Brody wrote in his own yearbook,"I hope you get some friends next year."
When his mother looked in his yearbook, she was heartbroken, seeing Brody's words to himself, in addition to the bullying he had experienced at his last school and this one as well. Frustrated, she vented on Facebook. Amazingly, the next day at school, a group of high school students came into Brody's class and asked to sign his yearbook. When it was all over, Brody had over one hundred signatures in his yearbook, with comments like:
"Brody — you are the kindest little kid. You are so loved. Don't listen to the kids that tell you different."
"Brody — I hope you have an amazing summer! You're worth it and you matter!"
Some of the older students have also gone with him for ice cream, or planned other activities for the summer.
Vicky was looking for some furniture to furnish her new house, and she went on Craig's List. As she was scrolling, she saw two couches and a matching chair that looked really good, and were listed for free. She figured it might be some kind of gimmick, but she called, and was told that the family had lost a loved one, and was trying to get rid of the furniture they didn't want. She went and got the furniture and brought it home.
While she was checking it over, she felt something funny in one of the cushions. When she unzipped it she found several envelopes, each filled with cash. Not considering any other course of action, she called the family back and gave them the envelopes. When it was all counted, the family told her that there had been $ 36,000 in the envelopes!
The family gave Vicky a reward of $ 2,200, which she used to purchase a refrigerator for the new house.
A non-profit in Colorado Springs called "Vested Interest in K9s" has donated bullet and stab-protective vests to two of the K9 officers in their area. One officer, Moody, will have the following embroidered on his vest: "In memory of Jinx, El Paso County SO, EOW 4/11/22". The other, Goose, will have this: "Honoring those who served and sacrificed".
The non-profit's website states their mission - Protecting K9s is our priority. It's not just a tagline, we demonstrate our commitment to protecting K9s by ensuring that the vests we donate to them are of the highest quality (Made in USA) with NIJ certified ballistic panels to provide the maximum amount of protection. K9s are a big investment of time and finances by the community, by the handler, and by the department. You cannot put a price on the peace of mind that comes with outfitting their K9 in certified body armor that is manufactured based on the latest design and manufacturing technologies.
The vests are valued from $ 1,700 to $ 2,300.
Traffic Stop Turns into Moment of Prayer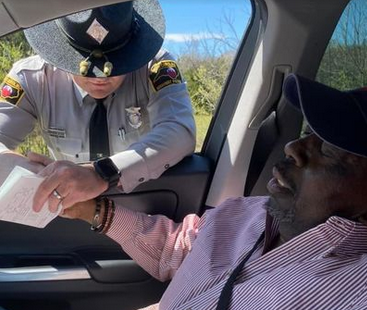 Dr. Ashlye had been at the hospital with her father during his treatment for stage four Colon Cancer, and they were on their way home when she got pulled over for speeding. Her father told the officer,"This is my baby girl. She's driving me back home from treatment, I had chemo."
At that, the officer decided there was no way he was going to write the ticket, and instead, sat in the car for a few moments to figure out what to say. The officer had just returned to work after having part of his colon removed to treat his ulcerative colitis.
When he got back to the car, he gave Ashlye's father a small cross, and asked if he could pray with them. During the conversation, she snapped the photo above, and when her father passed away in May, she posted it on her social media site as a tribute to the men. Her page was filled with messages of love and prayers.
"Thank you for sharing this beautiful story in your time of grieving. Prayers for you and your family," one person wrote.
Kevin had worked for Burger King for 27 years, and they celebrated that by gifting him a movie ticket, candy, a coffee tumbler, and a few pens. In spite of the sparseness of the gift, Kevin was still thankful. One of the other employees who was at the party posted a video on TikTok.
Kevin's daughter Seryna started a GoFundMe to honor her father for his years of hard work. He had started at Burger King to gain custody of his two daughters, then kept working there. He had never taken any time off or called in sick. Seryna stated,"He originally began working at this job as a single father when he gained custody of me and my older sister 27 years ago. Then as our family grew and he remarried, he continued to work here because of the amazing health insurance that was provided through this employer because it was unionized. Which got all four of his daughters through high school and college with full healthcare coverage. My dad continues to work here, because though he does look young, he is coming up on retirement age and leaving would cost him his retirement. In no way are we asking for money or is he expecting any money but if anyone feels like blessing him he would love to visit his grandchildren."
The fund collected $125,000 in the first four days, and has, at the time of this writing, collected over $383,000, including a $ 5,000 donation from actor David Spade.
Teen Starts Lawnmowing Business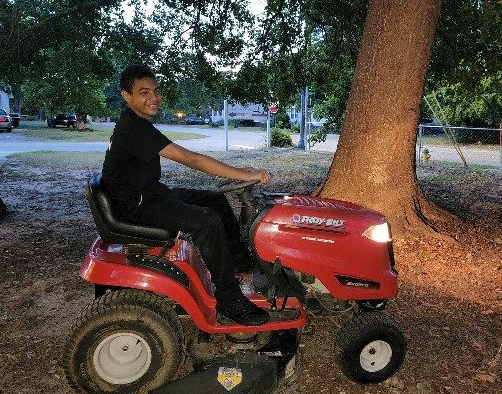 Fourteen year-old Tyce has never known a time when Eric was not around, having been dating Tyce's mother since Tyce was 2. After his mother and Eric married they talked about Eric adopting Tyce and his brother. They even hired a lawyer who said he would work pro-bono. However, other legal fees would be steep, and they would have trouble affording it.
Tyce decided to help, so using a lawnmower his mother bought, he started mowing lawns in May under the name Tyce & Company Lawn Service. He now cares for 16 customers' yards, and has started earning money.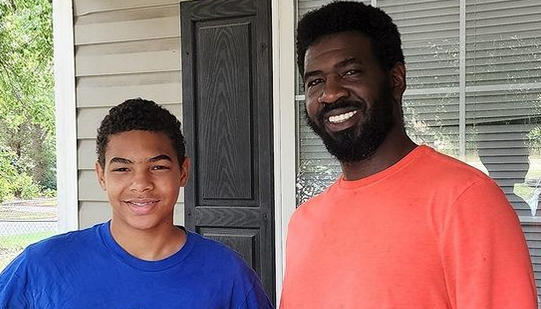 Social media has had great comments."Incredible testament to a great man and father. Love this!"