by Meemaw
I know I say this every year, but wow! The time has sure flown! Before we know it, the year will be ending yet again. Every December, parnote, The_CrankyZombie and I all explore possibilities for holiday gifts, and share them with you. I hope you find our lists, all within the pages of this month's issue, informative and interesting.
I also know I seem to visit the same sites every year, but I think these sites have some really great gift ideas. I'll try to branch out to others as well.
Snoopy Shirt LL Bean $49.95
This holiday season, LL Bean's site has a collection of LL Bean and Peanuts products. On their site, "Our favorite Beagle Scout Leader agrees, time outside is even better when we're all together. This limited-edition collection celebrates the outdoors with Snoopy and friends."
LL Bean has a lot of other products, though, including many items for use outdoors, but also things like pajamas, travel bags, dog beds, and toys. They also sell kitchenware and gifts, in addition to holiday decorations, like this wreath shown below, or Christmas stockings.
Canella Berry Wreath LL Bean $54.95
This wreath, like the others, is made from live greenery. Each includes a door hanger. From personal experience, I can tell you that they last for a long time. One of my brothers used to send me one for Christmas. It would arrive in early December and last until at least February.
Tabletop Ice Maker Amazon $339.99
Some people like to eat ice and seem to use it up faster than their freezers can make it. If you need extra, or your refrigerator's ice maker is slow, this ice maker can sit on the counter and make it pretty quickly. Rather than having a water line to it, you have to add water to the machine, but it works really well.
This one seems expensive, though, and a quick search on Amazon will show that you can get these for prices from $90.00 to $400.00. A similar search at Walmart will give you several from $85.00 to $400.00.
Sequence Amazon $13.50 - $50.00
Some people like board games, and this one's really fun!
Play a card from your hand, and place a chip on a corresponding space on the game board - when you have five in a row, it's a SEQUENCE.


Each player or team tries to score the required number of five-card SEQUENCES before their opponents.


Easy enough for children, challenging for adults!


Includes 1 Game Board, 2 Decks of SEQUENCE Playing Cards, Playing Chips (Green, Blue and Red), and Complete Instructions.


For 2-12 players, ages 7 and up.
The price depends on what size game you get. You can get a small one with a folding board in a 9" x 12" box, or you can get a deluxe version with a 27" x 32" vinyl mat, all packed in a 3' long tube. My whole family loves this game.
As always, I visited one of my favorite sites, Bits & Pieces. Aside from the wonderful collection of jigsaw puzzles, which was what made them popular, they expanded to metal and wooden puzzles, yard art, toys and games and even novelty items like t-shirts and cups with funny sayings on them. I go to some Christmas parties during the season, and a couple of the parties have a gift exchange with gag gifts. Here are two that might be fun!
Sneaker Socks Bits & Pieces $9.99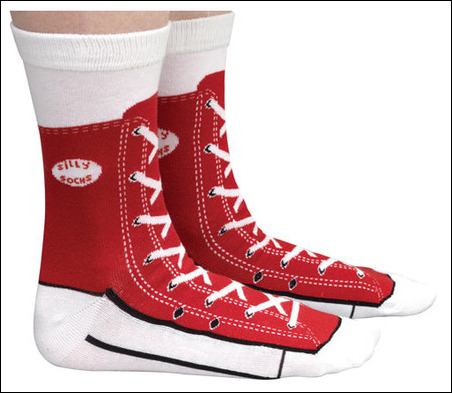 The sneakers come in red and black... and they also have football, soccer and baseball socks and sandal socks.
LED Flashing Tie Bits & Pieces $5.99
This tie has flashing lights in it so you can always be visible at any party you attend! It comes in three colors.
Sports Tastic Activity Center Newegg $83.51
For those of you with small grandchildren (or great grandchildren), Newegg has some toys. This is a slide with steps, but it also has several activities on the sides. You can see a baseball and a bat, along with a basketball (the basket's on the other side). This is for toddlers 12 months of age and older.
Ooze Labs - Chemistry Station Newegg $40.54
From newegg's site: "Grab your beakers and test tubes and step up to your special laboratory station for some exciting chemistry experiments. See how much fun chemistry can be as you do slimy, fizzy, colorful, and bubbly experiments. This cool laboratory setup has lots of different vessels and pieces of lab equipment so kids can play the role of chemist while doing real, safe experiments. All of the experiments use non-hazardous chemicals. This playful introduction to the basics of chemistry includes approximately 20 experiments. The experiments are presented on printed cards that can be clipped onto the lab station for easy reference. Experiments include glowing slime, color-changing slime, fizzing reactions, oozing bubbles, rainbow in a test tube, chromatography, Cabbage juice pH tests, solutions, filtering, crystals, fire extinguisher, and underwater VOLCANO. The kit includes a large plastic chemistry station, experiment cards, various vessels in different sizes, syringe, measuring cup, pipette, spatula, tube, petri dish, funnel, non-hazardous chemicals for the experiments, and experiment manual." Recommended age is 8 years or older.
Wind Spinner Amazon $69.89
I love wind chimes and spinners, but I don't have a spinner yet. It's a yard ornament that spins around when the wind blows. This one has two colors that show evenly on one side but if you turn it around, the bronze color shows up as predominant. The spinner itself is 23" wide but a stand is included which makes it 83" tall when set up. Amazon has many different styles.
Fire Pit Amazon $82.99
My grandson welded a fire pit for a 4-H project one year, and it turned out to be a grand prize winner! If you don't have a welder in the family, Amazon has many styles of fire pits you can purchase. This one has to be assembled, but it's a nice one, approximately 32" x 32" and 14.5" tall. It comes with a screen to keep the burning wood from popping out on you, a rack to cook food on and a vinyl cover for when it's cooled down and not in use. There's also a handle to prevent burns if you have to take the screen cover off and move the cooking rack to replace the wood. There are many designs and sizes at Amazon.
I hope some of our items have given you ideas for shopping this year! I also wish you all a wonderful holiday season!