by Paul Arnote (parnote)
EEeeekkkkk! It's the holiday season ... already! It sure doesn't seem like a whole year has passed.
As we usually do, we here at The PCLinuxOS Magazine are offering up holiday gift ideas for those on your holiday gift lists ... or even for yourself. Between The_CrankyZombie, Meemaw and myself, you will have 30 gift ideas for that favorite PCLinuxOS user on your holiday gift list.
As these things typically go, all prices are expressed in U.S. dollars. The prices listed were current at the time of the writing of the article. Also, because of import/export restrictions and VAT charges that grease the pockets of politicians' bottomless coffers, all gift suggestions may not be available in all areas.
So, here are my 10 holiday gift suggestions for 2022.
LG External CD/DVD Rewriter Newegg.com $24.99
Ok. I know Texstar recently (multiple times) stated that optical discs are obsolete. Today's laptops typically come without any kind of optical disc reader/writer. So then, what are we to do with all of these DVDs and BluRay discs that we've accumulated over the past 25 or so years?
Sure, you could go through all of the time and trouble to rip those discs to digital files (typically MP4 video ... and be careful ... doing so may or may not be legal in your area). OR, you could just buy one of these and plug it into your computer's USB port. Doing so will allow you to view those optical discs on your computer. Alright, this one is pretty much limited to DVDs and CDs. I don't know about you, but I have hundreds of optical discs around that I've purchased over the years, with many of them on DVDs.
I know that streaming services are all the rage (nope ... I don't even have a Netflix or Hulu account, but we do have Amazon Prime and Disney+), but that requires a network connection. I'm often in places where I don't have a network connection, so that leaves me out when it comes to streaming. But with this external DVD drive, I can cart along some choice movies and watch them on my laptop whenever I want.
Oh, and this external drive is also a DVD and CD burner, so you can create your own discs, full of your home movies or to use to backup the data on your computer.
SanDisk 256GB Ultra microSDXC A1 UHS-I/U1 Class 10 Memory Card with Adapter Newegg.com $19.38
The other storage medium I like to use are SD memory cards. This microSD card is about 1/4th the size of a postage stamp, but holds 256GiB of data. Compare that to the 4.3GiB of storage space on a DVD, this little thing will hold the same amount of data as more than 60 DVDs.
This microSD card comes with an adapter that allows you to read/write from/to the card in a standard SD card slot. The high read and write speeds for this card are perfect for carrying around many high resolution movies, ripped from their optical media (again, check the laws in your area regarding the legality of ripping your DVD collection to digital formats). I have yet to find a movie that doesn't play flawlessly from these microSD cards.
Oakcastle Portable MP3/FM Radio Player Amazon.com $28.95
I actually have this item. My wife and kids got it for me for my birthday in August. While my "old... MP3 player still works very well, it doesn't have Bluetooth connectivity. I wanted one that allowed me to use my Bluetooth earbuds, instead of being tethered by the cable of my other earphones.
This thing is awesome. I have the 8GiB version (the one depicted here), and have all of my programming (mostly podcasts) on a separate 32GiB microSD card. I actually have a "dedicated... set of Bluetooth earbuds, so they don't interfere with the ones I use with my phone.
The player will playback all of your MP3 files, and will tune into local FM radio stations. The color display is nice, and the controls are very easy and self-explanatory to use. The device is rechargeable, and features up to 30 hours playback time. It's also quite small and lightweight. It measures only 1.42 x 2.28 x 0.67 inches, and weighs only 27g.
AUKEY Hybrid Active Noise Canceling Wireless Bluetooth Earbuds Newegg.com $25.99
As much as I like to "embrace... technology, I also don't want to pay through the nose in the process. As such, I have a hard time justifying spending a couple hundred dollars on a pair of Bluetooth earbuds, like what the prices for the "big name... earbuds sell for.
I have two different models of the Aukey earbuds from Newegg.com, and I have to say that both sets have outstanding sound quality ... at least to my ears. I also use one of them when I make phone calls on my cell phone (the sound is much better using the Bluetooth versus the microphone in the phone). Plus, it allows me to use my phone "hands free....
These feature a seven hour playback/call time, and the charging case extends that to 35 hours. They are also IPX5 certified water resistant. The charging case utilizes quick charging to reach a full charge in 120 minutes, via a USB-C connection.
(Psssst ... if you subscribe to Newegg.com's daily sales email, you can frequently catch them on sale at much lower prices. I picked up my first pair (I bought two pairs, one for me and one for my wife) for under $15 each, and I bought 4 pairs of another model for under $25 ... total! Still, the "regular... price is far less than you'll pay for the same "big name... brands.)
Bass Pro Shops Folding Filet Table Bass Pro Shops $79.99/$49.98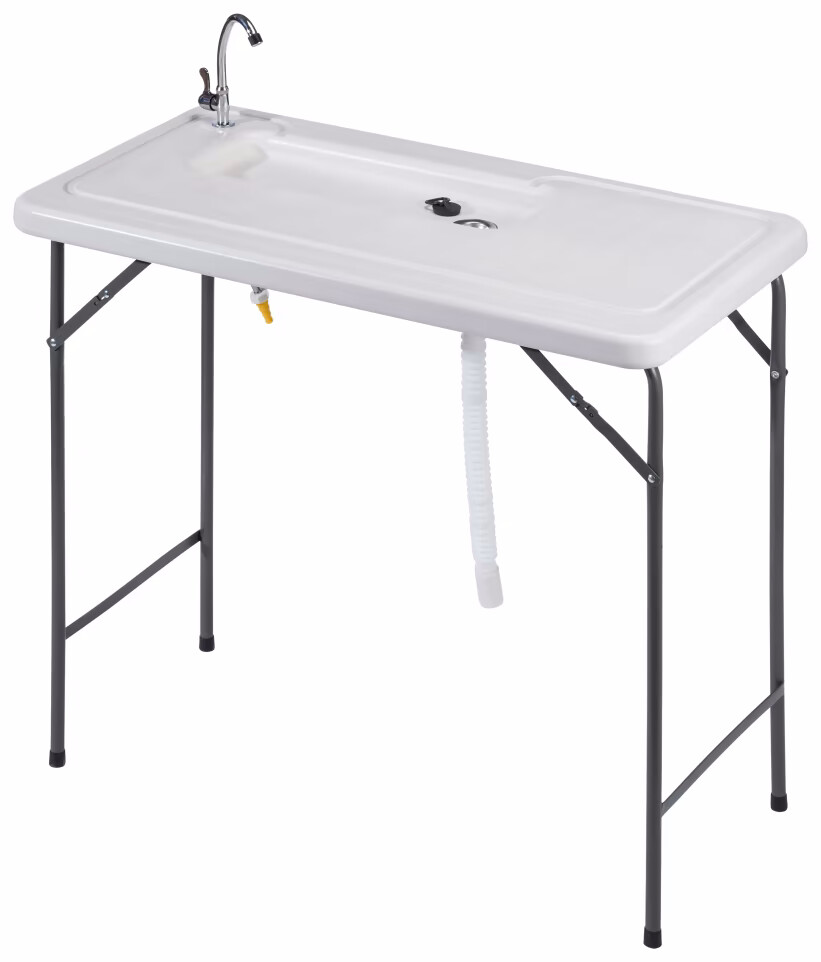 It's no secret I like to fish and hunt. But one of the drawbacks is finding a place to clean your catch. This folding filet table from Bass Pro Shops solves that problem. This table is 36 1/2... tall, to help relieve back strain. It also features a hand-pump operated faucet so you can rinse off your fish or game as you clean it, with a separate drain for all of your wastewater. Made of heavy duty polyethylene plastic, this filet table will provide many years of service for cleaning your daily limit. The "regular... price is $79.99, but the day I added this to my gift guide, it was on sale for $49.98. As the holidays approach, I wouldn't be surprised to see it on sale again. But, even the "regular... price isn't too bad, either.
Bass Pro Shops Travel Lite Tripod Stool Bass Pro Shops $9.99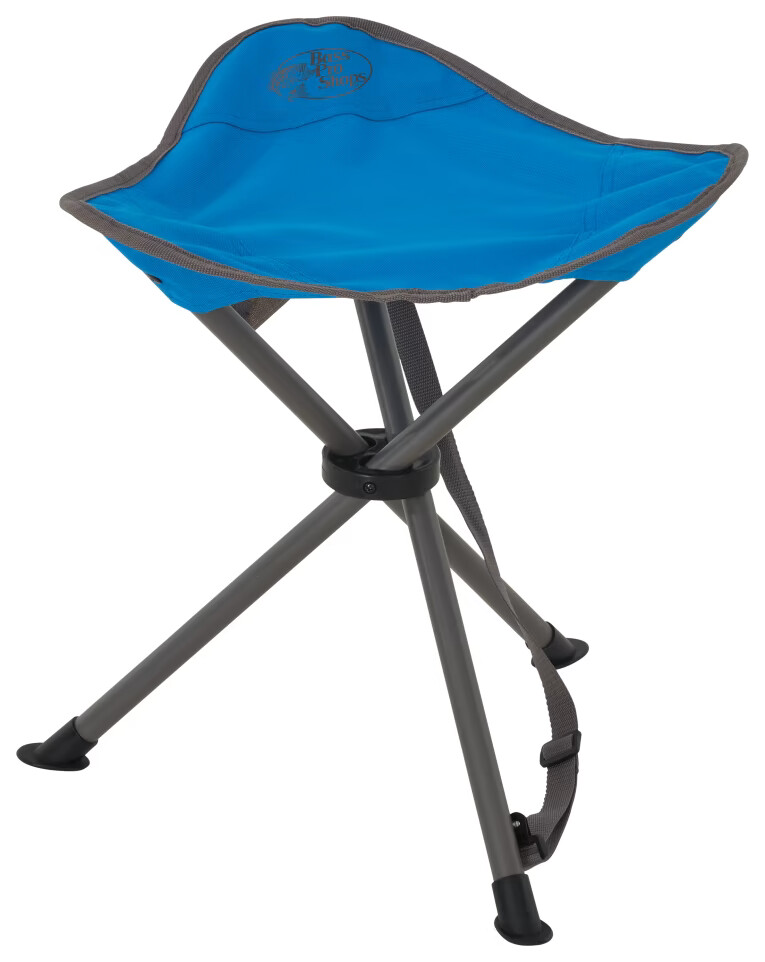 Whether you're spending the day fishing off the bank of your favorite lake or stream, or spending the day hunkered down in a deer blind, you're gonna want to have somewhere to park your derriere ... other than on the ground.
This lightweight tripod chair may be just what you're looking for. This 1.9 lb (0.86 Kg) chair folds out to provide a stable platform to sit on. It comes with a shoulder strap, making it easier to carry with all of the rest of your gear. The chair is 18.5... tall (47 cm), and 15... wide and deep (38 cm). Maximum weight capacity of the chair is 225 lbs (102 Kg). It is available in black, red or blue. It features a tough powder-coated finish, with a durable, water resistant polyester seat.
Classic Recipes Photo Book Shutterfly $39.98/$19.99
If you're like most people, you have a collection of "family favorite... recipes, many that may have been handed down throughout the years. With this recipe photo book, you can have all of your recipes in one central location, with photos of each dish. You can "publish... your own family recipe cookbook, to give as gifts to help keep family traditions alive. You can then order multiple copies of your family recipe book to give as gifts to everyone on your holiday gift list. This fully customizable book measures 8... x 11... (U.S. Letter size), and comes with 20 pages for you to fill. Other assorted sizes are also available, if you desire. If you need more pages, they can be added for $1.53 per page. The "regular... price is $39.98, but Shutterfly frequently has these books on sale, especially around the holidays. The day I added this to my gift guide, it was on sale for $19.99. Allow some "lead time... to insure that you receive it before the holidays (as in, this probably isn't going to make a great "last minute... gift idea). You will need to plan ahead to get it delivered by the holidays.
RYOBI ONE+ 18V Dual Function Inflator/Deflator (Tool Only) Home Depot $69.97
I may have included this (or something like it) in my previous holiday gift guides, but that should stand as a testament to just how valuable this little item is. I have several of the Ryobi 18V cordless power tools for use around my home (once you start with a particular brand of cordless tools, you're pretty much a captive since it's rather expensive to switch brands after that), and this inflator has seen a LOT of use. It's mild enough to handle a bicycle tire, an air mattress, or an inflatable ball, and tough enough to pump up the tires on my wife's car and my pickup truck.
To use, simply load one of your Ryobi LiON One+ 18V batteries into the battery bay (bottom center), set the desired pressure on the screen using the "-... and "+... buttons, and hook up the hose. Press start, and sit back. The inflator will automatically shut off when the desired pressure is reached. You can also use this little gem to help deflate inflatables around the home, like a small child's inflatable swimming pool or an inflatable air mattress.
PCLinuxOS Polo Shirt PCLinuxOS Cafe Press Store $24.99
This soft cotton polo is an everyday favorite. A style staple for classic comfort, our 100% preshrunk cotton jersey polo shirts are perfect for work or play. This everyday favorite can be dressed up for a business casual look or relaxed a bit for a day on the links or a night out. It feels like you're wearing your favorite T-shirt! Great for layering too.
Part of the proceeds from the sale of items in the PCLinuxOS Cafe Press store go to help support the ongoing and continuing development of PCLinuxOS.
PCLinuxOS Donation PCLinuxOS Website $????
Of course, you can always make a donation to PCLinuxOS. Your donation will help the ongoing and continuing development of PCLinuxOS, and help keep all of the "bills... paid that make PCLinuxOS happen (web servers, feeding and housing the lead developer, etc.). You can make a donation in your own name, or in the name of another PCLinuxOS user as their holiday gift.
There are three ways to donate. First, you can donate any amount by visiting the PCLinuxOS account on Stripe. Or, you can use the Gumroad Donation Center to set up a regular monthly or yearly donation. Or, you can send a money order or check (drawn on a U.S. bank ONLY) directly to Bill Reynolds (address on the web page linked above). Any way you choose to do it, you'll know that your donation goes towards helping keep PCLinuxOS alive, breathing, and well.
********************
From all of us at The PCLinuxOS Magazine, we want to send our wishes for the happiest of holidays to you and your family!
Happy Holidays!