by CgBoy
Free Download Manager is a popular download accelerator and organizer with many powerful features. It is available for most major platforms, and was recently added to the PCLinuxOS repositories. Some of its features include support for HTTP, BitTorrent, downloading videos, speed throttling, download scheduling, web browser integration, and more.
It has a nice, clean and modern look to the interface, and is very easy to use. From the toolbar at the top, you can add new downloads, pause and resume current downloads, and delete or move finished downloads. Tags can be used to help organize your downloads, allowing you to sort them by their type, such as torrents, music, videos, or your own custom tags.
Starting a new download is as simple as clicking on the + button in the top left corner and pasting in your download URL, or loading in a torrent file. You can easily choose which parts of a torrent you want to save. Downloads can be scheduled to only run at certain times on specific days of the week. Free Download Manager also supports downloading videos, but no longer from YouTube. Apparently, Google issued a claim and the developers have had to remove YouTube support for the moment.
Free Download Manager can accelerate your download speeds by splitting files into multiple segments while saving them simultaneously. After a file has finished downloading, you can use a built-in tool to check the file integrity by calculating and comparing the checksums. Free Download Manager also gives you the option of converting saved media files to MP3 or MP4.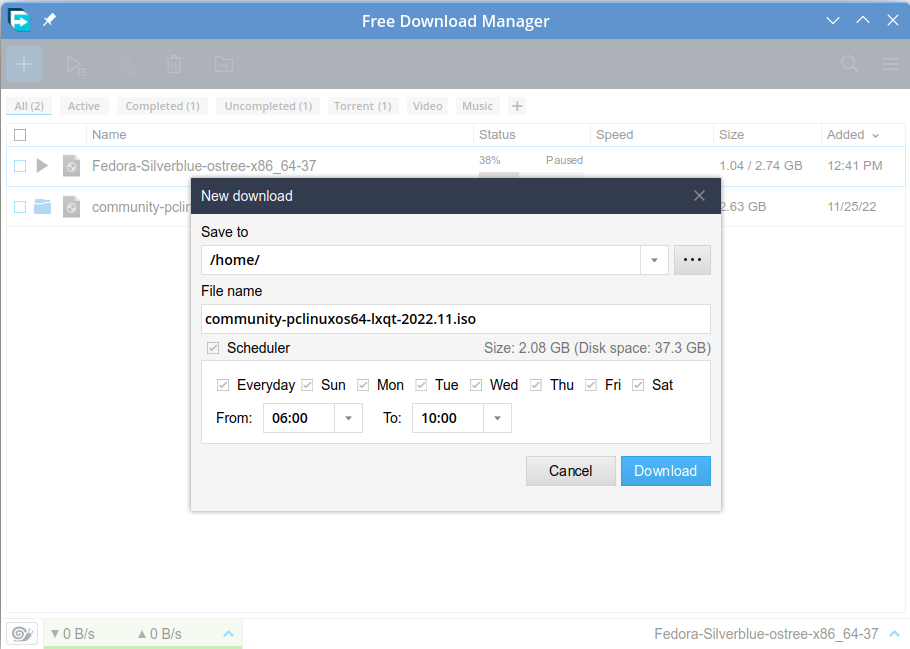 Free Download Manager lets you quickly and easily throttle the download and upload speeds from the menu at the bottom of the window. By default it's set on High mode, giving you unlimited download and upload speeds, but you can also choose Medium mode, which throttles the speed to 2048 KB/s, or Low mode which slows the speed down to only 256 KB/s. You can also enable Snail mode, which slows downloads to an absolute crawl to free up bandwidth, but doesn't stop them entirely. Custom speed settings can also be adjusted from the preferences.

One of Free Download Manager's interesting features is the ability to remotely create and start new downloads on your computer from another device, such as an Android smartphone. Free Download Manager needs to be configured for remote access on both devices, though.



A system tray icon is enabled by default to allow easy access to Free Download Manager, and you can also set the program to automatically launch at startup as well. There is also an option available to shutdown or put the computer into sleep when all current downloads have finished.
Free Download Manager provides web browser integration through extensions which are available for Firefox and Google Chrome. These extensions allow Free Download Manager to automatically intercept and add new downloads from your web browser into the program.
Summary
In general, I found Free Download Manager to work very well for accelerating the download of large files. Occasionally I would encounter errors when trying to add new downloads, but this was usually resolved by simply restarting the application. All in all, I'd definitely recommend Free Download Manager to anyone looking for a convenient tool to handle their large download needs.