compiled by Meemaw
German Shepherd Protects Six-Year-Old
Tank the German Shepherd and his 6-year-old human were outside playing, when a dog across the street charged over and tried to attack the boy. Tank immediately pushed the boy down and got between him and the other dog.
The other dog in the child's home, a pit bull, helped Tank chase the attacking dog away. The home security camera had filmed it, and it shows the child's mother coming out and hugging her son. She has also uploaded it to TikTok, and it has been viewed over 45 million times.
Her caption reads, "THE MAN, THE MYTH, THE LEGEND This is Tank & no, he is not professionally trained. He's just a man with killer instincts, who loves a good chew toy."
Officer Reunites With Man She Rescued
Back in 1998, Officer Anne got a call about a child wandering outside in and out of traffic. When she arrived at the scene, she got the boy out of traffic and placed him in her patrol car. She took him to her car, and on to the police department where he could be comforted and taken to foster care, where he was later adopted.
That's all that Roberto Theiss can remember, but in November, 2022, he returned to the same department to thank Anne for her kindness, saying that she saved his life
From the South Bend report, "Theiss said he wanted to 'let her know again how that little action she did changed my entire life and I cannot express words of gratitude.'"
Ohio Couple Delivers FedEx Packages
Tristan and Zachary were driving home one night when they saw a FedEx truck at the side of the road. When they slowed down to pass it, they saw an unbelievable sight! The driver appeared to be throwing packages into the ditch. By the time they got turned around and went back, the driver had left, but there were multiple packages in the ditch.
Zachary said, "I mean there was flowers, somebody's flowers, like that broke my heart, because it could've been for anything, funeral flowers."
They proceeded to pick up all the packages and deliver them, taking over two hours to do so. They said they didn't want to call the police because they were afraid that the packages would just sit in a police station and not get to the intended recipients. They do want the driver to be caught and held responsible, though.
Missing K-9 Reunited With His Handler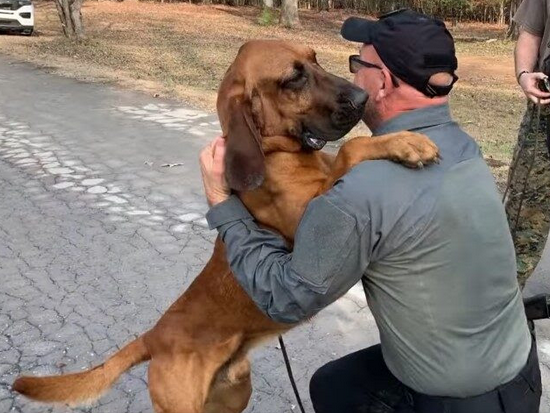 Gunner the bloodhound was at a training exercise in South Carolina when he "jerked away" and ran into a wooded area. Officers started searching for him, and after 25 hours of searching, they found him. He was cold, wet and thirsty, but in good health.
Terminally Ill Boy Receives Message From Captain Jack Sparrow
Kori is 11 years old, and has already gotten two heart transplants. In spite of that, he is an avid YouTuber and hopes to someday reach 100,000 subscribers on his channel, Kraken The Box, which would earn him a Silver Play Button Award.
In December, he shared a video of Johnny Depp speaking to him, dressed as his favorite character.
From the news story, Depp said, "Captain Kori, I understand you're quite the YouYube channel man. So what I'm saying is I would be glad to follow your YouTube channel and will tell all my friends to follow your YouTube channel," said Depp, who was portraying Captain Jack Sparrow from Pirates of the Caribbean.
"I wish you the best of luck, I'm your number one fan Captain Kori, all my respect and love," Depp added.
A couple of days later, an elated Kori shared another video of him and the well-known actor having a conversation through a video call. Depp continued to portray Sparrow while pretending as if he were on a pirate ship.
Users posted of their happiness for Kori, and praised Johnny Depp for his kindness.
Student Given Sports Wheelchair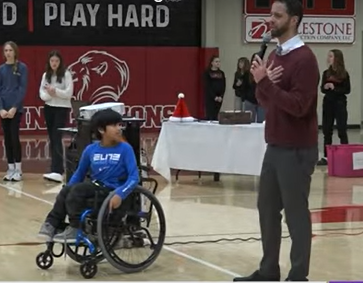 Sixth grade student Angel goes to middle school in Arkansas, and although he's in a wheelchair, he joins his friends who are on the cross-country team. This last Christmas, an anonymous donor presented him with an athletic wheelchair in an assembly at his school.
The athletic wheelchair is lighter than a standard wheelchair and generally built with the large side wheels tilted for easier control. Angel's new chair is "better-suited to the terrain."