by CgBoy
Koodo Reader is a modern and feature-rich ebook reader powered by Electron. It offers support for Epub, Mobipocket, Kindle, PDF, HTML, and numerous other common ebook and document formats. It is also ideal for use in study work, as you can easily highlight and annotate text in any document.
Sporting a modern and well designed user interface, Koodo Reader is quick and easy to use. It also has optional support for touchscreen gestures and usage. A dark interface mode can be enabled for reading books at night as well.
Loading books into Koodo Reader is accomplished by clicking Import and selecting an ebook file located on your computer, or by dragging and dropping compatible files into the program. Added books will show up in the main Books screen, where they can be sorted by book name, author name, most recently read, reading duration, and so on.
Koodo Reader lets you organize your books into different bookshelf categories, which can be selected from the Shelf menu near the top of the screen. You can also favorite any books you have loaded in, allowing you to easily find them from the Favorite tab on the left. From the Notes and Highlights tabs, you can quickly view and jump to any sections of text you've highlighted or attached notes to in any of your books.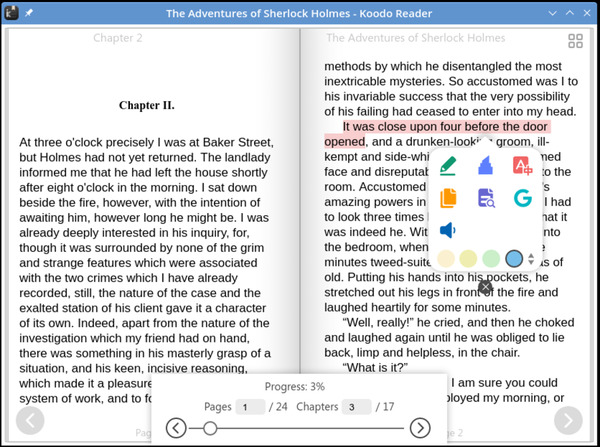 Clicking on a book opens it up in a nicely designed reading window. Selecting a section of text brings up a small box allowing you to highlight and annotate the text, search in the book or online, and also translate and speak the text. Neither the translation nor the text-to-speech functionality seemed to work when I tried them, though.
Moving the mouse cursor towards each side of the window brings up different panels. At the lower edge of the window is a panel that shows your progress through the book and allows you to navigate to a specific page, while a panel at the top of the window lets you exit the book, bookmark a page, or switch to fullscreen mode, while also displaying the estimated reading time left. From the panel available on the left side, you can view the book contents, bookmarks, notes, and highlighted text in the book. On the right side panel, you'll find a large amount of reading options available, such as page style, background and text color, font and text spacing settings, along with various other options.
Koodo Reader provides you with the option of backing up your library, either to a local directory as a zip archive, or to an online cloud storage provider, such as Dropbox, or WebDav (Google Drive support is supposed to be added soon). Koodo Reader also supports synchronizing your data across multiple locations, but I was not entirely sure how to actually configure and use this feature.
Summary
I found that Koodo Reader generally seemed to work very well as an ebook reader. Some features, though, look as if they aren't fully implemented yet, such as the text-to-speech ability. All in all, Koodo Reader is a very impressive application, and one of the most advanced ebook readers available in the PCLinuxOS Repository.