by kalwisti (David Pardue)

Editor's Note: Part one of kalwisti's article appeared in the February 2023 issue. It continues here, with tips and themes.

PCManFM-Qt (File Manager) Tips

LXQt's default file manager, PCManFM-Qt, has some handy capabilities which might enhance your workflow. A split-screen feature makes it very convenient to copy files between two different locations.

In addition, PCManFM-Qt is able to connect to a remote server (such as an FTP server or NAS [Network Attached Storage]).

I described these two features in a previous magazine article, so I will refer you to that rather than repeating the information here. https://pclosmag.com/html/Issues/202103/page05.html




QMPlay2

I enjoy listening to internet radio streams while I am working on the computer. Although I usually install VLC Media Player for this purpose, I decided to try QMPlay2 (Qt Media Player 2) since it came pre-installed. QMPlay2 has impressed me; it can play all formats and streams supported by ffmpeg and libmodplug. Daniel has a personal connection with QMPlay2, as he is one of the program's German translators.

The app also has an integrated YouTube browser.

To add a radio stream (.mp3, .aac or .ogg), follow the steps below.

Open QMPlay2 and click on the "Internet radios" tab to bring it forward:




Click on the green " + " [plus] button to begin adding a new station:




Third in the pop-up dialog, paste the URL of your desired radio station and click the "OK" button:




The new station will appear in the "My radio stations" pane.
To name the station and add other ID metadata, click on the "Edit selected radio station" button:




Type in the station's name (or call letters and frequency) and click the OK" button:




Close the window, select your new radio station and click on the "Play" button.

If you want to turn off the music visualizer (animated display), click on the "X" box in the right corner above the graph:



Alternatively, you can accomplish this by going to the Widgets menu on the main toolbar > and unchecking (deselecting) "Simple visualization." (If you decide to restore the music visualizer later, just check (tick) this same menu option).
Integration with radio-browser.info Database
QMPlay2 has a feature that turns it into an excellent radio player; it incorporates the radio-browser.info database which currently contains more than 35,000 radio stations from around the world. This allows users to search for radio streams by (Radio) Name, Tag, Country, Language or State:
In the example below, I searched for stations / streams in the Basque language (an exotic isolate) and retrieved several results:



When you find a station that you enjoy and wish to save it to your Favorites list, right-click on the station and choose "Add to my radio stations":


Third, in the pop-up dialog





Clearing the Playlist and Grouping Stations

To clear your list of recently played stations, from the Playlist menu > select "Clear list."
To create a custom group of related stations (e.g., by genre, such as rock, jazz, classical), from the Playlist menu > choose "Create group" (or press the F7 function key).
In the screenshots below, I created a group of Classical radio stations. First, in the Properties pop-up window, type your desired group name or classification term, and click on the OK button:


Next, in your Playlist widget / panel, drag the relevant stations into your newly created group folder. (This screenshot shows the expanded view of my Classical folder):




FocusWriter (How to exit)

FocusWriter is designed to be a distraction-free word processor. As such, the application opens in full-screen mode and it was not apparent how to exit the program. (My first instinct was to press the Escape key, which had absolutely no effect).

To access the drop-down menus which are hidden away, move your cursor to the top of the screen. Once the top toolbar appears, go to the File menu > and select Quit. Or you may simply type the keyboard shortcut Ctrl+Q.

The F11 function key toggles between Fullscreen mode and Minimal (smaller) mode.




Customization / Themes Basics

I should clarify that this is a bare-bones introduction because I am not a theming guru. I typically make only minor changes to the default theme, then focus on using the DE. However, for the purposes of this article, I spent more time experimenting than usual. Although LXQt looks nice out of the box, it looks even better after some customization.

The realm of themes is subjective and the old maxims, "De gustibus non est disputandum" and "Design trends are cyclical" hold true -- regarding icon themes, flat designs versus 3D or skeuomorphic designs, light versus dark themes, etc. For some people, dark themes lessen eye strain; for others, such themes cause discomfort. Some users prefer a mix: a dark desktop environment with a light-themed window manager. The permutations are almost endless, therefore I limited myself to configuring seven different themes: three official / native LXQt themes and four community-created themes. Screenshots of these themes appear at the end of the article, accompanied by a "specification sheet" of their configuration settings. If you see a combination that you like, you can quickly replicate it by referring to the spec sheet.

Many of the style components that you will be tweaking -- such as widget style, icons theme, LXQt theme -- are found under the Preferences menu > LXQt Settings > LXQt Configuration Center > Appearance:



LXQt themes are either located in /usr/share/lxqt/themes (if installed system-wide) or ~/.local/share/lxqt/themes. (If you install a theme locally, you will first need to create this directory. Don't forget the initial period before " .local "! To display hidden files / folders in PCManFM-Qt, either type Ctrl+Hb or go to its View menu > and select the Show Hidden option).
A nice feature is that locally installed themes are identified with the qualifier "(User Theme)" in the LXQt Theme list display:
Third, in the pop-up dialog Window Manager
This 2022.11 Community Edition uses xfwm4 as its window manager. (Since LXQt is windows-manager agnostic, some distros opt for Openbox as the window manager; others use xfwm4 as the WM. It is also possible to use KWin -- the window manager for KDE Plasma -- as the WM). Not only is xfwm4 available in nearly all Linux distros, but it also has the advantage of being a window manager and a compositor.
Xfwm4's settings are found under the Preferences menu > Admin > Configure Your Computer > Configure XFWM4 Window:
Kvantum Manager
Since it can be tricky to find a theme that matches both the Qt style and the GTK theme style, this is where Kvantum Manager plays a role. Kvantum is a theming engine -- a very nice app which allows us to make the DE more consistent with regard to theming. (However, you must still use Xfwm4 Settings to configure the window title bars and decorations).
Kvantum Manager is accessed via the Preferences menu > Admin > Configure Your Computer > Kvantum Manager. The active theme is indicated in the bottom left corner of its window:
To change the active Kvantum theme, click on the Change/Delete Theme tab:
Afterwards, a list of available themes will be displayed: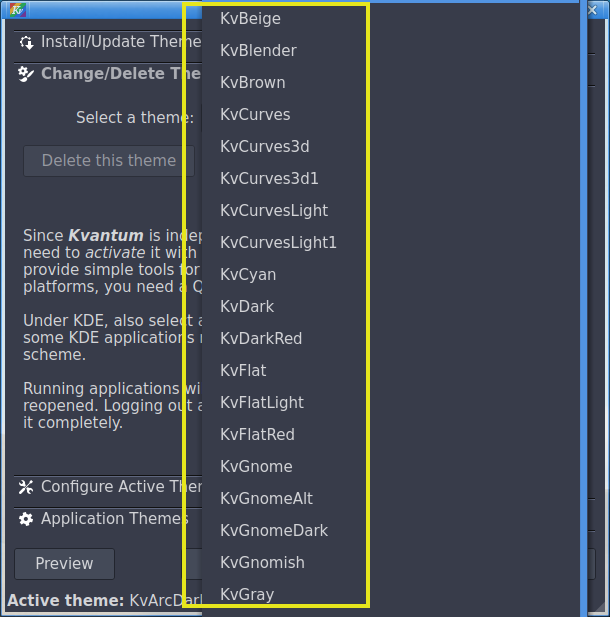 Once you have chosen a theme, click on the "Use This Theme" button to make your selected theme active:

To further explore a theme's settings, click on the "Configure Active Theme" button: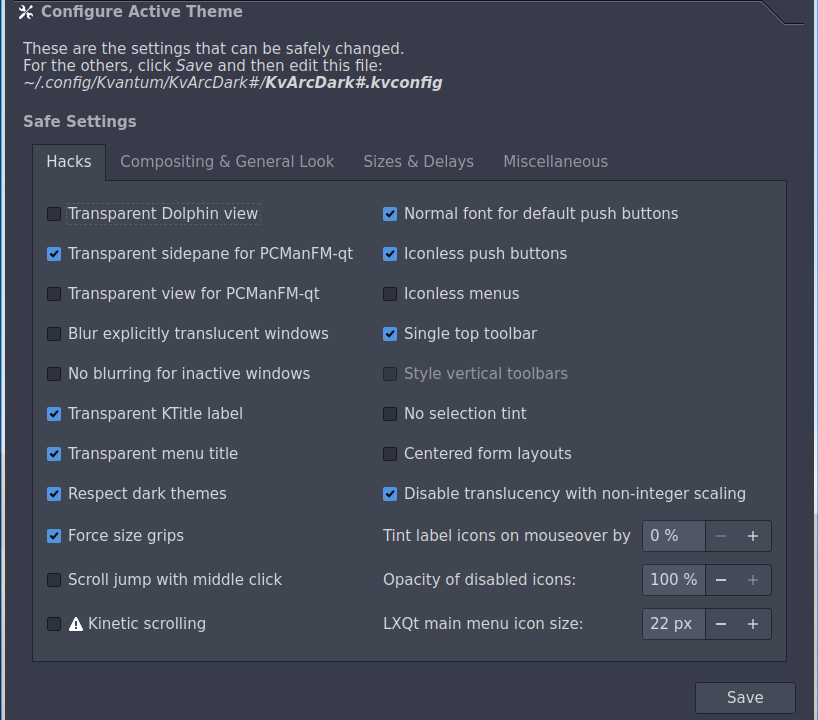 To watch Kvantum Manager in aThird, in the pop-up dialogction, visit Ermanno Ferrari's YouTube channel: https://www.youtube.com/watch?v=ijmu0IDFJ44
EF - Linux Made Simple. "LXQt Customization." YouTube (33 min., 16 sec.). 13 May 2020. The segment from 18:04 -- 19:58 focuses on Kvantum Manager. (Although he is using Arch Linux, Kvantum behaves identically in PCLinuxOS).
Other Considerations (Compositor)
If you own an older PC with limited resources, you can gain some speed and reduce the load on your graphics card by disabling visual effects and/or compositing. These settings can be found under the Preferences menu > Admin > Configure Your Computer > Configure XFWM4 Compositor. Next, click on the Compositor tab:
One of Linux's advantages is that it is customizable; you are not tied to how the default desktop looks. So if you are inclined to modify LXQt's appearance, I know that you can find settings that please you.
More LXQt themes can be found by searching Opendesktop.org. Creators often include brief instructions on how to install a particular theme:
https://www.opendesktop.org/browse?cat=446&ord=rating
Additional Resources on Customization
https://github.com/lxqt/lxqt/wiki/Theming
LXQt Wiki. "Theming."
https://www.pcsuggest.com/best-lxqt-themes/
Satapathi, Arnab. "5 Best LXQt themes for a better desktop experience." PCsuggest, 6 Mar. 2018.
Satapathi's installation instructions for the Lush theme and the Notturno theme are still valid (although for Notturno, you must first install the git package from the PCLinuxOS repositories).
https://www.addictivetips.com/ubuntu-linux-tips/customize-the-lxqt-desktop/ Diener, Derrick. "How to Customize the LXQt Desktop." Addictive Tips, 21 July 2017.
https://xd.adobe.com/ideas/principles/web-design/flat-vs-material-skeuomorphic-examples/
Babich, Nick. "Flat vs. Material vs. Skeuomorphic Design Examples." Adobe XD Ideas, 24 Nov. 2020.
Theme Screenshots

Official Themes
1. Kvantum:
Widget style: kvantum
Icons theme: Papirus-Breeze
LXQt theme: Kvantum
Kvantum Manager theme: KvArcDark
XFWM4 WM style: Daloa
Wallpaper: plasma-logo-dark.png
(Stock wallpaper from /usr/share/lxqt/wallpapers)
Link to full-resolution screenshot: https://pcloscloud.com/index.php/s/i87rFS6yAPZfF4i
2. Valendas: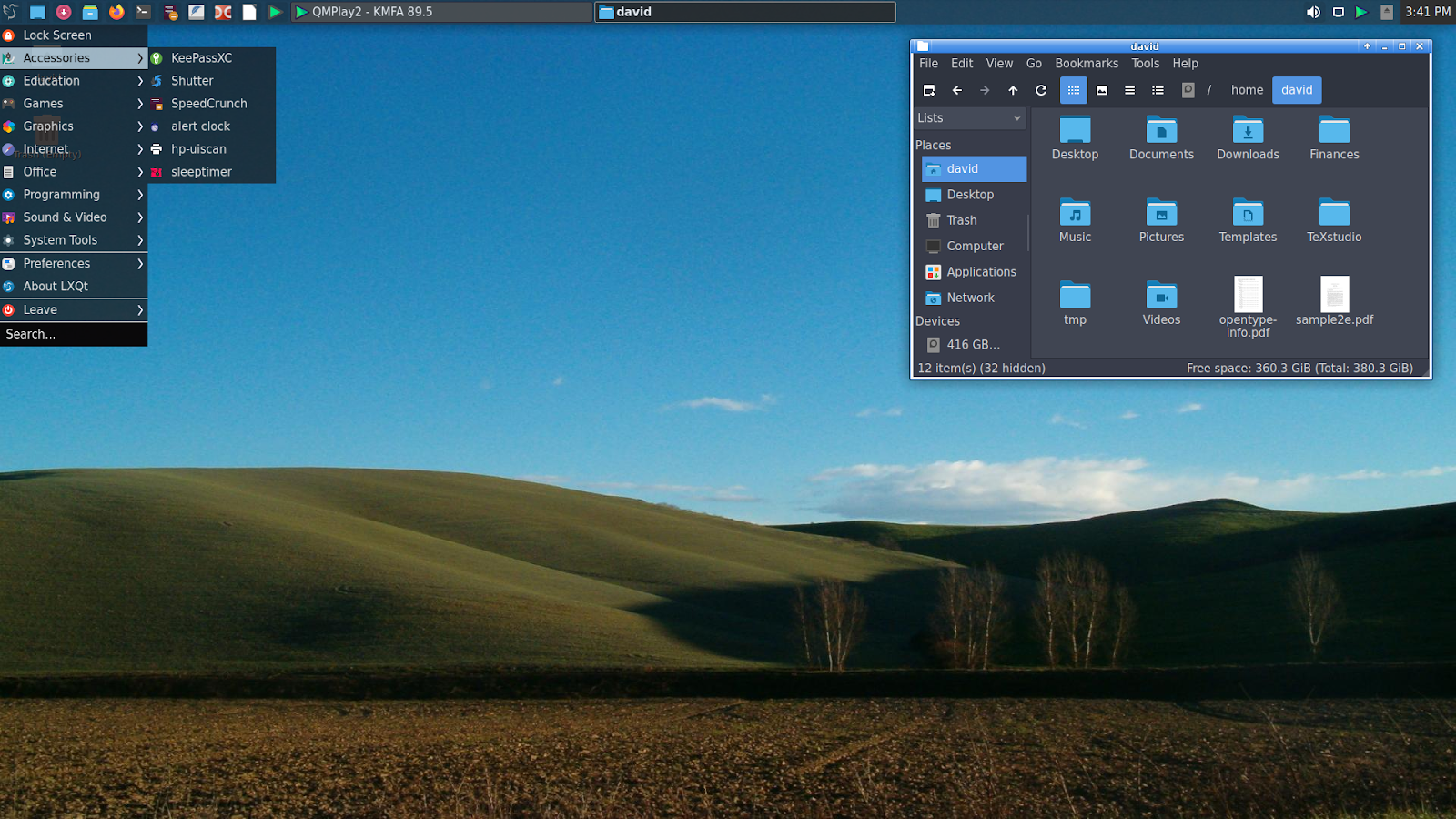 Widget style: kvantum
Icons theme: Papirus-Breeze
LXQt theme: Valendas
Kvantum Manager theme: KvArcDark
XFWM4 WM style: Daloa
Wallpaper: this-is-not-windows.jpg
(Stock wallpaper from /usr/share/lxqt/wallpapers)
Link to full-resolution screenshot: https://pcloscloud.com/index.php/s/AxW5pPrCZn4BSrK
3. Clearlooks: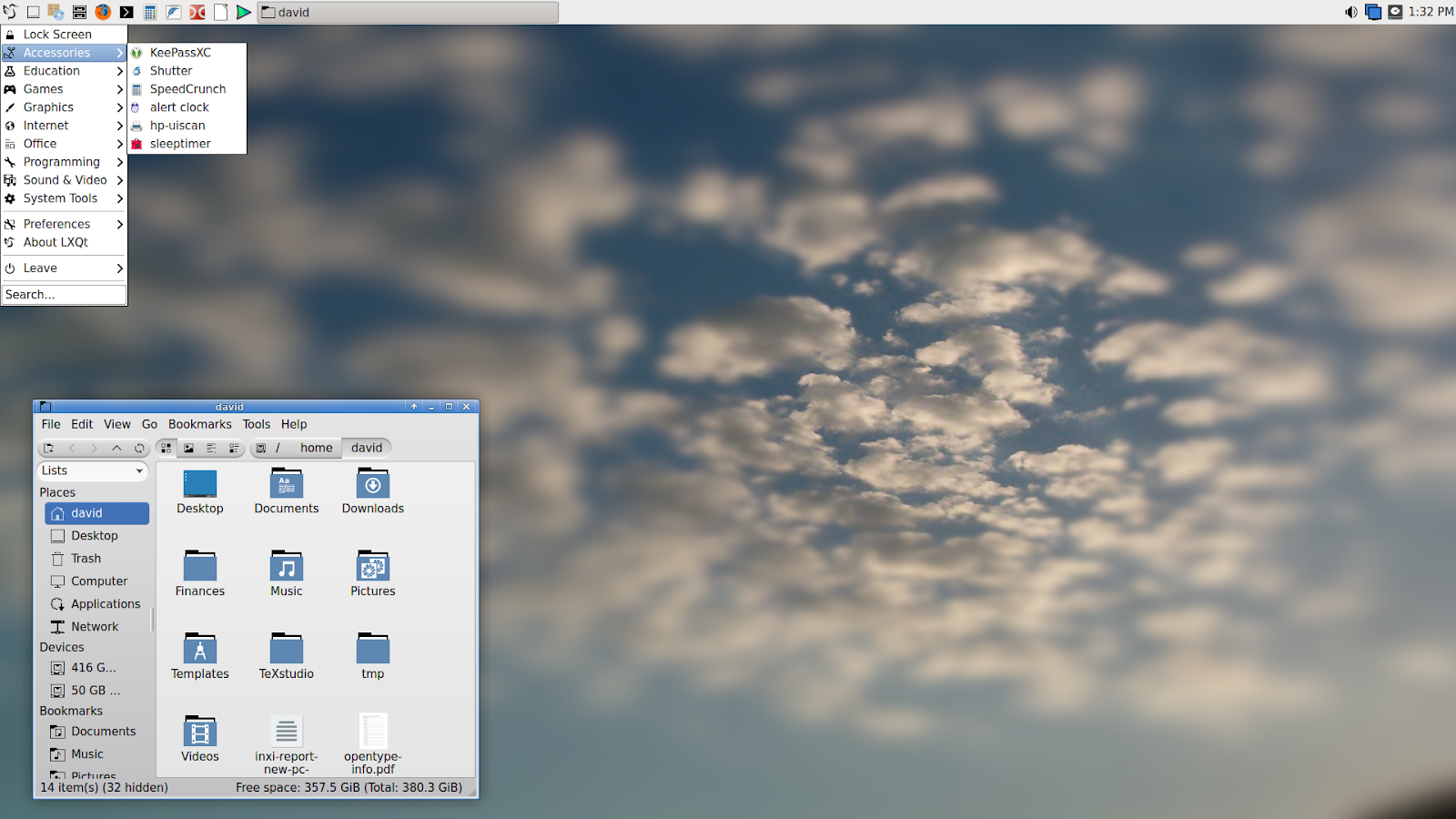 Widget style: kvantum
Icons theme: Plataro
LXQt theme: Clearlooks
Kvantum Manager theme: KvCurvesLight
XFWM4 WM style: Daloa
Wallpaper: cloud.png
(Stock wallpaper from /usr/share/lxqt/wallpapers)
Link to full-resolution screenshot: https://pcloscloud.com/index.php/s/WsycCmCcsyrgA5w
Community Themes (Installed Locally)
4. Lush:

Widget style: kvantum
Icons theme: Papirus-Green
LXQt theme: Lush-lxqt-theme-0.1
Kvantum Manager theme: KvCurvesLight
XFWM4 WM style: Daloa
Wallpaper: drop.png
(Stock wallpaper from /usr/share/lxqt/wallpapers)
Link to full-resolution screenshot: https://pcloscloud.com/index.php/s/DD5cEZwS7crR5xt

5. Notturno:



Widget style: kvantum
Icons theme: Papirus-Blue
LXQt theme: Notturno
Kvantum Manager theme: KvArcDark
XFWM4 WM style: Daloa
Wallpaper: plasma-logo-dark.png
(Stock wallpaper from /usr/share/lxqt/wallpapers)
Link to full-resolution screenshot:https://pcloscloud.com/index.php/s/4H6mLLJ8kRZMENi
6. MGLinux: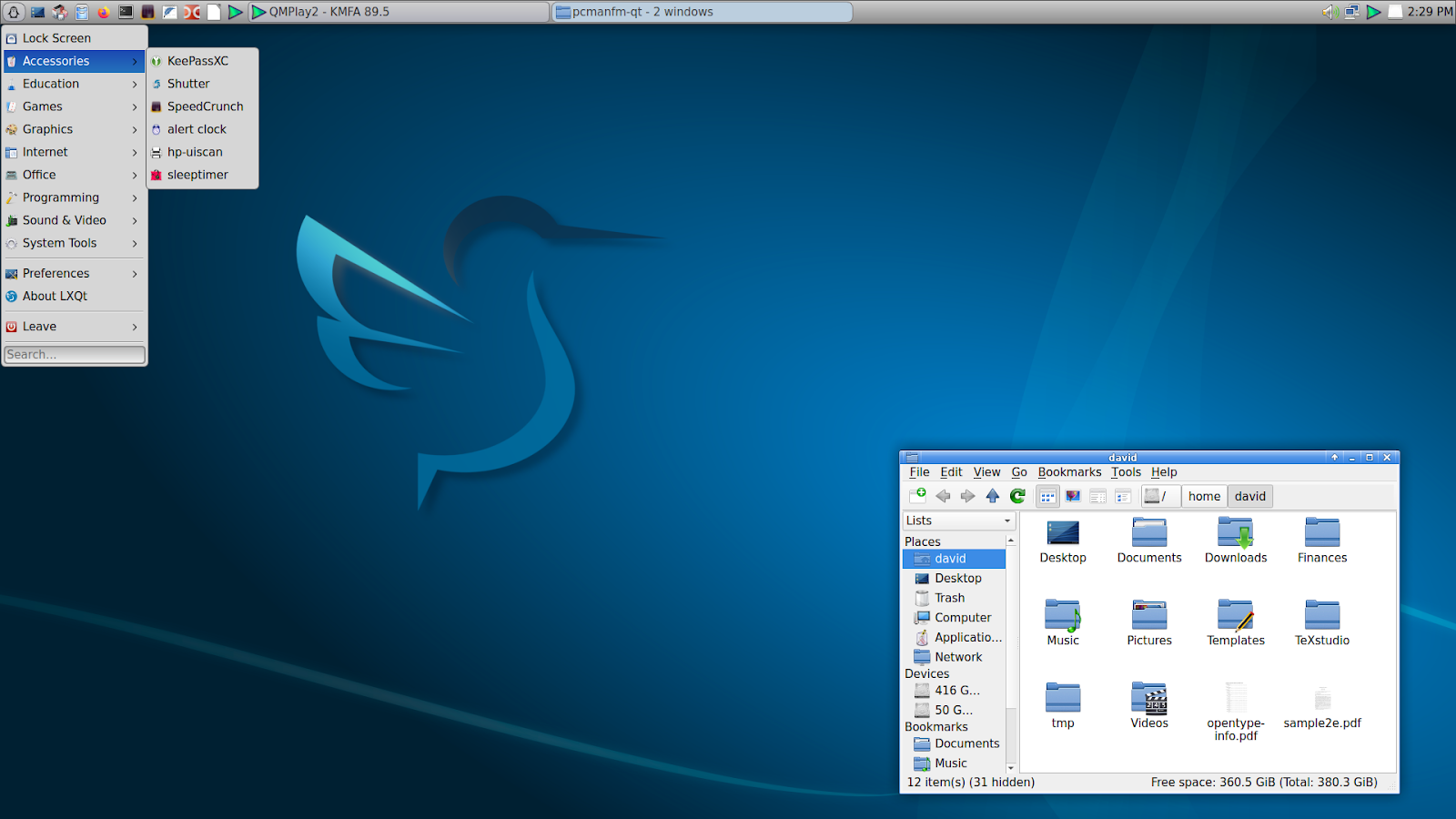 Widget style: Fusion
Icons theme: Oxygen
LXQt theme: MGLinux
Kvantum Manager theme: KvCurvesLight
XFWM4 WM style: Daloa
Wallpaper: waves-logo.png
(Stock wallpaper from /usr/share/lxqt/wallpapers)
Link to full-resolution screenshot: https://pcloscloud.com/index.php/s/XfdbcXj37kQeGx8
7. EXperience (for nostalgia's sake with a smidgen of Windows XP humor):
Widget style: Windows
Icons theme: YlmfOS
LXQt theme: EXperience
Kvantum Manager theme: KvCurvesLight
XFWM4 WM style: Daloa
Wallpaper: Bliss_1920x1080.png
( Downloaded from the Google Drive link in this Reddit thread: https://tinyurl.com/4a23myxh )
Link to full-resolution screenshot: https://pcloscloud.com/index.php/s/tKGHEFg8QkdnHDr