compiled by Meemaw

World's Oldest Dog
Bobi was born in Leiria, Portugal with four other litter-mates. His owner, Leonel, was a child when he was born, and said he was almost put down because his family couldn't take care of any more animals. However, Bobi survived and is 30 years and 266 days old as of February 1, 2023. His breed is Rafeiro do Alentejo, a breed which has a lifespan of 12 to 14 years..
"The Rafeiro do Alentejo is an excellent farm and estate watchdog," according to the American Kennel Club.
In Forest City, Arkansas, college student Delivonte walked up to use the ATM at Walmart and found a wallet belonging to a grandmother named Dee sitting in a shopping cart. He immediately set out to return the wallet to her.
Finding her name on her drivers license, and working through an intermediary he found on Facebook, he drove to the town where she lived and returned her wallet.
She told a local news station, "God watched over me. He brought this angel into my life."
Dianne was walking home one night, and stopped in a convenience store to get warm. She found nearly $15,000 worth of cash outside a gas station. In hopes of finding the owners and returning the money, she called the police. The money turned out to belong to a newly married couple. When members of her community found out that she has been walking 2.5 miles to and from work, not having owned a car for five years, they helped organize a generous gift to reward her for her honesty. A GoFundMe page has been set up for her in order to help her get a car.
Dog Finds Cocaine During Traffic Stop
An Indiana State Trooper made a traffic stop, but noticed some things that weren't quite right, so he called for a K-9 officer. K-9 Cole and his handler came and Cole alerted the officer to the scent of narcotics in the semi. The vehicle search turned up 154 pounds of suspected cocaine inside the truck's sleeper berth. Testing proved it to be cocaine.
Nurse Stephanie was studying for her nursing board exams alone in 2020. Once she graduated from nursing school, she got the idea to post her study notes online, and got a big response.
"I would teach myself to the wall and I would record it. And then I posted that onto social media and people loved it," she recalled, adding viewers then wanted to purchase her study notes, so she created an online store. She now sells her notes on Etsy for $2 per page, with special prices for page bundles. She sells study sheets with short concise information. She also shares some of her pages on Instagram.
In a recent Instagram post, Beggs shared an "EKG Rhythms Cheat Sheet" that covers atrial fibrillation, atrial flutter, ventricular tachycardia, ventricular fibrillation, and premature ventricular contractions.
Bay City Teen Saves Coworker's Life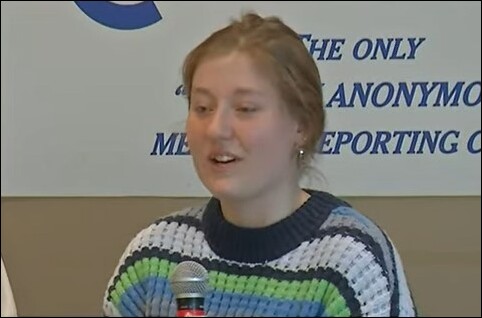 Lillian was working at the Double Tree Motel when she saw her coworker Rusty slumped over his desk. When she realized he was unresponsive, she took action, getting him on the floor and giving him CPR, which she had learned to do in high school.
Cardio Pulmonary Resuscitation (CPR) is described as a "lifesaving procedure performed when the heart stops beating. Immediate CPR can double or triple chances of survival after cardiac arrest," the American Heart Association's website read.
When others found out what she did, she was recognized by the city and others for saving Rusty's life. Rusty said, "I owe my life to Lillian. If it weren't for her and her quick reaction, and her just jumping in … she saved my life."
She said she was amazed that the training came back to her even though it had been several years since she took the course.