by Paul Arnote (parnote)
While "dumb phones" may be falling out of fashion on a global scale, it's a different story in the U.S., where "dumb phones" are on the rise in the U.S. as Gen Z looks to limit screen time, according to an article on CNBC.
Amazon just announced it has opened its Sidewalk long-range network to developer testing, and provided a map showing the low-bandwidth coverage area within reach of 90% of the US population, according to an article on Fierce Electronics. Yes! Let's hand over even MORE of our data over to Amazon! [/sarcasm]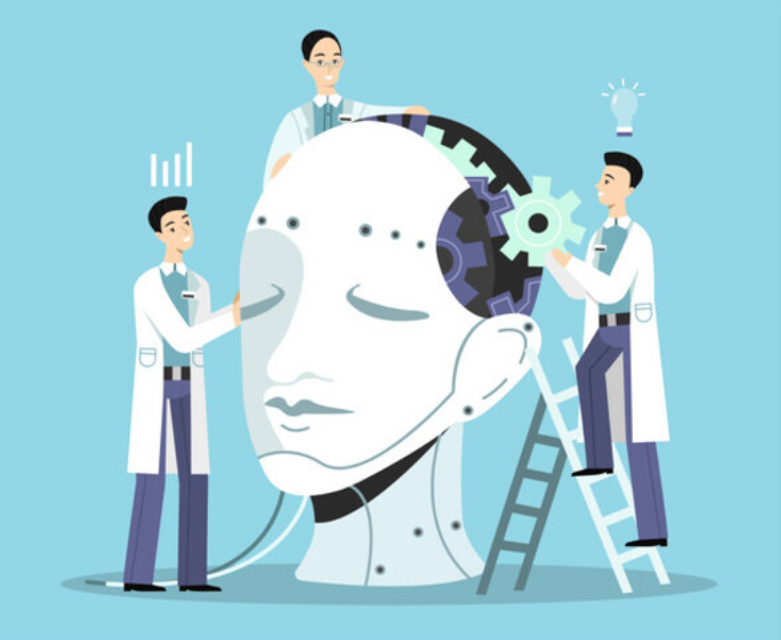 Image by vectorpouch on Freepik
Elon Musk and dozens of other technology leaders have called on AI labs to pause the development of systems that can compete with human-level intelligence, according to an article on CNBC. In an open letter from the Future of Life Institute, signed by Musk, Apple co-founder Steve Wozniak and 2020 presidential candidate Andrew Yang, AI labs were urged to cease training models more powerful than GPT-4, the latest version of the large language model software developed by U.S. startup OpenAI.
A new class of compounds could offer the benefits of gastric bypass surgery without surgery (reduce weight, lower blood glucose, and boost calorie burn), while avoiding the side effects of nausea and vomiting commonly associated with current weight loss and diabetes drugs, according to an article on SciTechDaily. (Move along … no potential for abuse here!)
A portion of the Twitter site's source code was posted on GitHub shortly after widespread layoffs at Twitter, according to an article on TechRepublic. Twitter has taken down a GitHub listing in which a significant amount of the social media site's source code was leaked, according to a legal finding on March 24, 2023 acquired by The New York Times. The leaked code appeared to have been available on GitHub for several months before Twitter sent a copyright infringement takedown. It included "proprietary source code for Twitter's platform and internal tools," according to the filing. The code is no longer available on GitHub since that time. Meanwhile, one week earlier, on March 17, 2023, Musk tweeted that all code used to recommend tweets would be open sourced on March 31.
Image by upklyak on Freepik
NordPass has compiled a list of passwords used by the world's largest companies across 20 industries and 31 countries to "secure" their business accounts, according to a report from the company. Spoiler alert: they're terrible.
A new Android trojan is targeting all your mobile bank accounts, according to an article on TechRadar. The trojan has been around since June 2022, and was offered up as a MaaS (malware-as-a-service) "rental" for $3,000 (U.S.) per month.
ChatGPT AI banned in Italy over privacy concerns, according to an article from Irish Examiner. The Italian data protection authority is now investigating whether ChatGPT has complied with European GDPR rules.
A rock crystal sat in a museum for nearly two centuries. Then they found it wasn't a rock, according to an article in the Miami Herald. It turned out, instead, to be possibly the oldest known dinosaur egg in existence.
British billionaire Richard Branson's rocket company, Virgin Orbit, is ceasing its operations, according to an article on The Street. The company is ceasing operations "for the foreseeable future" after failing to secure a funding lifeline, only five years after it was created, CEO Dan Hart told employees on March 30, according to CNBC. Subsequent widespread reports cite that Virgin Orbit has filed for bankruptcy, and is seeking a buyer.
Hackers exploit a WordPress plugin flaw that gives full control of millions of sites, according to an article on ArsTechnica. Elementor Pro fixed the vulnerability, but not everyone has installed the patch.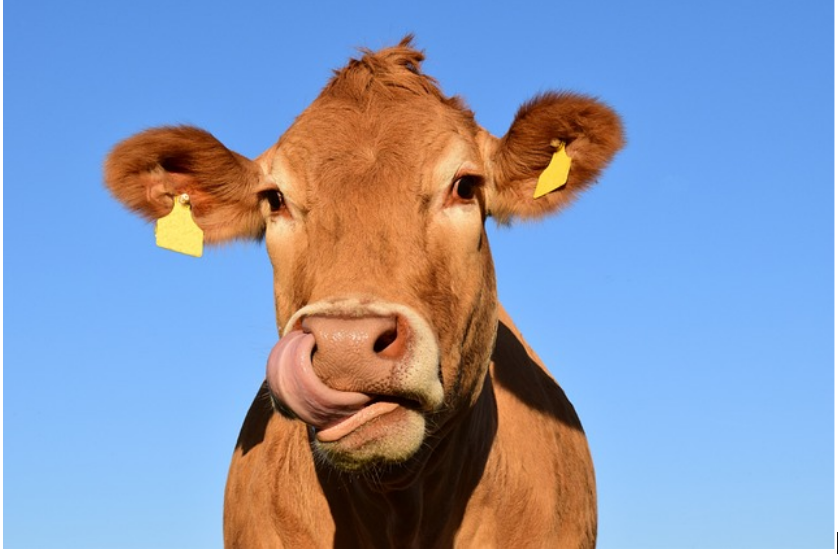 Image by Leopictures from Pixabay
From the crazy "you can't make this stuff up" department, overlapped with the crazier "I have so much money I don't know what to do with it all" department, the Bill & Melinda Gates Foundation this month awarded a $4.8 million grant to ZELP, which claims its artificial intelligence mask technology for livestock will reduce methane emissions and curb climate change, according to an article on the Children's Health Defense website. The mask goes around the cow's head and captures the methane gas exhaled by the animal (created from their digestion of food), oxidizing it, and then releasing it into the air as carbon dioxide and water vapor, according to ZELP.
An article from Lifehacker covers "How to Spot a Fake-A$$ Website." Scammers make websites that look similar to the real deal—but there are ways to tell if they're fake.
This one ought to chafe your chaps, if you live in the U.S. According to an article on MedPage Today, third-party tracking is used on almost all U.S. hospital websites, endangering patient privacy, a cross-sectional observational study found. Of 3,747 hospitals included in the 2019 American Hospital Association (AHA) annual survey, 98.6% of their website home pages had at least one third-party data transfer, and 94.3% had at least one third-party cookie. The tracking data most commonly went to Google's parent company Alphabet (98.5% of homepages), followed by Meta (formerly Facebook), which was used in 55.6% of hospital homepages. Adobe Systems and AT&T collected data from 31.4% and 24.6% of hospital pages, respectively. You can read the complete research article from the report/study from Health Affairs.
Two Russia-associated groups hit Israel and Finland with DDoS attacks, in early April 2023. Cybersecurity experts say the actions represent a marked increase in exploits and a harbinger of cyberattacks to come, according to an article on TechRepublic. The pro-Russia hacker group NoName057(16) reportedly claimed it was behind Denial of Service (DoS) attacks against the Finnish parliament's website on the same day the country joined NATO. Russia-aligned hacktivists also attacked one of the biggest names in security, Check Point, along with universities and medical centers in Israel, the Jerusalem Post reported.
Oops! Samsung workers have unwittingly leaked top secret data whilst using ChatGPT to help them with tasks, according to an article on TechRadar. The company allowed engineers at its semiconductor arm to use the AI writer to help fix problems with their source code. But in doing so, the workers input confidential data, such as the source code itself for a new program, internal meeting notes data relating to their hardware. Since ChatGPT retains user input data to further train itself, these trade secrets from Samsung are now effectively in the hands of OpenAI, the company behind the AI service.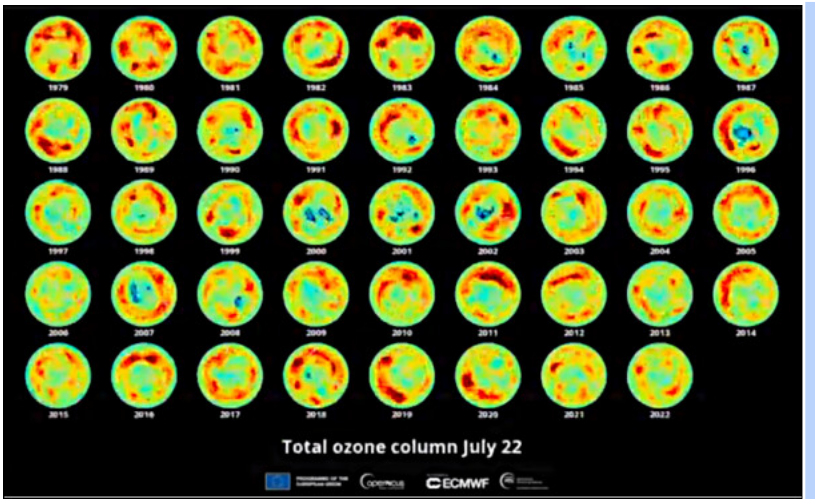 Image from Copernicus, E.U.
According to an article on Vox, the ozone hole is on track to be healed by mid-century. New UN data shows that 99 percent of ozone-destroying chemicals have been phased out, underscoring a hopeful environmental story.
Hide your children! Circle the wagons! Go to your bunkers! Google is planning to release their natural language chatbot for its search platform to compete with ChatGPT, according to an article from TechRepublic. Yes, from the company that has shown ZERO restraint in monetizing every picogram of your personal and private information it can get its greedy little paws on (and built a tech empire from it, in the process), now comes their answer to the AI empowered natural language search tool. Oh, yeah! Sign me up! NOT!
Surprise! Surprise! Surprise! Another month, another Google Chrome zero-day vulnerability. On April 14, 2023, Google released an emergency update for Chrome to address a zero-day security flaw, according to an article on The Register. The vulnerability, tracked as CVE-2023-2033, can be exploited by a malicious webpage to run arbitrary code in the browser. Thus, surfing to a bad website with a vulnerable browser could lead to your device being hijacked. Exploit code for this hole is said to be circulating, and may well be in use already.
Amazon has added generative artificial intelligence models into Amazon Web Services. Generative AI is the type of artificial intelligence that can create text or images, similar to ChatGPT and DALL-E, according to an article on TechRepublic. Bedrock, now in limited preview, opens the door to two new large language models hosted on AWS.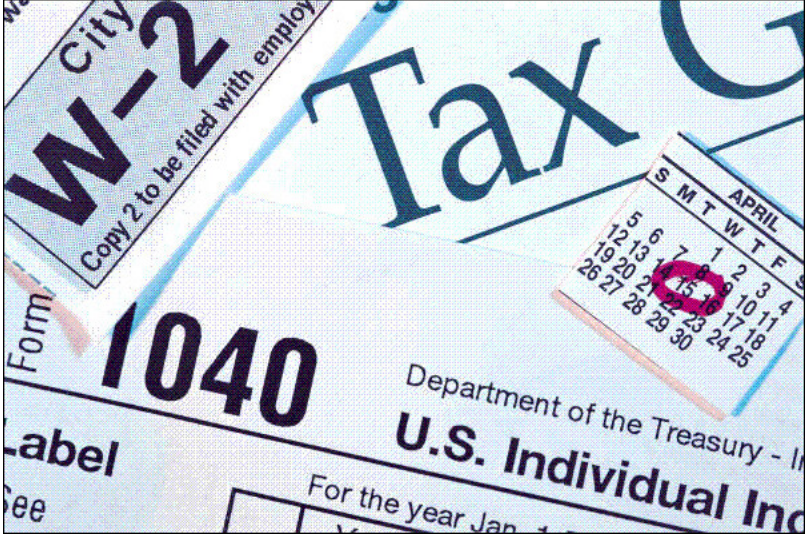 Image Source: Clipart-library.com
In the U.S., the annual income tax filing fiasco period just ended. Despite promoting filing your taxes for FREE (as happens in many, many countries), an article on ProPublica profiles how a consortium of tax filing software vendors have tricked users into paying to file their taxes, and otherwise doing everything in their power to lower the number of free tax return filers. All in order to maximize their profits. Yes, this article is about four years old, but the exact same tactics are still employed today. Buyer beware! There are a LOT of articles and videos on the very same topic, here. They aren't difficult to find on your own, but this list should make a good start on the topic. Watch/read if you dare … and if your blood pressure can handle it!
Chromebooks are popular with students but are not built to last and have created massive amounts of electronic trash, according to a recent report featured on the Breitbart website. The April report (PDF) from the U.S. Public Interest Research Group (U.S. PIRG) Education Fund highlights the fact the devices have an expiration date. The 31 million Chromebooks sold globally in the first year of the pandemic represent approximately 9 million tons of CO2e emissions. Doubling the life of just Chromebooks sold in 2020 could cut emissions equivalent to taking 900 thousand cars off the road for a year, more than the number of cars registered in Mississippi. Assuming no additional maintenance costs, in the U.S., longer lasting Chromebooks could save taxpayers $1.8 billion dollars across all K-12 students.
A team of explorers announced it found a sunken Japanese ship that was transporting Allied prisoners of war when it was torpedoed off the coast of the Philippines in 1942, resulting in Australia's largest maritime wartime loss with a total of 1,080 lives, according to an article on CBS News. The wreck of the Montevideo Maru was located after a 12-day search at a depth of over 4000 meters (13,120 feet) — deeper than the Titanic — off Luzon island in the South China Sea, using an autonomous underwater vehicle with in-built sonar.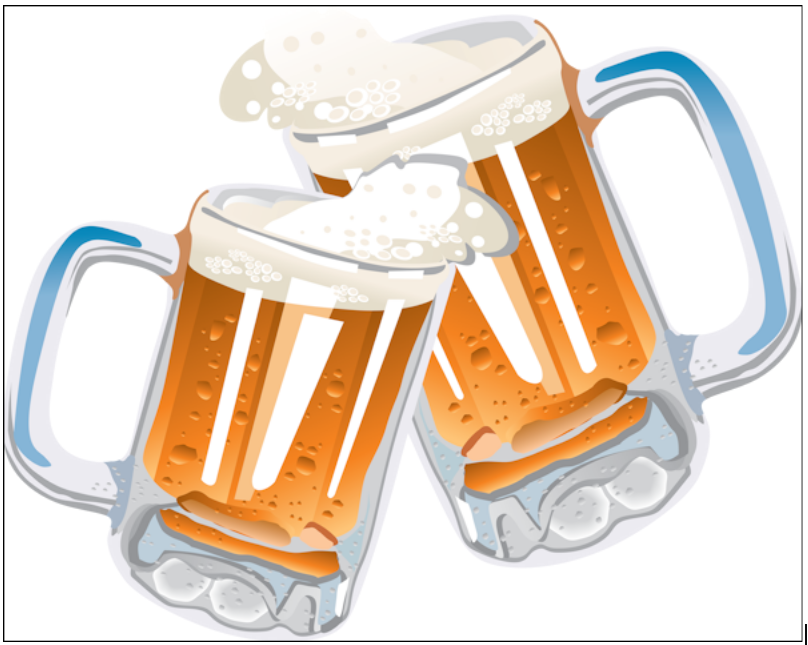 Image Source: Clipart-library.com
Since 1906, Miller High Life has used the "Champagne of Beers" slogan. This week, that appropriation became impossible to swallow, according to an article on the NPR website, and widely reported elsewhere in the media. At the request of the trade body defending the interests of houses and growers of the northeastern French sparkling wine, Belgian customs crushed more than 2,000 cans of Miller High Life advertised as such. The Comité Champagne asked for the destruction of a shipment of 2,352 cans on the grounds that the century-old motto used by the American brewery infringes the protected designation of origin "Champagne." Like someone is going to buy BEER and be disappointed it's not CHAMPAGNE? Wow! There must be nothing more important to worry about.
This ought to be of interest to all the MLUs reading this. Scientists believe they have discovered the mechanism for hair turning gray, which could help develop treatment to alter cells in order to reverse or halt the process, according to an article on The Guardian, and widely reported across most media outlets. A new study suggests stem cells may get stuck as hair ages and lose their ability to mature and maintain hair color.
A bicyclist in Cleveland took matters into his own hands after being hit by a car that ran a red light and hit the rear wheel of the cyclist last October and throwing the cyclist from his bike, according to an article on Bicycling. Tiring of the inaction by "authorities," he put up his OWN traffic signs, many expressing the sentiment "Slow The F(iretru)ck Down" (or something similar).
In another article from Bicycling, The Terminator himself – former California governor and box-office top tier actor, Arnold Schwarzenegger – filled terminated a pothole himself, after waiting three weeks for city workers to perform the task (they never showed up). The pothole had been plaguing motorists and bicyclists. At least one passerby motorist stopped and thanked the 75 year old Scwarzenegger for repairing the pothole.