by Paul Arnote (parnote)
I've "resisted" writing this article for quite a while. The way I looked at it, people probably know enough (more than they probably wanted to know?) about me from my contributions to the magazine over the past 14 years as the Chief Editor of The PCLinuxOS Magazine.
But, the July 2023 issue marks the 14th year of me at the helm of the magazine, so I figured now might be a good time to eliminate my "resistance" and go ahead with this article.
Me guiding the magazine for 14 years was never a part of the "plan." But, it has played out that way. Here's a little history about how that happened.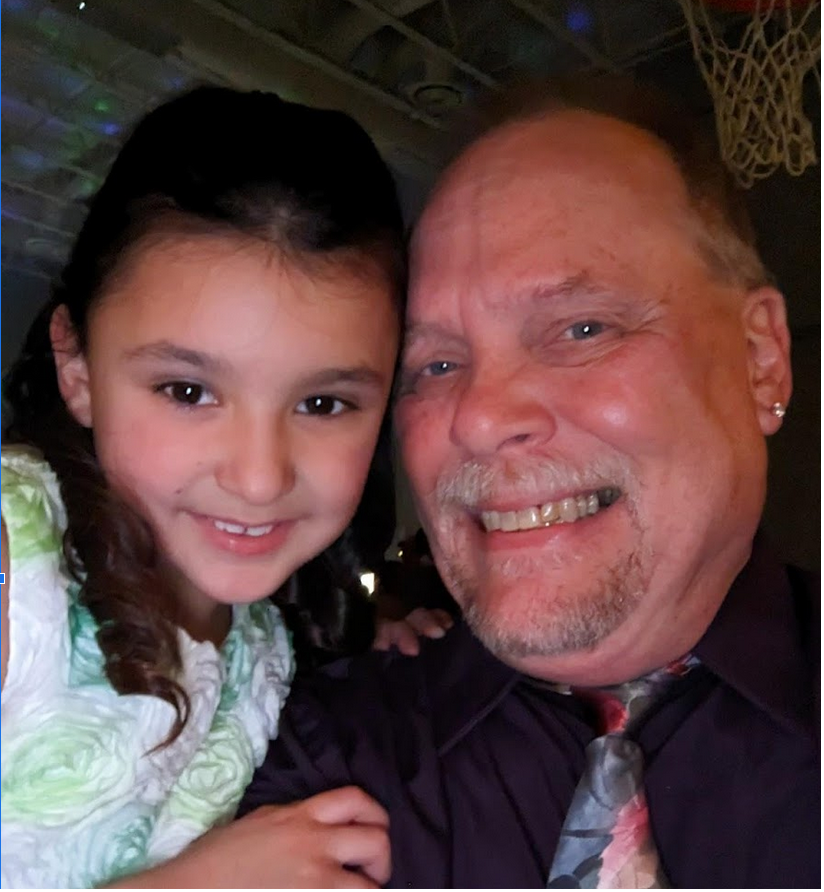 At the "Daddy-Daughter Dance" at their elementary school
Back in 2009, there was some "turmoil" within PCLinuxOS. Texstar had taken a sabbatical from the role of leading PCLinuxOS to take care of some other life issues. He left control in the hands of those he thought he could trust. Except certain individuals among that "trusted group" tried to wrestle control of PCLinuxOS away from Texstar. Texstar re-established himself in the lead role, and those responsible for the failed mutiny left PCLinuxOS to establish another (now defunct) distro. It split the PCLinuxOS user base into two opposing camps. In the largest camp were those loyal to Texstar and his vision for PCLinuxOS. A smaller group either openly sympathized with the mutineers, or even followed them to the new distro.
My "predecessor" was firmly entrenched in the latter camp. Prior to the ruckus, he had changed the magazine from a monthly publication to a bi-monthly publication, claiming that there just wasn't enough to write about. But even after changing the magazine's publication frequency, the magazine would go months without an issue being published. In June 2009, enough articles had been amassed to allow the publication of another issue of the magazine. Included with that issue were multiple ads for a version of PCLinuxOS … except that version had switched allegiance to the group that splintered away from PCLinuxOS, and was now being based on the "new" distro. Still "stinging" from the near-mutiny, Texstar asked that the offending ads be removed from the June issue.
Instead of complying with Texstar's request, my predecessor decided to attempt to hold the magazine hostage, and to even "kill" it. Many of us present at the time pretty much had the same idea: "Not on our watch!"
Archie led a campaign to revitalize the magazine, and return it to its previous status as a monthly publication. I joined in and offered my services, since I had a background in journalism. Prior to my 35 year career as a respiratory therapist, I had a previous 10 year career as a professional photojournalist. After numerous discussions, I threw my name into the hat to serve as the NEW magazine's editor. Archie assured me then that it would only be for a year or two. I, obviously, accepted the position. AND … here we are, 14 years later.
Prior to accepting the position, I saw myself learning to package for PCLinuxOS. That was my goal. To this day, I still haven't learned how to package for PCLinuxOS. Instead, much of my time is spent trying to keep The PCLinuxOS Magazine "on track" month after month. And, for there being "nothing to write about," we have NEVER missed a monthly issue. In fact, we've even created numerous "special editions" of the magazine. We've created recurring monthly or bi-monthly regular columns. Some things haven't worked out as envisioned, while others have "stuck." You never know how it's going to go until/unless you give them a try.
Although you never really know what's in store for the future, I don't have any plans to step away from the leadership role for the magazine. Being in this role allows me to draw upon my journalism background and marry it with my love for PCLinuxOS. It allows me to, at least in some way, contribute back to the community surrounding PCLinuxOS.
So, below are "my answers" to the questions asked of everyone who has ever "participated" in this column. For what it's worth, this column was conceived as a way for the run-of-the-mill, every day PCLinuxOS user to tell their story, and to give them a voice. So, if you're interested in (or willing) being "profiled" in the magazine, contact YouCanToo/The CrankyZombie! We are cognizant of every person's right to and expectation of privacy, so it's up to you (the subject of the article … within reason) to determine how much information you want to tell about yourself. By "within reason," I mean just try to not be so obscure about things that we know little more about you than we did before the profile article.
What is your name/username? It's Paul Arnote, a.k.a. parnote. I know … real original. It's just my first initial and my last name.
How old are you? I turn 63 years old in August.
What is your marital status? I'm married to a wonderful woman named Laura. I used to be her respiratory therapy instructor. She was the biggest "flirt" I ever had in class, but I pretended to not notice her flirting. I think that eventually she realized that nothing could happen with her being a student. So, she waited until a week after she graduated, and then she asked me out (she wasn't a "student" any longer). I agreed, and the rest, as they say, is history. She is 25 years younger than me, and that age difference bothered me WAY more than it did her, at first. The age difference is something that never comes up. We're just a great fit for one another.
Do you have any children or grandchildren? If so, how many of each? Ok, I got a late start in the "kid" department. We faced infertility issues (basically, blocked fallopian tubes), trying for seven years to conceive a child. Any time someone would ask, I'd tell them we're "stuck on the fun part … making them." Finally, after seven years of trying, we found out "we" were pregnant. I was almost 53 years old when Ryan was born. After that, we didn't do anything to prevent another pregnancy, allowing whatever happens to happen. Three years later, when I was almost 56 years old, we were blessed with our daughter, Lexi (short for Alexandra). We decided to not tempt fate, and decided to stop after having two children.
Interestingly enough, they were both conceived on the same day (three years apart), and they both had the same "due date" … my birthday! I have jokingly told my wife that we can't sleep in the same bed on that day ever again. Both of them were what's medically called "late term preterm" babies, both coming a bit early, so they don't have to share dad's birthday. However, their birthdays are only six days apart, so they've become accustomed to "sharing" a common birthday party. Privately, we celebrate each of their birthdays separately, but the shared birthday party works best for family members who have to drive from out of town. So, August is a BUSY month for us with birthdays, with Ryan's, Lexi's and my birthdays coming around.
Do you have pets, what is your favorite? Oh my! Do we ever have a menagerie! We have six indoor cats, one outdoor cat, 13 backyard chickens (various breeds … Rhode Island Reds, Sapphire Gems, Easter Eggers, Golden Laced Wyandottes), a green anole lizard (Lexi's), and a pink-toed tarantula (Ryan's). I often joke that my six indoor cats all have the same name at times … MOVE. My wife really wants to have goats, but (fortunately?) they are not allowed where we live (in the city). Maybe one day, if we're ever able to move out to the country, my wife will have her goats.
I can't really say that any member of our little zoo is a favorite. I like them all … mostly. We do have one feral cat that we took in as a kitten. He's always in a bad mood, and never changed from his feral ways. We've committed to providing him a good home, but we also decided that when "his" time comes, we won't be doing any heroic measures at the end of his life.
Are you retired or working, and for how long and at what? I retired at the end of December 2022 after working for 35 years as a respiratory therapist. I worked in quite a few different hospitals as a staff therapist. I miss the beside interactions with my patients, and I especially miss my neonates. I was a NICU (neonatal intensive care unit) respiratory therapist, but I also spent a LOT of time working in the ER and adult ICUs. I was a NRP (neonatal resuscitation program) instructor, and held certifications in BLS (basic life support) and ACLS (advanced cardiac life support). I also taught respiratory therapy for a local college for six years (which is where I met my awesome wife).
Prior to that (it feels like a literal lifetime ago), I worked as a professional photojournalist for 10 years. I worked as a photo stringer for the Associated Press, United Press International, the Kansas City Star (and the now defunct Kansas City Times), the Independence Examiner and the Blue Springs Examiner. For the latter two, both daily newspapers, I was a full-time staff photographer. Even though I won awards for my photos, I don't miss the grind and low pay that those positions typically afford.
I was honestly *burned out* with the photojournalist gig (as the low pay and grind is typically apt to do), and it took the emergence of digital photography to reignite my passion for photography years later. That allowed me to "marry" photography with my other "new" fascination, computers. My love for photography goes back to when I was 12 years old. I literally taught myself photography by reading every book in our local library on photography that I could get my hands onto.
By the time my last photography job ended, I was ready for something else. My brother-in-law, who was already a respiratory therapist, knew someone who knew someone who was looking for an on-the-job-trainee (this route is no longer possible, due to licensure laws in most of the states). Having long possessed a keen interest in "all things medically related," it sounded like something I'd like to try. They took me on, and trained me. The hospital where I got my start paid for my formal training. I coupled my keen interest with my resourcefulness, and was picking up the finer details in no time. Any time I found something that I didn't recognize or know, I'd go "look it up" so I could learn about it. I never quenched that desire to learn. And the rest, as they say, is history.
Now, I'm enjoying the most important job of my entire life: being a dad, and being the best dad I can be for my kids.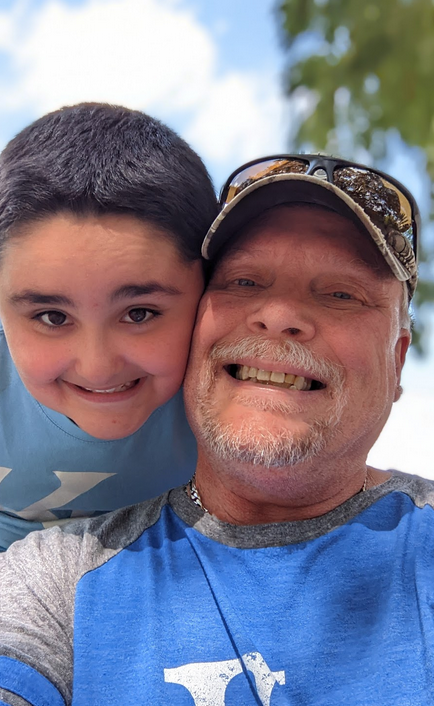 Harry S Truman's home
Harry S Truman Presidential Library
Where do you call home? What is it like? IE: weather, scenery. I live in Independence, Missouri. That is the hometown of the former U.S. President Harry S Truman. His Presidential Library is located here in Independence (it's a super cool stop if you're ever in the area on vacation!), as well as his primary residence, where he lived until his death in 1972 (and tours of it are available from the National Park Service). I was born less than 20 miles west, in Kansas City, Kansas.
Independence is also the start of the three main trails west in the westward expansion of the U.S. Those three trails are the Santa Fe, California, and Oregon trails. A huge celebration every year for four days over the Labor Day weekend is called SantaCaliGon Days, drawing more than 300,000 visitors annually. (Uhm, there are some local residents around here who avoid the crowds at SantaCaliGon like the proverbial plague). So, as you might expect, celebrations around these parts focus heavily on the history of the region. Frank James, the brother of fellow outlaw Jesse James, is buried – literally – three doors down from my house, next to his wife, Annie Ralston.
Being dab smack in the middle of the country, we get all four seasons. We have a colorful fall season, a cold and moderately snowy winter, an invigorating spring, and a quite warm summer. While the east coast and the gulf have hurricanes, and the west coast massive fires (annually it seems) and earthquakes, we live in the infamous "Tornado Alley." So, we get severe thunderstorms roll through fairly regularly, along with the occasional tornado watches and warning. Having grown up here, it's just a routine part of life.
I have previously lived in Northwest Indiana for about four years, central Missouri for about three years, and Phoenix, Arizona for about eight months. I've always come back "home" to the Kansas City area, where most of my friends and family are.
Where did you go to school and what is your education level? I have a Liberal Arts bachelor's degree from the University of Kansas. I also have separate formal training (Associate's Degree) in respiratory therapy.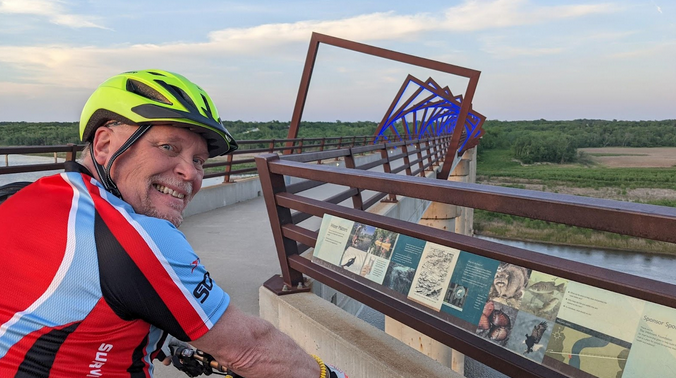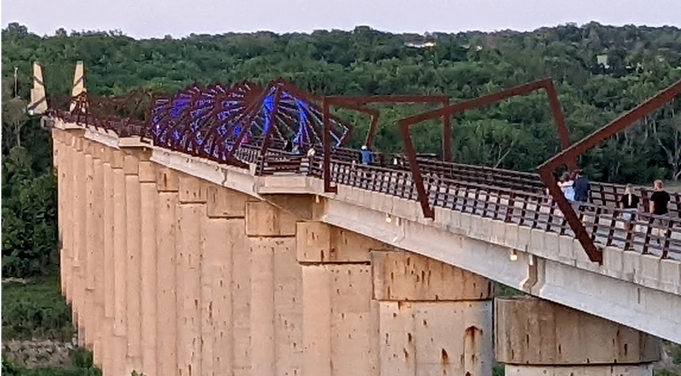 The High Trestle Trail, between Woodward, Iowa and Madrid, Iowa.
What kind of things do you like doing? hobbies, travel, fishing, camping? Oh, wow! This might take a while! I love just about anything outdoors. I love to fish, camp and hunt, but don't get nearly enough time to do any of them as much as I would like. I do, however, try to fit time in for them all, at some point throughout the year, hopefully several times. We just bought a camping trailer last summer, and don't get enough time to take it out … yet. I enjoy working in the yard, along with gardening. I also enjoy woodworking and building "things." The last "major" thing I built was our chicken coop and chicken run from plans I had in my head.
We typically do the fishing, camping and hunting as a family. But, we also love bicycle riding. Before the kids came along, my wife and I would ride 30 to 50 miles at a time on our bicycle rides. Having kids dampened those distances considerably. On our latest "bike ride," we went 11.7 miles (mind you, with a six and nine year old) on the High Trestle Trail in central Iowa. We like to ride from Woodward, Iowa to Madrid, Iowa, and back. It's the kids' favorite bike trail. They love riding over the half mile long bridge over the Des Moines River, which is 13 stories up in the air over the river. It's the "trestle" that gives the High Trestle Trail its name.
Of course, I love computers and tinkering around with them. Oh, and photography. I also love writing bash scripts and increasing my knowledge of Linux.
What caused you to try Linux and join this forum? Back around 2005 or 2006, I had a Windows laptop running Windows XP. It was my first laptop, and even as a refurb, it set me back about $800. Then in 2007 (or so), Windows Vista came out, and I discovered my new laptop wasn't up to the task of running Vista without costly upgrades that I couldn't afford. I thought to myself, "there has to be something else."
Around the same time, I had sent off for a free Ubuntu installation CD. I installed it as a dual boot with Windows XP on my desktop computer. I ran it for a few months, but I was never all that happy or comfortable with the Gnome desktop that came as the default for Ubuntu. I then sought out and tried Kubuntu, OpenSuse, Puppy Linux, and several others that I forget the names of. Fortunately, I discovered PCLinuxOS at the end of that journey.
I purchased an older IBM ThinkPad T23 off of eBay for a reasonable amount of money. It had a Pentium III processor, with 512KB of RAM. I installed PCLinuxOS (KDE 3.4 at the time) on that budget laptop, and was amazed and enamored by its performance and its ease of use. Even back in 2007, PCLinuxOS's hardware recognition was light years ahead of most of the other distros. I was hooked, and I never looked back … or elsewhere. I've been here ever since.
For a while, I dual booted WinXP and PCLinuxOS, as most Windows refugees do with whichever version of Windows they are familiar with. I wasn't quite ready to commit to PCLinuxOS totally. I had those Windows programs that I thought I just couldn't live without. Finally, it dawned on me that I was able to complete the vast majority of my computer tasks in PCLinuxOS (you just have to put forth the effort to learn a new way of doing things), and that I rarely booted into Windows. When I did, it felt foreign and awkward.
In due time, I wiped out the Windows partition, and committed to PCLinuxOS completely. Although I always had to run Windows on the computers at the hospital, I found my Windows knowledge shrinking with every "new" release (use it or lose it). Today, I don't have a single need for Windows (personally … my kids run Windows to access XBox Live, so they can play Minecraft, Roblox and other games on their computers). I'm of little use these days at troubleshooting Windows problems, beyond the most obvious solutions.
Joining the PCLinuxOS Forum was, for me anyways, a no-brainer. It gives me the chance to associate with others who are also using PCLinuxOS.
What specific equipment do you currently use with PCLinuxOS? I use a hodge-podge collection of computers, all running PCLinuxOS exclusively. To be honest, I haven't bought a "brand new" computer in years. The last "new" computer I "bought" was the components for the custom desktop build I did several years ago. These days, I buy used and refurbished computers from Newegg.com or eBay. Since Linux runs so nicely on these computers, I end up saving considerable money by using these perfectly capable computers. My "main" computer these days is a Lenovo IdeaPad 320, with an AMD A12 quad core processor and 8GB RAM, which I purchased as a refurb on eBay. My best friend purchased a new Lenovo computer recently (a $950 computer on sale on Amazon for $350), and the first thing he had me do was to wipe the SSD and install PCLinuxOS.
For what it's worth, I ***love*** the Xfce desktop. It's modern, sleek and fast, without a bunch of eye candy getting in my way. I can customize it to my heart's content, and I've got it tweaked to exactly how I like it and the way that works best for my needs.
Do you feel that your use of Linux influences the reactions you receive from your computer peers or family? If so, how? I **used to be** the "go-to" computer guy in my circle of friends and with family, but not so much any more. As I previously mentioned, my Windows knowledge has been on a downward spiral with every passing release of that commercially available albatross of an operating system. So, I've stopped "supporting" Windows, in a way. If they want to install PCLinuxOS, I'll give them all the help and assistance they could ever want or need. They no longer ask me to "support" their Windows installations, though.
My best friend runs PCLinuxOS on his new computer (he knows I can't/won't support that "other" OS, and I'm his primary support person). My youngest brother used PCLinuxOS on his desktop for a while, before he just stopped buying computers (he just uses his phone now). My six-year-old daughter has one of my older computers with PCLinuxOS installed, and she uses it to watch "her YouTubers." My wife also uses/runs PCLinuxOS, when she's not using her phone. I've "recruited" several of my former co-workers as PCLinuxOS users in the past, as well. None of them ever joined the forum (AFAIK), since I was their primary "tech support" person.
What would you like to see happen within PCLinuxOS that would make it a better place. What are your feelings? As far as I'm concerned, PCLinuxOS is as good as it gets. Texstar and his merry band of packagers keep things updated exceptionally well. The forum is friendly and engaging. I've been around for a while, so I view many members of the PCLinuxOS community as if they are family. I might at times wish for PCLinuxOS to be more popular, but then there's a whole other set of problems that brings with it, too. I like PCLinuxOS just as it is.