compiled by Meemaw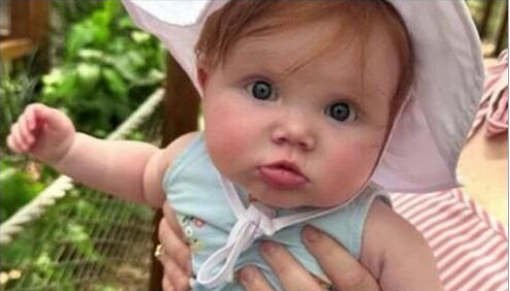 Florida's Ocala Fire and Rescue put up a Safe Haven Box, designed to give a mother somewhere to leave her child if she decided she couldn't handle motherhood. It was certainly safer for the baby than being abandoned somewhere dangerous. January 5th, a firefighter at the station opened the box and found Zoey inside, with a shoestring tied around her umbilical cord. He rushed her to the hospital to get checked out.
He and his wife had been trying to start a family, so they started adoption proceedings, and adopted Zoey in April.
"We really felt in our hearts that we wanted to let the birth mom know in some way, shape or form that she is safe, she is happy, and she is very loved," the adoptive mother added.
Teen Ballerina Inspires The World
Vitória Bueno Boche was born in Brazil, without arms, due to a congenital defect. When one of her doctors noticed that she seemed to dance everywhere instead of walking, she recommended that Vitória's mother take her to dance lessons. Even though her mother knew nothing about dance, she took her to Academia De Dança Andrea Falsarella to take part in a trial class. She was given a scholarship, and has continued to participate in classes ever since.
"Any exercise that I found difficult I insisted and did not give up," recalled Bueno, who uses her feet to do everything for herself including brushing her teeth.
She has appeared on a German show called Super Talent in 2021, and appeared on America's Got Talent All-Stars in 2023.
During an interview in 2021, Bueno said, "I am a role model for people, so I am always looking to improve. I never give up. This gives people a lot of strength."
Three year old Maverick was outside with his grandfather Johnny when Johnny heard a crunch that sounded like a car accident. He ran down the street and discovered an elderly neighbor pinned between two cars. As Johnny ran to help her, Maverick was right behind him.
Johnny told Maverick to run home and get his father, Jonathan. Maverick ran home immediately and brought Jonathan back and the two men were able to get the lady out and into the hands of the first responders. "It's almost like God wanted us to be outside," the grandfather said, adding that Maverick had insisted they have some playtime. "Had we not, I think it would have been a very different outcome for Sylvia." She is recovering and is very grateful that they were outside that day.
In a social media post soon after, Jonathan shared the news report about his son and said it was a "Proud Dad Moment!" Maverick and his grandfather received awards from the city for their heroic actions.
Father & Son Participate In Triathlon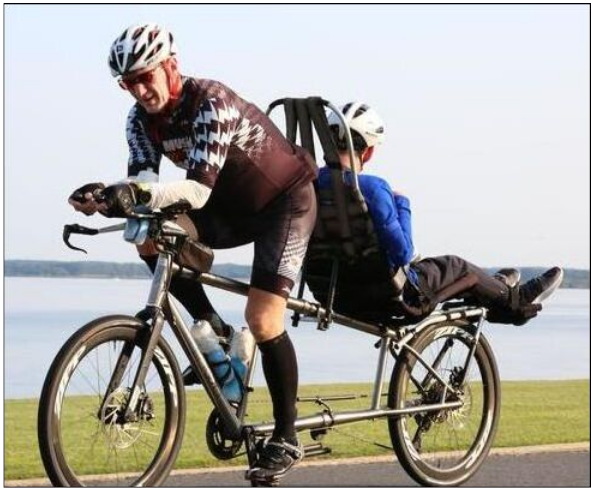 Jeff and Johnny have been told they are welcome to participate in the 2024 Ironman Competition in Kona, Hawaii, and they are both ecstatic, especially Johnny. His dream has been to compete in the triathlon, and they have competed many times. However, Johnny has Cerebral Palsy. According to the Mayo Clinic, Cerebral Palsy affects a person's movement, muscle tone, and posture.
Ironman consists of a 2.4 mile swim, a 112 mile bike trip, plus a 26.2 mile run, all of which have to be completed in under 17 hours. Jeff swims, pulling a boat with Johnny in it, bikes with Johnny behind him, and runs pushing Johnny in a wheelchair.
"I'm not doing it because I love it. It wasn't like a dream of mine. This is Johnny's dream. I'm just giving him the legs and the power to do it," his father said during an interview in November. In 2022, the pair finished on their sixth try to complete a full Ironman triathlon in Maryland, and Johnny even walked across the finish line.
The hope is that they will complete the Ironman competition in Hawaii next year.
In Ohio, 17 golden retrievers were found after they had been dumped in a field. They have since all been adopted into loving homes, according to an official with the Animal Protection League of Mercer County. Two moms and 15 puppies were discovered, and may have come from three different litters.
The American Kennel Club (AKC) describes the golden retriever as "an exuberant Scottish gundog of great beauty" that is among the most popular breed of dogs in the nation. The breed is also considered to be loyal, intelligent, compassionate, and gentle, per Retriever Advice.
After the news story was on the air, the Animal Protection League received more than 200 applications to adopt a dog. The group stressed that all the dogs were very frightened, and each owner would have to "be on board with the work it'll take to socialize and train your new dog."