Blackberry Crisp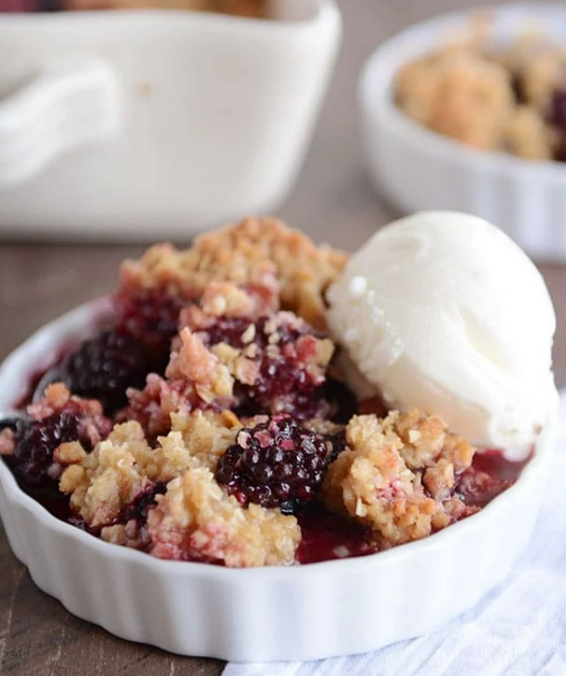 Serves: 6



INGREDIENTS:

Topping:

1 1/2 cup (150 g) old-fashioned or quick oats (I prefer the texture of quick oats here)
1 cup (142 g) all-purpose flour
1 cup (212 g) packed light brown sugar
1/4 teaspoon salt
1 cup (227 g) butter, cut into tablespoon-size pieces

Fruit:

8-10 cups (680-1020 g) fresh blackberries, washed and dried well
1/3 cup (71 g) granulated sugar
1/3 cup (47 g) all-purpose flour
1 tablespoon fresh lemon juice




DIRECTIONS:

Preheat the oven to 350 degrees F. (176.6 degrees C)

In a medium bowl, whisk together the oats, flour, brown sugar, and salt.

Add the butter and cut it into the dry ingredients with a pastry blender or a couple forks until the mixture is crumbly and the butter is evenly cut in. Your hands work the best! Set aside.

In another bowl, add the blackberries, sugar, flour and lemon juice. Stir until combined.

Lightly grease a 9X13-inch pan and spread the fruit mixture on the bottom.

Sprinkle the crisp topping evenly over the top.

Bake for 45 minutes until the fruit is bubbly and the crisp topping is golden (add time, if needed).

Remove from the oven and let the fruit crisp rest for 10-15 minutes before serving (the fruit layer will thicken as it cools).

Serve warm or at room temperature with ice cream (or lemon frozen yogurt!) or sweetened, whipped cream, if desired.




TIPS:

Can use fresh or frozen blackberries. If frozen, don't thaw the fruit before using and possibly increase the flour to 1/2 cup.

Use with a combination of berries, as long as the total amount of berries remains the same.

Dairy-Free Modification: Use any dairy-free butter sticks in place of regular butter. I don't recommend using a dairy-free tub spread, but the sticks (such as Earth Balance) work great.

Gluten-Free Modification: Be sure your oats are certified gluten-free and replace the all-purpose flour with a 1:1 gluten-free flour blend.

Storage: Store any leftover blackberry crisp in an airtight container in the refrigerator for 4-5 days. Reheat individual servings in the microwave in heat-safe bowls for 30 seconds to 1 minute before serving.




NUTRITION:

Calories: 357 Carbs: 50g. Sodium: 151mg. Fiber: 6g. Protein: 4g.