Overnight Orange and Vanilla Bean Sticky Buns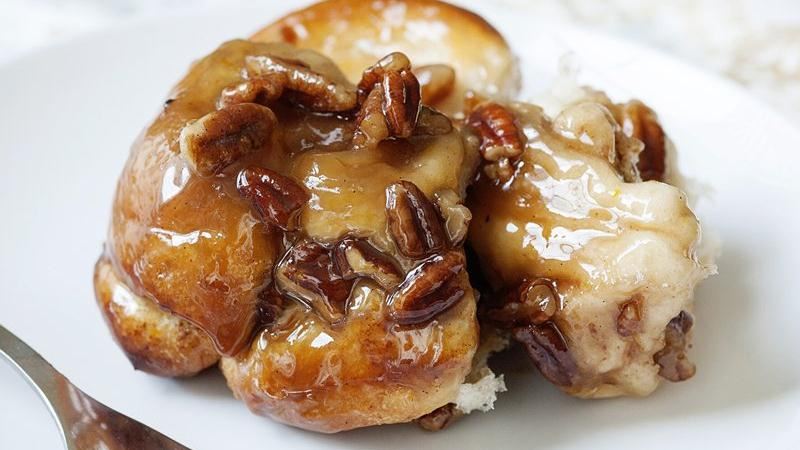 Ingredients

3/4 cup butter
1 1/2 cups packed brown sugar
1/3 cup honey
1/3 cup whipping cream
1/4 cup water
2 teaspoons grated orange peel
3 tablespoons orange juice
1 vanilla bean, split, seeds scraped out and reserved, bean discarded
1 cup pecan halves, toasted
2 loaves (1 lb each) frozen white bread dough, thawed
1/4 cup packed brown sugar
1/4 cup granulated sugar
1 teaspoon ground cinnamon
1/4 teaspoon salt
Directions

1. In a 2-quart saucepan, melt butter over medium heat. Add 1 1/2 cups brown sugar, and cook until combined. Remove from heat. Stir in honey, whipping cream, water, orange peel, orange juice and seeds from vanilla bean. Cool 30 minutes. Pour mixture in ungreased 13x9x2-inch pan. Scatter pecan halves over top.

2. Roll out one loaf of dough into rectangle shape about 14 inches by 6 inches. In small bowl, mix 1/4 cup each of brown sugar and granulated sugar, the cinnamon and salt. Spread half of mixture over dough. Roll dough tightly, and pinch seams closed. Using serrated knife, cut into 1 1/2-inch pieces. Place rolls cut side down in pan. Repeat with second loaf remaining sugar mixture. Cover pan of rolls with plastic wrap; refrigerate overnight.

3. Remove from refrigerator and let sit 30 minutes. Heat oven to 350º F. (176.6º C) Bake 35 to 45 minutes or until golden brown. Cool in pan 20 minutes. Cover pan with platter, and carefully flip over.

OPTIONS: If you want to make these the same day, instead of placing in refrigerator overnight, leave out to rise about 2 hours or until doubled in size, and bake as directed.