by daiashi
About The Game
InnoGames' online role-playing game The West sees you start as a greenhorn facing the dangers of the Wild West. Create your own avatar and collect experience by completing tasks and doing jobs. Become a gunslinger by challenging other players to duels. Prove your skills in adventures, or just storm forts.
Follow the tracks of Jesse James and Billy The Kid: explore the Wild West, fight duels with other online players, conquer forts and experience exciting adventures. The West is a cowboy browser-based role playing game. You have individual character development in that you can choose what skills and such your character has as you gain points.
Compete with your friends in duels, achievements and crafting. You start out creating your character, and then it's off to the tutorial. After that, the training wheels are removed and you're off.
I was once involved in playing another browser-based game, Tides Of Fortune. I somewhat knew my way around this title, but The West is much more enjoyable and immersive.
System requirements:

Fully updated PCLinuxOS
Hardware:
OS: PCLinuxOS and Chrome browser.
About The Company
InnoGames is one of the worldwide leading developers and publishers of online games. The company hit 100 million Euros revenue in 2015 and has over 150 million registered players from all over the world.
More than 400 people from over 30 countries are currently working in the offices in Hamburg and Dusseldorf. Brothers Eike and Hendrik Klindworth start developing the browser game Tribal Wars with Michael Zillmer. The team is motivated by the idea of creating a game they would enjoy playing which would also offer an extensive, fun gaming experience.
What was originally intended to be a hobby project has grown much quicker than expected. After Tribal Wars was officially launched in June 2003, the number of players increased to several thousand by early 2004, which made the introduction of a second world necessary.
Due to the increased popularity of Tribal Wars, the three company founders decided to work full-time on the development and operation of browser games.
InnoGames was founded in early 2007 to handle the operation and continued development of its games.
Some Gameplay Screenshots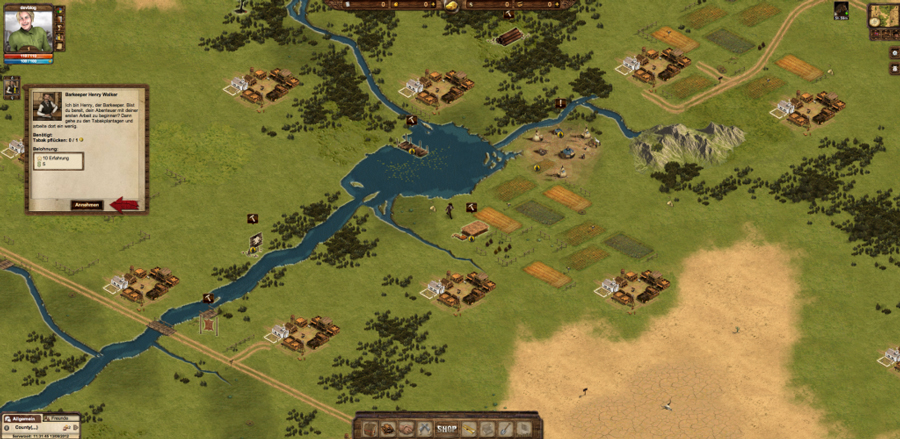 Getting It To Run
Open your Chrome browser/Web Store/Games. Search for The West, and add it to Chrome. It's that simple. It will ask you for your Google login. I did so but did not accept anything else. Creating my account on the page took me to the game, and I was up and running.