by Meemaw
LibreOffice updated a while back and gave us a couple of different formatting options as far as tools. One is a different toolbar, called the Standard (Single Mode). It is a configurable toolbar that only takes up one line at the top of your window. I like it because I can put only the absolute essential tools at the top and can still always find everything. Lately, however, I have also been using the Sidebar, which can be opened and closed at the right side of the window.
On January 3rd, The Document Foundation -- who oversees LibreOffice -- announced that they had a beta test of the newest update to the popular office suite. For those people who really like MS Office's "Ribbon" interface, LibreOffice has created their version of it, and the newest update, 5.3, will contain the new feature. Now you will be able to use whatever tool option you wish. However, instead of forcing any one option on you, you will be able to choose the tools you want. Your choices are:
Default - The standard UI that you've been using for years with the toolbars you can customize.
Sidebar - A single toolbar with a more in-depth sidebar, having several parts you can use.
Single Toolbar - A single, minimalist toolbar at the top of your window. Notebookbar - A tab-based toolbar, similar to MS Office's ribbon.

The Notebookbar is the new one. You have eight tabs:
Application - This tab doesn't have a name on it, only having the page icon we know so well, but it offers you access to things like View, Options, Print, Menu bar (toggling visibility), etc.




File - Actions that can be taken on a file (such as Open, Save, Save As, etc.)




Home - This is a stripped down version of the standard toolbar found in LibreOffice




Insert - A section dedicated to inserting various objects




Page layout - Actions for formatting your page




References - TOC, Indexes, footnotes, bibliography database, etc.




Review - Editorial functions, such as Spelling, Track Changes, Comments, etc.




View - Control the view of your document (Normal View, Web View, Print Preview, Zoom, etc.)




Table - If you are working on a table and select it, another tab will appear with all the "Table" tools contained in it. After you change to another tab, or quit working with the table, that tab disappears.




Also, if you open Impress, your notebookbar will have special tabs specifically for Impress.


What I saw from the beta version is that there is still a bit of trouble with the icons in each tab (some are missing). Also, there are some icons missing from their respective text labels. I had an earlier beta on my Win7 computer (January 4th or so) and some of the missing icons have shown up on this beta on my home laptop (January 15th). What is annoying to me is that the icons are there, but returning to that tab later, the icons may have been replaced with down arrows. You can hover your mouse over them and the items will be described in the tooltips.
Bear in mind that this is the Beta version and that all these will be remedied before they release the 5.3 version.
You can install it and try it yourself. NOTE: The standard warning applies for installing programs outside our repository. Since this is a beta and hasn't been tested by our programmers, there's no guarantee that it won't adversely affect your system.
To try it yourself, the first thing you must do is download the beta release of 5.3 (you'll have to choose the correct package section for your system, then click the "current" folder to find the newest RPM package and the help package) and save it in ~/Downloads. Once you have that downloaded, follow these steps:
Open a terminal window
Change into the ~/Downloads directory with the command cd ~/Downloads
Unpack the downloaded LibreOffice Beta 2 file with the command tar xvzf libreoffice-XXX.tar.gz (Where XXX is the release number)
Change into the newly created directory with the command cd LibreOfficeDev_XXX (Where XXX is the release number)
Change into the RPMS folder with the command cd RPMS
Su to root, and enter your password
Issue the command: rpm -ivh *.rpm
When the command completes, there will be a new series of LibreOfficeDev 5.3 entries in your Office menu, and you can start it from your menu.
Before you can use it, you have to enable it. Starting LibreOffice the first time, the new toolbar feature isn't enabled. To do this, click Tools > Options. Under LibreOfficeDev, click on Advanced and then click the check box associated with Enable experimental features. Click OK and then you will be prompted to restart LibreOffice.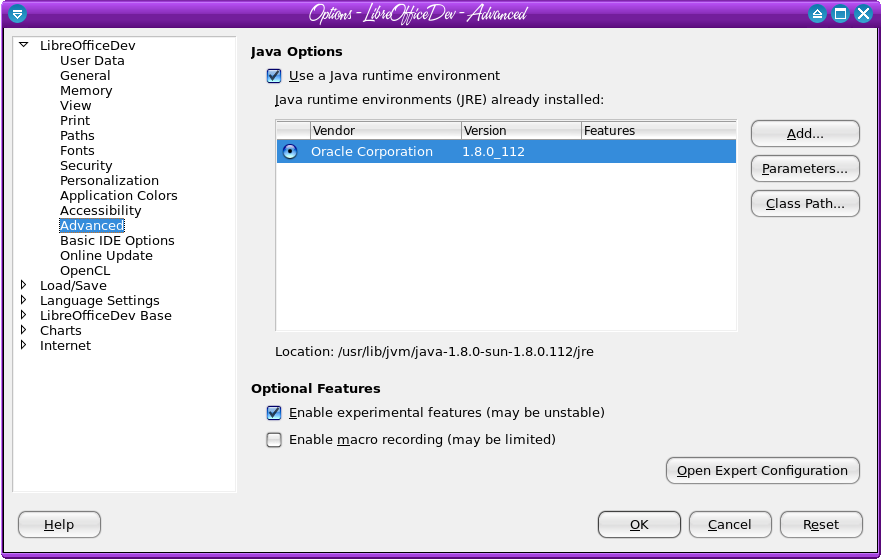 When it restarts, go to View > Toolbar Layout and select which toolbar you want to use.
Choose it, and you can test the Notebookbar toolbar layout coming in the official 5.3 release.
I will probably continue to use the single mode toolbar and sidebar. I never cared for the "ribbon" (which is one reason why I go out of my way NOT to use MS Office), and while I do think this is a good advance for LibreOffice, it's something that I don't care for. Hey, we're all about choice, right? I think it's also about your personal equipment as well. Some of these configurations are better for an older 1024 x 768 monitor, while others work great on the newer, wider laptop monitors.
Anyway, this is just a summary of things to come. We'll have another review when LibreOffice 5.3 has been released and is in the PCLinuxOS Repository. By then, the LibreOffice testers should have all the "bugs" worked out and it should be functioning well.
UPDATE: The Document Foundation has announced the new MUFFIN. This is an acronym for My User Friendly & Flexible INterface. This is their name for the group of toolbar types that have been described above. This includes all the different toolbar styles a user might want to select, including the Notebookbar that is very "ribbon-esque" in appearance and functionality.
Also, February 1, 2017 is the scheduled release date for LibreOffice 5.3, so be on the lookout for this newest version of LibreOffice to hit the PCLinuxOS repos soon thereafter. Puzzlingly, there was a release of LibreOffice 5.2.5 with only about a week to go until the official release of 5.3. It contains only a couple of bug fixes, so it's a bit odd to release the 5.2.5 version so close to the official release of 5.3.